Next year my daughter is officially going to be a teenager.  GASP! I have noticed a dramatic change in her likes and dislikes this past year.   She is wanting to change everything to reflect her sense of style and has begged me for months to makeover her bedroom.  Her once pretty flowered room is now a huge eyesore to her,  and she wants something more fun and exciting.
I'm sure most of you have noticed on my website sidebar the badge displaying that I am a proud member  of the More Than Eleven Walmart  Moms.   Well,  Walmart and Rockfish Interactive teamed up and generously offered to makeover my daughter's room with the fabulous "Your Zone" teen decor.   They sent me a $500 GC to go shopping and change out, spice up, and revamp her boring room to something more inspiring.
My daughter FLIPPED OUT when I told her that her room was getting a massive face-lift with the  Walmart's  "Your Zone"  items.  She instantaneously wanted to drag me to Walmart to start the cool shopping spree,  but we decided to plan things out first by  going to the Walmart.com Your Zone Room Configurator.
The Room Configurator allowed us to create a 3D representation of a room we personally designed with the "Your Zone"  products.  We mixed and matched rugs, comforters, sheets, pillows, curtains, lamps, wall decor, and furniture.  It gave us tons of decorating ideas and once we decided on the final look of the virtual room we could add the products to the Walmart's shopping list and print it to take to the store.
My daughter didn't need any major furniture since she already had a fairly new bedroom set, but the Walmart furniture available such as the loft bunk bed, desks, tables, and dressers are amazingly affordable plus appealing. I personally loved the loft bunk bed.  Its perfect for smaller rooms and gives extra space underneath to place a desk or other items.
We did end up purchasing
Your Zone Reversible Twin Comforter & Sham Set, Aqua Geo/Iris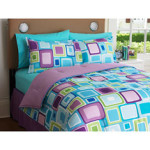 My daughter liked the color combination in the Aqua Geo/Iris comforter. PLUS, the comforter is reversible to a solid purple, so its easy to flip it and change out the look.
Your Zone Sheet Set, Iris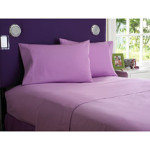 The purple color is vibrant and beautiful!  The sheets are soft! I washed them before placing them on the bed and they maintained to hold their color.  I did not notice any fading.
Your Zone Bed Skirt, Purple Berry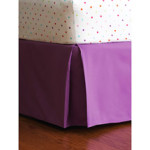 Matches with the Aqua Geo/Iris comforter and Iris sheet set.  Great for hiding clutter that is under the bed!
Your Zone Pop of Plush Toss-It Pillow, Purple Berry
The pillow adds a splash of color for the perfect accent!  VERY silky soft! Made with faux fur on one side and microsuede on the other.
Your Zone Eyelash Toss-It Pillow, Peacock Plume
Matches with the Aqua Geo/Iris comforter!
Your Zone Pop of Plush Toss-It Pillow, Green Glaze
Your Zone Plush Cozy Throw, Peacock Plume
WOW this faux fur throw is super SUPER soft and plush!  Kylie LOVES it!  Measures 50" x 60".
Your Zone Ombre Summersky Window Panel
Your Zone Ombre Iris Window Panel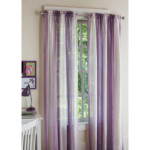 Kylie's bedroom window is rather large so we had to purchase two sets of curtains.  We mixed and matched them with the color scheme of her other "Your Zone" decor.  The curtains are a lightweight crushed satin and freshen up the room with bright and beautiful color.  It gave her room the extra pizazz it needed.
Your Zone Bright Solid Shag, Purple Berry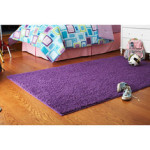 The rug comes in three different sizes.  We purchased the 38 x 58.   It is made of 100% olefin, and has a stain resistant pile!
Purple Plus Rush Flokati Rug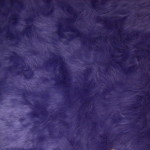 I did not see this rug being advertised on Walmart.com, but it was available at my local Walmart as a "Your Zone"  item.  The rug is so soft and feels incredible under your feet. You  will just love to sink your toes into it!  We used it as an accent rug at the bottom of her bed.
Your Zone High Five Floor Lamp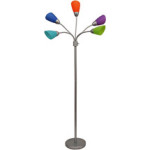 This lamp is really cool!  It has five flexible arms, comes with 5 colored shades and 5 frosted white shades so you can easily change the look, and has a 4-way switch.
Your Zone Switch it Task  Lamp, Peacock Plume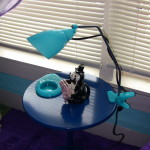 The Your Zone Switch it Task Lamp I purchased at my local Walmart is a little different in style than the one featured online.  It can be clipped to a table (as shown) or on the bed headboard to give some extra light during reading.  The lamp also came with a stand in case you did not want to use the clip.
Your Zone Anywhere Side Table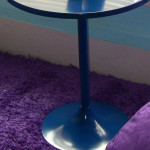 This is a cute item and great to use for next to the bed.  The accent metal table is very easy to assemble!  This is another Your Zone item offered at my local Walmart, but currently not available online,  so check your Walmart to see what exciting Your Zone products they have in store.
Your Zone big bag lounger, green glaze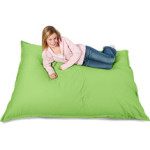 I'm still waiting for this item to arrive, so  it isn't in the final makeover picture.  The over sized lounger dimensions are 60″ x 48″ x 12″ D (152 x 122 cm x 30 cm) and the product description says its lightweight! The bag would be great to plop in front of the television to watch your favorite movie or to curl up on and read a book.
Your Zone Show and Tack Shelf, Purple Betty
The cork shelf is great for displaying your favorite stuff!  Kylie used it to show off her beanie babies.  It measures 23" W x 2′ 'H x 2.5" D and comes with 4 pushpins to tack up notes, drawings, or photos.
Your Zone Pop It Storage Bin, Green Glaze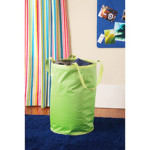 We purchased the storage bin with the notion to use it as a fashionable laundry catcher.  My daughter has a bad habit of throwing her skivvies on the floor and then complain she has nothing to wear.  This takes care of the problem and once it is filled she now knows to carry it to the washing machine so I can wash the items.  The storage bin is made of 65% Polyester, 35% Cotton, has a metal frame, and measures 24″ H x 15″ W.
Decorative Accessories…
I also purchased a few photo frames and a giant clothespin to match her other items.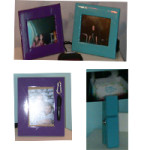 Video of the room BEFORE the makeover and AFTER…
I purchased all these items for under $500!  I still had some money left over and bought her a few other Walmart items that matched her "Your Zone" decor.  Her new room is bright, cheerful, and fit for a teenage QUEEN!   The whole project was extremely fun and we even got some mother and daughter bonding time in!  Thank you Walmart for making her room makeover possible and for the everyday low prices!
WIN WIN WIN
$500 Walmart GC Giveaway!
WOW I'm very excited to be able to have such a great giveaway! Thanks to Walmart and Rockfish Interactive,  one of my A happy hippy Mom readers is going to win a $500 Walmart GC.  PLEASE carefully read how to enter the giveaway,  so your entry counts in the final draw.  To enter go to Walmart.com and pick out a "YOUR ZONE" comforter you would like to buy and one other "YOUR ZONE"   item that matches.  Then and only then leave me a comment with your two choices.  ALL entries that do not follow the rules will be deleted.
Extra Entries
1.Mention the giveaway on your own blog linking back to this post.  Leave an additional comment with a link to where you blogged about the giveaway. This is worth 10 extra entries.  Make sure you leave ten separate comments. (example blogged extra entry #1, blogged extra entry #2, blogged extra entry #3, ect…)
2.Place my button on your blog and then leave an additional comment with a link to the page where you put the button. If you already have my button leave a comment letting me know you already have it.
3. Follow my blog and leave me an additional comment. ( There is a little widget on my sidebar that shows my followers. Just click follow). If you already follow leave me a comment letting me know you already do.
4. Follow me on Twitter and tweet about the giveaway. Please make sure you leave the link where you tweeted in your comment. YOU CAN TWEET ONCE PER DAY TO INCREASE YOUR CHANCES OF WINNING.  USE THE RETWEET BUTTON AT THE BOTTOM OF THIS POST FOR EASY ENTRY.

5. Subscribe to my feed and leave a comment. If you already subscribe leave a comment telling me you are already a subscriber.
6. Facebook, Digg, or Technorati this post and leave me TWO extra comments. ( At the bottom of this post you should see a bookmark button to make this an easy option.)
7.  Enter any of my other giveaways.  Leave me a comment telling me which giveaway you entered.

A winner will be chosen at random via Random.org. Upon notification the winner has 48 hours (usually 72 but do to time constraints it is now 48) to send me their contact information.  Info will be forwarded to sponsor.

Open to US residents only 18+
The contest ends September  10th, 11:59 PM eastern