Stonyfield Farm YoBaby is turning 10 this year and to celebrate the special occasion they decided to increase their product line to include YoBaby Organic  Meals!
What is YoBaby Organic Meals?
YoBaby Organic Meals is a 3-in-1 combination of protein-packed yogurt, fruit and veggie purée in a single  6 oz cup.  They are a convenient way for moms to ensure their babies and toddlers are getting the important trio food groups at meal time.
Each "grab-n-go cup"  provides a growing toddler with more than 35% of the needed daily protein and calcium nutritional requirements in one meal  to help build strong bones.
"We know getting balanced nutrition for your baby or toddler isn't easy, since Mom's hectic life and a picky baby or toddler can add up to one big challenge," says Stonyfield Farm President and CE-Yo Gary Hirshberg. "So we've combined the YoBaby yogurt your child loves with a unique mix of tastes. They'll love it!"
YoBaby Organic Meals come in three baby lip smacking flavors.  Your baby can enjoy the Pear & Green Bean, Peach & Squash, or Apple & Sweet Potato.
Why feed your baby YoBabyYogurt?
Yogurt is one of the healthiest foods you can feed your family and Stonyfield Farm declares YoBaby features only the finest, all natural and certified organic ingredients for your developing baby.  It does not have any artificial colors, flavors, sweeteners, or preservatives.
Furthermore, Yobaby contains six live active cultures (more than any other leading brands) which are important to keep the intestine healthy and aids in boosting the overall immune system.  They are (quoted from Stonyfield):
L. bulgaricus
S. thermophilus
Lactobacillus acidophilus, which provides various health benefits in the gastrointestinal tract;
Bifidobacteria (Bifidus), to stimulate the immune system, help prevent common digestive ailments and support healthy growth and development of the digestive tract;
Lactobacillus casei, which enhances positive bacterial balance in the intestine;
Lactobacillus rhamnosus.
Their exclusive blend of natural probiotic cultures has been determined to enhance digestive health by:
Restoring probiotic levels in the gut after antibiotic use.
Improving carbohydrate and protein digestion and absorption.
Increasing all intestinal probiotic levels with regular consumption.
Yogurt is also a  nutrient-dense food meaning it packs big nutritional punch in a small volume.  Its perfect for children with  tiny tummies,  since they tend not to eat a lot at one time, making it vital to ensure they are getting the proper amounts of protein and calcium.
Tried and Tested
I tried the Pear & Green Beans myself before giving to Aiden.  I didn't know what to expect since the flavor combination sounded rather interesting to me and the thoughts of green beans being in yogurt…hmmmm.  Honestly,  it wasn't bad and it had a good smooth (but slightly more grainy than regular yogurt) tasty texture.
The real test was trying to get my picky toddler to eat it.  Aiden is one of those children who would rather throw his food or use it as finger paint.  I worry on a daily basis if he is getting the proper nutrition, because not much food looks like it actually enters his mouth.  Meal time with him is like a three ring circus and I have to jump  through fiery food hoops to get him to eat!
I had a difficult time getting him to try the YoBaby Pear & Green Bean Meal, but after I got him to consume the first spoonful he ate the entire cup with ease.  He seemed to enjoy it and I loved the satisfaction of knowing he actually ate something organically nutritious!
Suggested retail price is $1.29 for a single 6-ounce serving.  I found Yobaby Meals at my local Wegmans  in the organic section,  but also check your natural food stores.  They should be national by the middle of August.
Find a store near you that carries Stonyfield Farm YoBaby Meals.
More about YoBaby Organic Yogurts
"YoBaby Organic Meals join the YoBaby line of organic yogurts available in a wide range of varieties and flavors, and now including Vitamin D and Zinc. They include YoBaby original, in six variety packs; YoBaby Plus Fruit & Cereal with DHA; YoBaby Plus Fruit & Cereal with Iron; YoBaby Simply Plain, "Baby's First Yogurt;" and YoBaby Drinkables. Visit www.yobabyyogurt.com to learn more."
About Stonyfield Farm
"Stonyfield Farm, celebrating its 26th year, is the world's leading organic yogurt company. Its all natural and certified organic yogurt, smoothies, milk, cultured soy, frozen yogurt and ice cream are distributed nationally. The company advocates that healthy food can only come from a healthy planet. Its organic ingredient purchases keep over 100,000 farm acres free of toxic, persistent pesticides and chemical fertilizers that can contaminate soil, rivers and drinking water. To help reduce global warming, Stonyfield offsets all of the C02 emissions generated from its facility energy use. The company also started a nonprofit called Climate Counts (www.stonyfield.com."
Visit the Stonyfield Farm YoBaby Baby Babble blog where parents can meet, rant, and seek or give advive.
YoBaby Meals Giveaway!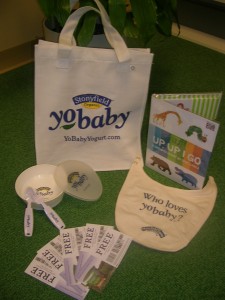 One winner will receive YoBaby  prize package containing a YoBaby reusable bag, YoBaby travel bowl with lid and utensils, Eric Carle growth chart, an organic YoBaby bib, and 5 FREE YoBaby Meal coupons!
To enter the giveaway leave me a comment telling me  you would like to try feeding YoBaby Meals to your toddler.
Extra Entries
1.Mention the giveaway on your own blog linking back to this post and YoBaby.  Leave an additional comment with a link to where you blogged about the giveaway. This is worth 10 extra entries.  Make sure you leave ten separate comments. (example blogged extra entry #1, blogged extra entry #2, blogged extra entry #3, ect…)
2.Place my button on your blog and then leave an additional comment with a link to the page where you put the button. If you already have my button leave a comment letting me know you already have it.
3. Follow my blog and leave me an additional comment. ( There is a little widget on my sidebar that shows my followers. Just click follow). If you already follow leave me a comment letting me know you already do.
4. Follow me on Twitter and tweet about the giveaway. Please make sure you leave the link where you tweeted in your comment. YOU CAN TWEET ONCE PER DAY TO INCREASE YOUR CHANCES OF WINNING.  USE THE RETWEET BUTTON AT THE BOTTOM OF THIS POST FOR EASY ENTRY.

5. Subscribe to my feed and leave a comment. If you already subscribe leave a comment telling me you are already a subscriber.
6. Facebook, Digg, or Technorati this post and leave me TWO extra comments. ( At the bottom of this post you should see a bookmark button to make this an easy option.)
7.  Enter any of my other giveaways.  Leave me a comment telling me which giveaway you entered.

A winner will be chosen at random via Random.org. Upon notification the winner has 72 hours to send me their contact information.  Info will be forwarded to sponsor.

Open to US residents only 18+
The contest ends September  3rd,  11:59 PM eastern