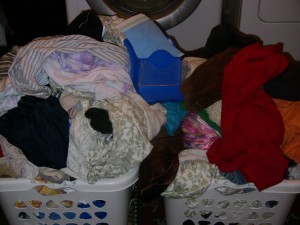 I don't particularly enjoy doing laundry.  The sorting of filthy smelly garments,  carrying heavy baskets to the laundry room, measuring the messy detergent, and the hours it takes folding the clothes ranks right up there on my list along with scrubbing toilets.  YUCK! I want a product that is going to make my daunting task easier!
For the past few months I have seen numerous ads  about the Purex Complete 3-in1 Laundry Sheets splashed all over the TV and blogosphere.   I love the concept of a whole loads worth of detergent, softener, and anti-static all contained within a single lightweight sheet.   To be honest,  the product looked to good to be true and I was skeptical if it would actually clean my toddlers funky clothes.  I really wanted to try it and put it to the test,  so I downloaded a $1.00 off Purex 3-in-1 coupon and scurried to the store to buy the sheets.

About Purex Complete 3-in-1  Laundry Sheets
Purex Complete 3-in-1  Laundry Sheets come in three scents –
The Spring Oasis
"A nature-inspired fragrance with fresh citrus and flowers, like a clean morning breeze."
Tropical Escape
"Island-inspired watery clean scent with a hint of exotic fruit freshness."
Pure & Clean
"100% hypoallergenic with a subtle fresh, clean scent. Perfect for people with sensitive skin."
There are two package types available – Starter Kit and a value Refill Pouch .  The Starter Kit consists of a  easy to use refillable Dispenser that protects the sheets from dampness and includes 20 sheets. Once you already have the dispenser,  you can simply purchase the refill pouch (24 sheets).
How to use…
To use the sheet all you need to do is pop it in the washer and go!  The motion of the water from the wash cycle releases the detergent.  Once the wash is done just transfer the freshly washed clothes and sheet into the dryer.  The stripe on the sheet is heat activated from the dryer and softens your clothes leaving them static free.
The Purex 3 in 1 Laundry Sheets work in all water and dryer temperatures.  For best cleaning results and to conserve energy,  it is recommended by the manufacture  to use  the 3-in-1 sheet with warm or cold water in the washer.   When the sheet is in the dryer, use the Auto Dry function with the medium heat setting.
One little Purex 3 in 1 Laundry Sheet is packed with enough detergent to clean a full load of laundry.  The  formula is 10x concentrated and provides maximum cleaning results!  If you have an extra large load or extremely dirty laundry you can use two sheets to increase the cleaning power!
What makes it better?

The whole laundry process is simplified into one tiny sheet.  There is no need to buy separate bulky detergent bottles to get the job done effectively and easily.   It also eliminates the sticky mess you get from over pouring, and saves money by using the right amount of detergent per load.   PLUS, it saves time which can be used for more pleasurable activities.
Environmental Impact (quoted from website)
Less Water
As you may have noticed, liquid detergents have gone to smaller bottles and converted to a 2X Ultra Concentration. Purex® Complete 3-in-1™ Laundry Sheets take concentration to the next level! If everyone in the United States1 switched to buying Purex® Complete 3-in-1™ Laundry Sheets, 41 Olympic-sized pools worth of water would be saved each single refill purchase versus purchasing a standard 50oz bottle of liquid detergent!
Less Packaging
The Purex® Complete 3-in-1™ Laundry Sheets Refill has 43% less packaging than the products it replaces. If every American bought just one Purex® Complete 3-in-1™ Laundry Sheet Refill instead of even one bottle of liquid detergent2, we could prevent the equivalent of 91 million detergent bottles (27 million lbs), originally destined for landfills, from being produced – keeping over eight football fields worth of packaging out of landfills.
Less Weight
With less water and packaging to transport, we are able to reduce CO2 emissions from transportation by 67%. That's an equivalent savings of removing 3,143 cars from the road for a year versus the CO2 that would be generated from the same people buying a bottle of detergent3!
I liked it…
I wash around 14 loads of laundry per week.  Between my husbands soda soaked  clothes (works for beverage company), sons soiled outfits, daughters sweaty tween clothes, and my  banana covered shirts ( Aiden likes to smear what ever he is eating on me) I have a huge heap of disgusting mess.  I don't need more mess by accidentally spilling over-sized laundry detergent bottles or more clutter of having to find a space to store them.
The Purex 3-in-1 made my laundry washing task less difficult, left clothes clean and smelling fresh,  solved the problem of over measuring, saved storage space,  and cut down on time.  I liked it!