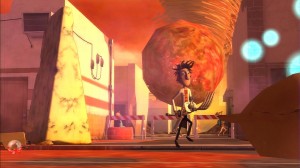 This movie is right up my food infatuation alley! Cloudy With a Chance of Meatballs takes place in a town called Chewandswallow where the misfit scientist Flint Lockwood (voice of Bill Hader), after several failed inventions, successfully finds a way of converting water into food.
Lockwood's newest contraption destroys the town square and shoots up into the clouds. When Flint starts to think his inventing carrier is finally over something amazing happens–the sky begins pouring out cheeseburgers!
The new weather food machine is a huge success and when the brainy weather girl Sam Sparks (voice of Anna Faris) comes to town to witness and cover what she calls "the greatest weather phenomenon in history," Flint and her form a speedy friendship.
The problem begins when the township people become greedy wanting more and more food. The machine starts malfunctioning and the  clouds start bombarding the town with giant meatballs and tornado spaghetti! Flint and Sam set out to find a way to shut down the food menace and put everything back to normal.
The movie is inspired by the  children's  book Cloudy With a Chance of Meatballs by Ron and Judi Barrett and can be seen in theaters starting September 18th.