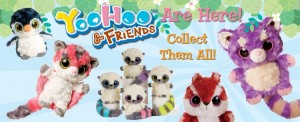 I may be 29 (cough… for the past several years), but I still happen to love plush toys. There is something about a cute cuddly stuffed animal that still warms my heart and brings a smile to my face.   My two kiddos also share my adoration for stuffed animals and the first place they are gravitated to in a toy store is the fuzzy critter aisle.  Between my children and myself, we have a rather extensive plush toy collection. Each toy is treasured and most of them are tied to a significant sentimental occasion or event. Some of the plush toys even have a hidden meaning behind them and when I pick one up, it brings back a fond memory.
I would like you to become acquainted with two of the newest additions to my families plush animal collection.  These two little snuggly cuties come from the Aurora Plush Toys YooHoo and Friends product line.
The Squirrel is 8″ tall, reddish brown, has big pink eyes, white accents, and when its tummy is pressed makes the sweetest little "chitter"  sound.   My daughter said the sound was addicting and couldn't keep her hands off its soft belly.  Too cute!
The YooHoo Bush Baby is 8″ tall and cream colored with a long fluffy striped tail.  The huge eyes, super soft fabric, and cute funny sound when its belly is pressed makes it stand out from other plush toys and a family favorite.   The one I received to review had a purple tail and makes a "whistle" sound.  There are other colors and sounds available for purchase such as pink (giggle), yellow (chitter), and blue (boing).  The plush toy is recommended for children ages 3 and up, but I let my son who is almost two  play with it, under my FULL supervision and he loved it!
The Aurora YooHoo and Friends are based upon real animals from all over the globe.  Some of the darling animals are even endangered species!   Their huge eyes and long fluffy tails are creating smiles and successfully winning the hearts in children of all ages.   Each one of the YooHoo and Friends, just like all of Aurora's plush toys and gifts, are quality made, affordable,  and make an excellent gift.
To expand the Yoohoo and Friends fun play even further, Aurora launched an   online virtual world inspired by the plush toy line geared towards children ages 5 through 12.   The website features character's that resemble real animals living in their natural habitats and is a great way to introduce and bring about environmental education to youngsters.   The website is completely free to use and does not require an activation code for entry.  Members can watch upcoming YooHoo animations, adopt and raise YooHoo and Friends, decorate pet's room,  play games, download colorful wallpapers, learn about endangered animals,  and more!
Aurora Naturally is a wonderful eco-friendly and "green" plush product line.  Each plush toy is crafted from 100% soy fiber and stuffed with %100 Kapok.  Kapok is a soft luxurious cotton-like substance that is well known for being hypoallergenic.  The silky fiber comes from the seedpod of the oldest and tallest tree in the rainforest called the Kapok or Ceiba Tree.   All of the Aurora Naturally products are handmade in Indonesia, come with a recycled paper hang tag, and a sewn cotton label.  Take a look at a few of the cuties available…
They are your "One Stop Solution" for high quality plush toys and gifts at affordable prices.  No matter how young or old, Aurora Plush Gifts bring smiles!
About Aurora
Aurora World Inc. (Aurora) has grown to become a respected leader in the plush gift industry, thanks to its hallmarks of success producing large varieties of high quality, affordable plush. Aurora brings smiles to millions of kids of all ages around the world, from every walk of life. The company story begins in 1981 when it launched as Aurora Trading Inc., in Seoul, Korea. Over the next decade, Aurora quickly established itself as a leader in the industry with its celebrated designs, highlighted by quality and creativity.
The products speak for themselves, and at the same time, the company developed an infrastructure and philosophy for which they are now well known — exceptional customer service, phenomenal leadership and strong employee relations.
In the early 1990s, Aurora expanded at a rapid pace. Manufacturing factories were opened in Indonesia and China, while sales networks were created in Hong Kong and then the United States in 1992. By 1996, Aurora?s sales teams were established in the United Kingdom and Germany as well. Aurora design, research and development centers opened in Seoul, Korea and the company officially changed its name to Aurora World Inc. On the verge of the millennium, Aurora was recognized in the top five for brand awareness in the United States gift market. By 2003, a second manufacturing factory opened in China and Aurora was listed on the KOSDAQ (Korean Securities Dealers Automated Quotations System).
Today, Aurora maintains 12 showrooms across the United States, from Anchorage to Atlanta and everywhere in between. In addition to four headquarters and multiple factories around the world, Aurora participates in more than 50 gift and toy shows annually and its products are sold through more than 25,000 retail outlets worldwide.
Join the Aurora Gift Club for special savings and fun!
WIN WIN WIN
One A happy hippy Mom lucky reader is going to win an Aurora YooHoo and Friends plush toy.  To enter go to  Aurora  and take a look at all the YooHoo and Friends product line.  Come back here and leave me a comment on this post as to which YooHoo and Friends plush toy you would like if you are randomly chosen as the winner.  Make your selection wisely, because this will be your prize if you win.
Extra Entries
1.Mention the giveaway on your own blog linking back to this post and Aurora.  Leave an additional comment with a link to where you blogged about the giveaway. This is worth 10 extra entries.  Make sure you leave ten separate comments. (example blogged extra entry #1, blogged extra entry #2, blogged extra entry #3, ect…)
2.Place my button on your blog and then leave an additional comment with a link to the page where you put the button. If you already have my button leave a comment letting me know you already have it.
3. Follow my blog and leave me an additional comment. ( There is a little widget on my sidebar that shows my followers. Just click follow). If you already follow leave me a comment letting me know you already do.
4. Follow me on Twitter and tweet about the giveaway. Please make sure you leave the link where you tweeted in your comment. YOU CAN TWEET ONCE PER DAY TO INCREASE YOUR CHANCES OF WINNING.  USE THE RETWEET BUTTON AT THE BOTTOM OF THIS POST FOR EASY ENTRY.

5. Subscribe to my feed and leave a comment. If you already subscribe leave a comment telling me you are already a subscriber.
6. Facebook, Digg, or Technorati this post and leave me TWO extra comments. ( At the bottom of this post you should see a bookmark button to make this an easy option.)
7.  Enter any of my other giveaways.  Leave me a comment telling me which giveaway you entered.
8.  Follow Aurora  on Facebook or YooHoo and Friends on Twitter for an extra entry.
A winner will be chosen at random via Random.org. Upon notification the winner has 72 hours to send me their contact information.  Info will be forwarded to sponsor.

Open to US residents only 18+
The contest ends September  18th,  11:59 PM eastern