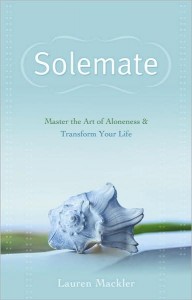 Book Overview ( www.laurenmackler.com)
Many people spend years waiting for an ideal partner—a "soul mate" to make them feel happy and complete. Others settle for unfulfilling relationships out of a deep–seated fear of being alone. In Solemate, Lauren Mackler provides a groundbreaking road map for achieving mastery of your own life so you can experience a sense of wholeness and well-being whether you're on your own or in a relationship. It's about becoming the person you were meant to be, treating yourself well, and shedding the old beliefs and behaviors that limit your ability to realize your greatest potential.

Drawing from her own experiences; those of her clients; and the fields of psychology, physiology, sociology, holistic healing, and strategic business practices, Lauren has developed a unique program for reclaiming your innate wholeness. This gradual, step–by–step process involves understanding where your self–defeating patterns come from and how to move beyond them. She helps you uncover and retrieve your authentic self—who you really are beneath the layers of life conditioning. This program will help you live in a more conscious and deliberate way and align your actions with the results you want in your life.

A renowned coach, workshop facilitator, and keynote speaker, Lauren guides you through a process that, until now, has only been available through her coaching programs and Mastering the Art of Aloneness workshops. Through quizzes, exercises, and guided journaling, she helps you:

* Identify the limiting beliefs, fears, and behaviors that keep you from feeling whole and happy
* Learn to override these habitual patterns and manage your fears
* Uncover your authentic self
* Create a life vision and action plan to help you achieve any goal you set for yourself, and
* Build inner and outer support systems that help you bring your vision to life

Solemate is about mastering the art of aloneness. But it's not about being alone. It's a book for people who want to enhance the quality of their lives by improving their relationships with themselves and with others. Solemate gives you the tools you need to develop the self-awareness, life skills, and emotional intelligence to live a full, happy, successful, and financially secure life—with or without a partner.
I was under the impression the whole key to life was to find a partner to share my journey and the search for happiness started at a young age.   We learn from classic folk tales like Cinderella,  who was a young girl living in unfavorable circumstances and was whisked away by a handsome prince to live happily ever after,  we won't be fulfilled unless we also find our prince charming or princess.  What about the 95.7 million single adults who go through life alone?  Are they all doomed to live a bleak meaningless life?
Bestselling author Lauren Mackler, a 25 year psychotherapist and renowned life coach, offers a fresh perspective that aloneness is not to be feared in her new book Solemate.    Through her unique program,  she teaches how to achieve a sense of feeling complete on your own and finding happiness within yourself.
I have only had a chance to thumb through Solemate, but what I have read has been fascinating.  Mackler's own personal experience grabs you and pulls you into wanting to read more.   After being married for 14 years,  she  finds herself companion-less following a divorce  in Germany with a 9 year old boy and an 11 year old girl to raise on her own without any means of taking care of them or herself!
If you would like to learn more about Lauren Mackler click here.
You can also listen to Lauren on the weekly Life Keys radio show, every Thursday from 1-2 pm ET on www.hayhouseradio.com.
You can purchase a copy of Solemate here.
Win Win Win
I was generously  given a copy of Solemate to give to one A happy hippy Mom reader.  To enter to win the book,  leave me a comment explaining why you would like to win Solemate.
EXTRA ENTRIES
1.Mention the giveaway on your own blog linking back to  this post.   Leave an additional comment with a link to where you blogged about the giveaway. This is worth 10 extra entries.  Make sure you leave ten separate comments. (example blogged extra entry #1, blogged extra entry #2, blogged extra entry #3, ect…)
2.Place my button on your blog and then leave an additional comment with a link to the page where you put the button. If you already have my button leave a comment letting me know you already have it.
3. Follow my blog and leave me an additional comment. ( There is a little widget on my sidebar that shows my followers. Just click follow). If you already follow leave me a comment letting me know you already do.
4. Follow me on Twitter and tweet about the giveaway. Please make sure you leave the link where you tweeted in your comment. YOU CAN TWEET ONCE PER DAY TO INCREASE YOUR CHANCES OF WINNING.  USE THE RETWEET BUTTON AT THE BOTTOM OF THIS POST FOR EASY ENTRY.

5. Subscribe to my feed and leave a comment. If you already subscribe leave a comment telling me you are already a subscriber.
6. Stumble, Digg, or Technorati this post and leave me TWO extra comments. ( At the bottom of this post you should see a bookmark button to make this an easy option.)
A winner will be chosen at random via Random.org. Upon notification the winner has 72 hours to send me their contact information.  Info will be forwarded to sponsor.

The contest ends August 9th, 11:59 PM eastern.
Open to US residents 18+