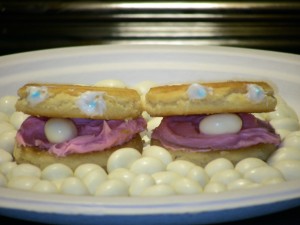 This idea was borrowed and tested from the August FamilyFun Magazine's Treat Of The Month.  The sweet "under the sea style snacks"  are perfect to serve up at beached themed parties, picnics, or summer gatherings.  The cute "Pearly Bites" are not the most nutritional snack to let your children devour, but they are fun to make and the kids love them.
The ingredients you will need to make each oyster  are pink frosting, small round wafer cookies, yogurt-covered raisins, white frosting, toothpick, and food coloring for adding the pupils.
To prepare, spread a layer of pink frosting (I used Pillsbury Whipped Supreme Strawberry Frosting) to the bottom of the small wafer cookie, then press a yogurt-covered raisin on the top toward the edge.  Place another cookie as shown, making sure one edge is in the frosting to hold it together.  Dab on the white frosting for the eyes.  Next, use a toothpick dipped in the food coloring to add the pupils.
You can find more easy to make treat and snack recipes at FamilyFun.com.