I'm  curious as to how many of you workout?  I try ( in between my mommy routine and toddler demands) to jog on my treadmill for 30 minutes a day, five days a week.  I know that it's important during my activity to give my breasts the proper support to avoid discomfort and damage.  Without the appropriate support the breast's delicate outer skin and the Coopers ligaments (connective tissues) can stretch and cause PERMANENT sagging!  Who needs that?  Yikes!
It is essential to wear the  correct fitting sports bra during exercise to minimize breast movement.  A good sports bra should hold the breasts against the chest wall to restrict motion (compression) and/or the bra should be constructed to surround and support the breasts (encapsulation).
Not all sports bras are created equal,  so it is important to find one that is supremely made from a trusted leading company such as Moving Comfort.
Moving Comfort is a business dedicated to making garments only for women.  For over 30 years they have been providing women with their technically high quality athletic apparel such as women's fitness tops, sports bras, and fitness accessories. They inspire and encourage woman to get fit, stay healthy, and to never feel limited by anything.
Moving Comfort believes a  sports bra  is  the most important piece of equipment  an active  woman can have in her fitness wardrobe.  This is why their sports bras are comfortable, made with special DriLayer fabric to manage any moisture, and provide superior support.
Regardless  if your an A or E cup, you more than likely will find a bra that suits your body and desired style.  Check out the Chloe bra with the Racer Back…

We approached this bra like architects, constructing it with strategically placed bonded areas and powermesh for both form and function: great support that also flatters your natural shape. The smooth, unique fabric is ultra-lightweight. Cross-back straps for full range of chafe-free arm movement and stability.
or the Moving Comfort Grace Bra with the front closure…
Like a great friend, the Grace offers unconditional support. Our C/D style features a powermesh back liner for enhanced support, along with a discreet front zipper with a generous flap that prevents chafing, soft front lining for rapid moisture transfer, a Coolmax® mesh back for added breathability and ventilation, and a racer-back cut for full range of arm movement and strap stability.
"A Fit Woman is a Powerful Woman
Spread the word!"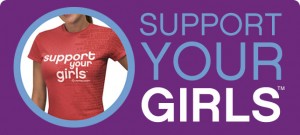 "Moving Comfort is dedicated to supporting women of all ages in their active pursuits. Through our Support Your Girls initiative, we partner with like-minded non-profits committed to educating women and young girls on the importance of leading a healthy lifestyle through regular exercise, nutritious eating habits and proper breast health examination.
To launch our Support Your Girls program, we are selling these fabulous cotton/spandex T-shirt's online and at various FLEET FEET locations across the country to help spread the word. With the sale of this Support Your Girls T, Moving Comfort will donate 33% of the proceeds to Girls in the Game®.
The mission of Girls in the Game is to provide and promote sports and fitness opportunities, nutrition and health education and leadership development to enhance the overall health and well being of girls aged six to eighteen. Girls in the Game encourages girls of all abilities to get in the game–any game–in an all-girl setting where girls are empowered to find their voices, explore new physical activities and support one another. After one year in the after school program, girls eat healthier, exercise more, have a healthier body image and have better social skills than their peers. These positive habits mean a healthy body and a bright future for Girls in the Game girls."
WIN WIN WIN!
Moving Comfort has generously offered one A happy hippy Mom reader a choice of one of their fantastic sports bras!  To enter check out the Moving Comfort Sports Bras and come back here to leave me a comment on which one you would select if you were chosen as the winner.  You might also want to visit the helpful Sports Bra Finder to determine your correct size.
Extra Entries
1.Mention the giveaway on your own blog linking back to Moving Comfort and this post.  Leave an additional comment with a link to where you blogged about the giveaway. This is worth 10 extra entries.  Make sure you leave ten separate comments. (example blogged extra entry #1, blogged extra entry #2, blogged extra entry #3, ect…)
2.Place my button on your blog and then leave an additional comment with a link to the page where you put the button. If you already have my button leave a comment letting me know you already have it.
3. Follow my blog and leave me an additional comment. ( There is a little widget on my sidebar that shows my followers. Just click follow). If you already follow leave me a comment letting me know you already do.
4. Follow me on Twitter and tweet about the giveaway. Please make sure you leave the link where you tweeted in your comment. YOU CAN TWEET ONCE PER DAY TO INCREASE YOUR CHANCES OF WINNING.  USE THE RETWEET BUTTON AT THE BOTTOM OF THIS POST FOR EASY ENTRY.

5. Subscribe to my feed and leave a comment. If you already subscribe leave a comment telling me you are already a subscriber.
6. Stumble, Digg, or Technorati this post and leave me TWO extra comments. ( At the bottom of this post you should see a bookmark button to make this an easy option.)
7.  Please make a simple comment on my Blog It Forward To Fight Hunger post and earn 5 extra entries!  Make sure to come back here after you comment to add your entries!
8.  Enter any of my other giveaways.  Leave me a comment telling me which giveaway you entered.

A winner will be chosen at random via Random.org. Upon notification the winner has 72 hours to send me their contact information.  Info will be forwarded to sponsor.
The contest ends August 18th, 11:59 PM eastern.
OPEN TO US