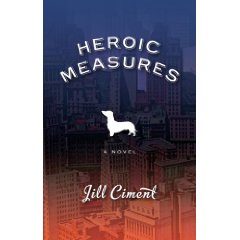 Oprah.com  is offering members a free download of the new novel Heroic Measures by Jill Ciment.  The book is on Oprah's 25 Books You Can't Put Down list and can be downloaded now until 10:59 a.m. ET Wednesday July 22, 2009.
More about the novel from Publishers weekly
Ciment's spare and surprisingly gripping novel details one long weekend in the life of Ruth and Alex Cohen, an elderly New York couple hoping to sell their East Village apartment of 45 years. Ruth is a retired teacher and Chekhov devotee, and Alex is an artist, currently adding colorful illuminations to the couples' old FBI files. As they ready for an open house, a gas tanker truck gets stuck in the Midtown tunnel, seizing the city with gridlock and fear of a terrorist attack. (In scenes that border on parody, the local news adopts a Danger in the Tunnel graphic and runs viewer polls about whether terrorists take drugs.) Meanwhile, the Cohens' beloved dachshund, Dorothy, falls ill and has to be taken to an uptown animal hospital. As the real estate market swings in response to the news about the tanker, the Cohens wait for news about their dog and confront the reality of leaving their home. Ciment plays the veterinary, real estate and domestic details like elements of a thriller plot, while the couple's love of their dog provides heartrending texture—literature with commercial crossover.
To download your free book click here.