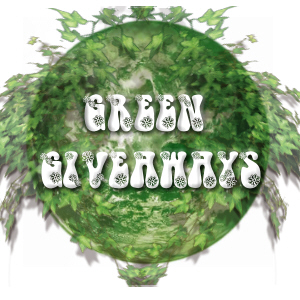 I love green giveaways and have compiled a list of a few I have found during my Internet travels.  I'm sure some of you are already aware of them but there may be a couple new ones you haven't heard of yet.
Simple Green " The Great Green Sweepstakes"
Prize= $500 The Home Depot gift card and one-year supply of Simple Green household cleaning products (ARV $600).  Ends 08/12/09 11:59 am PT
The Garden Shows Production Company " Eco–Friendly Landscape Sweepstakes"
Grand Prize= Eco friendly graden makeover including irrigation system, native plants and eco friendly gardening products, GardenSMART will film the makeover to use for at least one television show. in which you can appear (ARV $7,000).
Monthly Prize: One-year subscription to "Fine Gardening Magazine" (ARV $30). Ends March 9, 2010  11:59pm ET

PYREX  " Living The Smart Life Sweepstakes"
Prize: $17,645 to be used only toward the purchase of a new 2011 Smart fortwo vehicle. Ends July 31, 2010 @ 11:59pm ET
Liberty Mutual  "Get Eco-Smart with Liberty Mutual Sweepstakes"
Prize= 2009 Smart fortwo automobile (ARV $11,990). Ends August 31, 2009  11:59pm ET
Scotch Brite  "Cleaning Smart Sweepstakes"
Prize: 2009 smart fortwo car or cash (ARV $14,000). Ends October 31, 2009  11:59pm CT
Martha Stewart Living  "Miracle-Gro Organic Choice Garden Makeover Sweepstakes"
Prize= Garden makeover consisting of a consultation with a garden expert, products, plants, and installation. (ARV $5,000) Ends July 31, 2009 11:59pm ET
Instructables "Get In The Garden Contest"
Prize= Win an amazing indoor composter from NatureMill. (ARV $399) Ends July 19, 2009
Classic Heartland " Dell Studio Hybrid Computer Giveaway"
Prize= Dell Studio Hybrid computer. (ARV $699.99) Ends July 14, 2009  11:59pm CT
Prissy Green "Organicare Giveaway"
Organicare Daily Renewal cleanser, Finding Balance pH balancing skin conditioner, and a reusable lunch tote (ARV $85). Ends July 10, 2009  11:59pm ET
Vegetarian Times " Nasoya Sweepstakes"
Prize=  Nasoya Silken Creations gift basket with product samples, dessert recipe booklet, pie plate, pie knife, apron, mixing bowl, spatula plus shopping tote (ARV $200). Ends Monday, August 31, 2009
VIVmag "VIV it up in Fiji! Personality Quiz + Sweepstakes"
Prize= Grand Prize: 7-night/6-day trip for two to the Wakaya Club in Fiji from Los Angeles, CA (ARV $35,715).
Instant Win Game Prizes:
First Prizes (100): One-year digital magazine subscription to choice of one of the following: Vegetarian Times, Yoga Journal, BlackBook, Garden Design, Saveur, Elle, Elle Décor, Metropolitan Home, Woman's Day, Outside, Outside's Go, Reader's Digest, US News & World Report, GreenSource (ARV $36).Second Prizes (100): Annual VIV membership (ARV $36).Third Prizes (100): VIV red pashmina (ARV $15).Fourth Prizes (100): VIV yoga mat (ARV $15).Fifth Prizes (100): VIV eco-friendly bag (ARV $10). Ends October 11, 2009  11:59pm ET
Disney  "Honda INSiGHT Celebrate the Hybrid for Everyone Sweepstakes"
Prize= 2010 Honda INSiGHT EX with Navigation and 2-night trip for up to four to Disneyland Resort in Anaheim, CA; includes Premium Disneyland Resort Annual Passports plus a $500 Disney gift card (ARV $28,516). Ends July 31, 2009  11:59pm PT
Lucky Magazine " Pangea Organics Sweepstakes"
Prizes= (120): Pangea Organics Japanese Matcha Tea with Acai and Goji Berry Facial Mask, Pangea Organics Egyptian Geranium with Adzuki Bean and Cranberry Facial Scrub, and Pangea Organics Egyptian Fennel with Grapefruit and Sweet Orange Lipcare Balm (ARV $84). Ends August 2, 2009  11:59pm ET
Good luck and win some GREEN prizes!