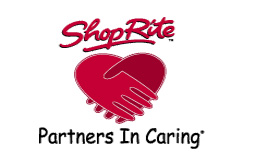 I have been blessed with the finest group of readers.   You are kind, compassionate, and motivated to helping others in need.  I've seen you pull together and accomplish tasks that seemed nearly impossible.  With your strong dedication and perseverance you have made a positive difference in the lives of others.  I'm hoping today you can once again come together and join ShopRite Partners In Caring,  along with me,  in the fight against hunger.
Facts about hunger in America.
Did you know that more than 36 million Americans suffer from food insecurity?  What is food insecurity?  Food insecurity is  when you lack the economic means to enough safe, nutritious foods, and  you are unsure when or what your next meal will be.  Sadly, the U.S. Department of Agriculture estimates that approximately 11 percent of U.S. households are food insecure, and nearly one-third of these families are experiencing moderate to severe hunger.  The statistics show a shocking 12 million children are growing up hungry and 2 million seniors endure the pain of food insecurity.   The figures breakdown to one out of every eight Americans went hungry some time in the previous 12 months.  Look around you! This could even be a family member, friend, neighbor or co-worker affected by hunger.  How can this be going on in America?
ShopRite compiled a list of statewide food insecurity rates within their area.
New Jersey – 7.7%
Delaware – 7.8%
Maryland – 9.5%
Connecticut – 8.6%
Pennsylvania – 10%
New York – 9.8%
Complications of hunger.
A growing child is most vulnerable to the devastating complications of hunger.  Children who do not receive the adequate nutrients their little bodies require suffer from weekend immune systems making them more acceptable to diseases.  They may develop cognitive  and behavioral problems such as irritability, fatigue, and young children might possibly show difficulty in concentration.  Further complications result in a slow or unusual development in areas such as speaking, behavior, or movement.  It has also been proven that teenagers are not exempt to the ill affects of hunger and will display signs of depression.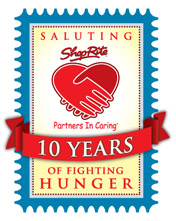 ShopRite Partners In Caring
The good news is that the ShopRite organization recognized the widespread problem of hunger experienced by families in the neighborhoods served by their stores.  For more than 20 years ShopRite has been helping to fight the problem of hunger through it's support of the Feeding America Network and  by direct participation in the Checkout Hunger Program.
In 1999 ShopRite felt the need to do more to fight the growing battle of hunger.  They realized hunger was a year-round problem and began their community based hunger fighting program called the ShopRite Partners In Caring.  With the support of over 50 generous manufactures, the successful program has  helped feed and meet the nutritional needs of the families and elderly who otherwise may have gone without food.
Currently, the ShopRite Partners In Caring program supports 23 regional food banks and more than 1,400 charitable agencies with food or meal items.   The program has generated over $20 million in donations since 1999 in the fight against hunger.
How it works.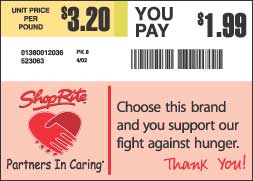 Companies that joined ShopRite in the fight against hunger have their products specially marked in stores with the ShopRite Partners In Caring shelf label (see label above).  Every time you purchase one of the items marked with the special tag you help support the manufactures who contribute to the program.
The list of brands with the ShopRite Partners In Caring shelf label can be found here.
"Each of the 217 ShopRite grocery stores  in the six states that ShopRite serves (New York, New Jersey, Delaware, Pennsylvania, Connecticut and Maryland) selects qualified local organizations to benefit from the program. These local food charities use their designated funds to acquire supplies at a food bank."
The ShopRite Partners In Caring donations contribute to a large variety of organizations with feeding capabilities including emergency food pantries, soup kitchens, homeless shelters, child care centers, battered women's shelters, senior programs, drug rehab centers, programs for the mentally and physically disabled, after school programs and more!
Getting Involved
Getting involved in the fight against food hunger and food insecurity is easier than you might think.  Did you know a small donation of $1 can purchase 10 pounds of food from a food bank?  Amazing!
Other ideas (borrowed from ShopRite) on how  you can actively fight against hunger are…
Send a tax-deductible donation to the ShopRite Partners In Caring Fund:
ShopRite Partners In Caring Fund
c/o Consumer and Corporate Affairs
P7-103 Wakefern Food Corp.
PO Box 7812
Edison NJ 08818-7812
Contribute to the annual Check Out Hunger program at participating ShopRite stores by asking your cashier for a $1, $3 or $5 donation tag at check-out; your contribution will be added to your grocery bill.

Support local charities by contributing to their fundraisers, or help organize a fundraiser in your neighborhood or at work (where permitted). In addition to the money you can raise, talking to people you know about hunger helps raise awareness of the issue and involve them in the effort to address it.
Contact your elected officials to find out what is being done about hunger and poverty in your community and encourage them to support policies that help the needy and the organizations and agencies that help them.
Write a "letter to the editor" of your local newspaper about hunger in your community and encouraging others to support community programs.
Volunteer at a food bank or food pantry, soup kitchen or other charity in your community, helping them to help others in your community. Invite your friends and family, co-workers, members of your religious congregation, or clubs to which you belong, to join you.
Talk to your children about the effects of hunger on other children in your community and encourage them to get involved. Volunteering together is a great way to teach them about the importance of helping others and make them more likely to remain involved in service as adults.
Get to know a family or individual in your community who may be experiencing food insecurity, and find out how you can help. It may be by preparing a meal once a week or twice a month, or helping them find an agency or organization appropriate to their situation that can address long-term needs.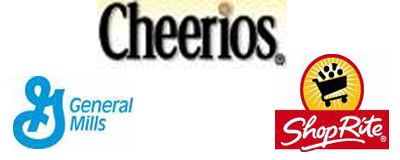 How you can help right now by making a simple comment!
Since the beginning of the ShopRite Partners In Caring Program in 1999, General Mills has been one of the program's most supportive vendor partners and their steadfast fight against hunger continues today.
General Mills and ShopRite will donate one box of  Cheerios to a food bank in ShopRite's trading area for the first 30 people who comment on this post!  If you would like to help someone in need,  leave a comment telling me you would like to join the fight against hunger.   Very simple but effective!  To help even further and become a "hunger-fighting hero" spread the word about the ShopRite Partners In Caring program and the fight against hunger and raise awareness through the power of blogging!
Statistics facts reported by Feeding America