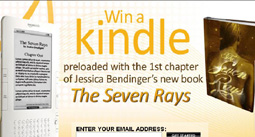 SheKnows is currently having a giveaway for an Amazon Kindle pre-loaded with the first chapter of The Seven Rays by Jessica Bendinger!  This is Jessica's FIRST teen novel and you can download a free sneak peek of chapter one at www.thesevenrays.com.
Who is Jessica Bendinger?
Jessica Bendinger is an acclaimed Hollywood screenwriter who launched onto the scene with her number one box hit Bring It On.  You might also recognize her name from Glamour Magazine which featured her on the  "Hollywoods Most Powerful Women Under 40"  list.  Bendinger, a former journalist for Spin Magazine and MTV News, was a writer for Season Four of Sex And The City,  and she recently wrote plus directed the teen gymnastics hit Stick It.
The Seven Rays synopsis…
The Seven Rays
Written by Jessica Bendinger

When seventeen year-old honors student Beth Michaels starts receiving gold envelopes with messages like, YOU ARE MORE THAN YOU THINK YOU ARE, she thinks that a crazy person might be stalking her. When she begins seeing people's thoughts, feelings, and personal histories on their electromagnetic fields, she thinks that she might be a crazy person. And then when the hottest boy in town, Richie Mac, kisses and becomes obsessed with her, she knows that something's up.

But she can deal with all of that until her mom gets freaked out by her erratic behavior and sends her to a psychiatric institute for observation. It is here where Beth finds out that she was adopted under mysterious circumstances and perhaps has supernatural powers. Now all she has to do is break out of the ward – with Richie's help – and road trip to New York to discover who she really is and why all this is happening to her…

Is it possible that Beth might be more than she thinks she is?

The Sevens Rays is a paranormal coming-of-age story that delves into love, friendship, family and the supernatural.

Jessica Bendinger is an acclaimed Hollywood screenwriter. She launched onto the scene with her original script Bring it On, which debuted at #1 in the box office. Bendinger was also a writer on the Emmy and Golden Globe award-winning Season Four of Sex in the City. Her other screenwriting credits include The Truth about Charlie, First Daughter and Aquamarine. Most recently, she wrote and directed the teen gymnastics hit Stick It. Jessica currently lives in Los Angeles with her two dogs.

THE SEVEN RAYS
By Jessica Bendinger
$16.99
ISBN: 9781416938392
November 24, 2009
Ages 14 and up
Simon & Schuster Books for Young Readers
To enter the SheKnows Amazon Kindle & The Seven Rays Giveaway click here.
The Sweepstakes ends on August 23, 2009 at 11:59 p.