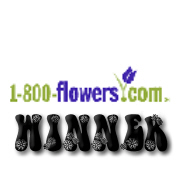 I try to make the giveaways easy to enter but again there was some confusion on how to copy a link and leave it in your comment of what you would like to purchase if you were chosen as the GC winner.  If there is ANY questions on how to enter the giveaways  please email me and I will help you.
If the initial entry mentioned an item from 1-800-FLOWERS.COM that could be purchased but was missing the direct link,   I still added it to the giveaway draw.  Next time I will be clearer on how to add a link.  Here are the results…
and the winning comment

Congrats hallie!  Please respond to my email within 72 hours.