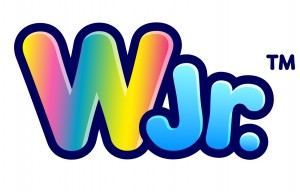 You probably have heard me rave about my love for Webkinz .  My 12 year old daughter has been collecting the plush toys for over a year and having fun playing with her virtual pets online at Webkinz.com.  Well Ganz has realized that younger children would also benefit from their fuzzy critters and launched Webkinz Jr., a world of imaginative interactive play just for kiddos ages 3 to 6.
Webkinz Jr. is perfectly designed for children who are in early preschool through kindergarten.  The over-sized plush pets are easy for little kids to squeeze, grab,  and hug.  Each lovable super soft toy comes with a unique pet code attached allowing children to go online and play educational age appropriate games and activities.  The website focuses on teaching tots and introducing them to the computer while offering a safe internet environment.
Pet Care…
Children also learn the maintenance of properly caring for a pet.  They make their pet happy by playing games, feeding it good foods, putting the pet down for a nap, grooming it at the sink or bathtub, and taking the pet to school.  If the pet becomes sick your child needs to take it to Dr. Paws at the clinic to make it healthier.
The Neighborhood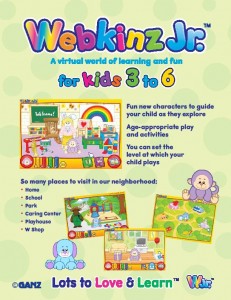 There is so much for your little one to explore at Webkinz Jr. to keep their mind active.  The virtual neighborhood is made up of several places such as Home, Park, Caring Center, Playhouse, and W Shop.  At the shop items can be bought with KinzCoins.    A child can earn up to 5 KinzCoins per day by playing activities and games.
Parental Controls

…

Parents have the capability to monitor their child's progress and adjust  the content of play appropriately.  The  levels that can be set are art, language, math, mouse control, music, puzzle skills, science, social skills, and visual discrimination.  I like this feature because children develop differently and  can learn at their own pace.
Meet the Webkinz Jr. Pet clan…

"Tan Puppy
With gentle eyes and soft tan fur, you know you've found a friend in the Tan Puppy. This sweet doggy is looking for a forever home with a caring pal. Will you take care of this little pup?"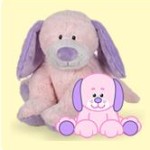 "Pink Puppy
The Pink Puppy has fur the color of bubblegum and a personality that is every bit as sweet. The Pink Puppy is friendly, adorable, and loves to learn and play lots of games. This dear doggie is sure to follow you wherever you go!"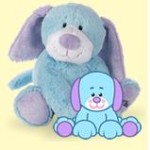 "Blue Puppy
You'll never be blue with this cool doggy! The Blue Puppy is soft, gentle, and loves to have fun playing games and visiting lots of friends all around the neighborhood. Take home this roly-poly puppy today!"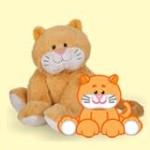 "Orange Kitty
If there's one pet that's purr-fect for you, it's the Orange Kitty. As bright and sunny as its lovely orange fur, this charming cat is sure to win your heart and make every day a beautiful one!"
"Brown Monkey
Get ready to monkey around! With the mischievous Brown Monkey, you never know what will happen next! The Brown Monkey is always up for some fun – especially a trip to the park to play. You'll have more fun than a barrel of monkeys!"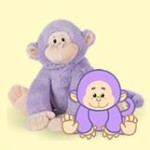 "Purple Monkey
With the Purple Monkey, you know you're in for some serious monkey business! Purple Monkeys love to laugh, play, and explore their neighborhood. When you have a Purple Monkey, you can go bananas!"
They are so adorable.  I want them all!
When you register the unique code online your child can play on the Webkinz Jr. Site for one year from the date of registration.  After the initial year, there is an option for account renewal.  A whole year of fun educational play for about $25.00 is a real good deal!
The deluxe membership includes a detailed report showing how well your child is doing in each activity.  You receive learn at home 5 subject-based activity ideas along with 1 printable that coordinates with the theme of what your child is learning on the site, newer playhouse games, more school activities, daily surprise activities, bonus park adventures, and to do list where you can select the activities that you mostly want your child to play.  When I reviewed the website the upgrade was not available yet, but it did say it was coming soon!
My son is still rather immature for the Webkinz Jr. website but isn't too small to enjoy the plush pets.  The stuffed pets,  in my opinion,  can be enjoyed by any age.  They are fabulously cute!
If you would like to learn more about Webkinz Jr. you can click here.
Win Win Win

Thanks to Ganz I have the pleasure to give one of my readers an over-sized plush Webkinz Jr. Tan Puppy!  He is sitting here ready to be adopted, loved, and hugged by your tot.  All you have to do to be entered to win him is check out Webkinz Jr. and leave me a comment here telling me which pet you like the best.  Please do this before you earn any extra entries.
Extra Entries
1.Mention the giveaway on your own blog linking back to the giveaway and Webkinz Jr.  Leave an additional comment with a link to your post. This is worth 3 extra entries. Make sure you leave three separate comments. (example blogged extra entry #1, blogged extra entry #2, blogged extra entry #3)2.Place my button on your blog and then leave an additional comment with a link to the page where you put the button. If you already have my button leave a comment letting me know you already have it.
3. Follow my blog and leave me an additional comment. ( There is a little widget on my sidebar that shows my followers. Just click follow). If you already follow leave me a comment letting me know you already do.
4. Follow me on Twitter and tweet about the giveaway. Please make sure you leave the link where you tweeted in your comment. YOU CAN TWEET ONCE PER DAY TO INCREASE YOUR CHANCES OF WINNING.
5. Subscribe to my feed and leave a comment. If you already subscribe leave a comment telling me you are already a subscriber.
6. Stumble, Digg, or Technorati this post and leave me TWO extra comments. ( At the bottom of this post you should see a bookmark button to make this an easy option.)
A winner will be chosen at random via Random.org. Upon notification the winner has 72 hours to send me their contact information.
The contest ends June 30th, 11:59 PM eastern.
Open to U.S. residents 18+