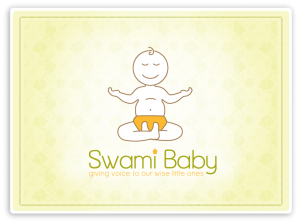 Swami Baby is a soft comfortable clothing line for infants, toddlers, and adults designed by a Hatha Yoga instructor and mother of three.  Katie Holley, the yoga passionate owner of the boutique, wanted to create baby-wear and gifts that would express the natural teacher, or swami,  children can be if we would just take the time to listen.  Her belief is kids possess the characteristics  we as adults need to capture.  They are able to live in the here and now, take time out to appreciate life, are aware of their surroundings, and  able to be direct.  Swami Baby gives this insight a voice and to be a calming reminder for adults to relax, enjoy themselves, and approach life one baby step at a time.
SHOP BABY
Swami Baby Onesies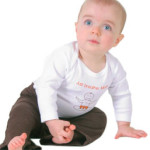 "Let your wise little one speak with these adorable shirts that help to remind us adults of the important things in life!"
The onesies sizes range from 3-18 months.  Each one displays the cutest Swami saying such as Just breathe Mom, Constantly changing, Om shanti shanti shanti, and So far so good.
Elements T-Shirts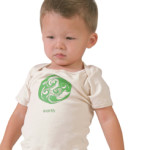 "Is your child spunky like the wind? Grounded like the earth? Laid back like water? Or passionate like fire?  Say it loud and clear with an elements personality t-shirt.'
The t-shirts come in sizes 6-24 months for organic cotton and 6 months – 6T for regular cotton.  Pick the perfect tee to match your child's personality!  I know my little Aiden would definitely be wearing the element fire.
and more…
The kids clothing line also features children Think Green T-shirts, soft Customized Embroidery Onesies for infants, Child Yoga Pants, warm Infant Caps,  and a 100% cotton 14.0 ounce canvas tote bag.
FOR ADULTS
Yoga Pants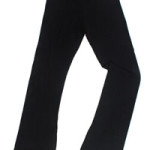 "These stretchy but flattering yoga pants are great for yoga class or everyday lounging! They feature a folder-over top that can be worn un-folded for extra support, or folded down for a stylish effect. "
The yoga pants come in sizes small through extra large.  You have the choice between two styles;  Swamiwear logo on backside of folder-over or "Om" symbol on front hip.
Think Green Shirts for Women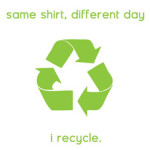 "Support sustainability and green thinking with these thoughtful shirts."
Pick your favorite green saying!  Your choices include three different styles; I recycle, Use Less, and Earth Day.  Sizes medium through extra large.
The boutique also features adult Long-Sleeve Hoodies, Element T-Shirts, and Long-Sleeve T-Shirts for men!
My personal experience with Swami Baby
I  recently tried the Yoga Pants with the "Om" symbol on front hip, and the I Recycle Think Green T-Shirt.  Both the yoga pants and tee are stylish, unbelievably comfortable, lightweight, breathable, and quality made.  I was able to move freely in the clothes without any binding (very important) and the extra support top on the pants is awesome!  They are perfect to exercise in and even great to wear for just lounging around.
My daughter,  who happens to be about the same size as me,  is already eyeballing the yoga pants and t-shirt asking if she can wear them while she works out on her Wii Fit!  Being the kind mom I am I said NO!  All mine!
All the Swami Baby products are extremely reasonably priced!  Check out Swami Baby here.
You can learn more about Katie Holley and her yoga teaching here.
Check out Katie's blog!
Follow Swami Baby on Twitter.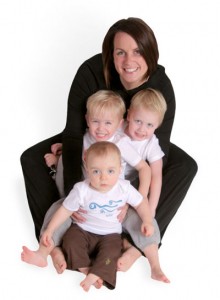 WIN WIN WIN
Katie generously wants to give one A happy hippy Mom reader a $50 GC to Swami Baby! All you need to do to enter is head over to Swami Baby and leave me a comment about what you would like to purchase if you win.  This must be done first before any extra entries can be earned.  Please follow the rules so your comment will be added to the giveaway entries.
EXTRA ENTRIES;

1.Mention the giveaway on your own blog linking back to this post and Swami Baby.  Leave an additional comment with a link to your post. This is worth 3 extra entries. Make sure you leave three separate comments. (example blogged extra entry #1, blogged extra entry #2, blogged extra entry #3)
2.Place my button on your blog and then leave an additional comment with a link to the page where you put the button. If you already have my button leave a comment letting me know you already have it (if you have my old button please replace it with my new one).
3. Follow me on Twitter and tweet about the giveaway. Please make sure you leave the link where you tweeted in your comment.
4. Follow Swami Baby on Twitter.  Leave me your Twitter ID.
5. Subscribe to my feed and leave a comment. If you already subscribe leave a comment telling me you are already a subscriber.
6. Stumble, Digg, or Technorati this post and leave me TWO extra comments.
ONE winner will be chosen at random via Random.org.
Open to residents of the U.S. and Canada 18+
Giveaway ends June 19rd, 2009 at 11:59pm eastern.
Giveaway is now closed!  A winner will be announced shortly.
Thank you for entering
!