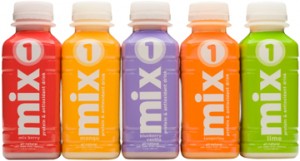 Most all of us have good intentions of eating healthy, but life's little mishaps can create havoc in our diet. Running late for work and skipping breakfast, stress leading to unhealthy snack choices, and an overload in tasks can cause a nutrition melt down. We find ourselves reaching for a caffeine boost ( I do this several times a day) only to be followed by a quick dip in energy. How can we stop the unwholesome roller coaster ride and avoid the energy crash?
There are various convenient meal replacement bars, powders, and beverages to grab instead of eating a regular meal. The manufactures promise their products are nutritious, give you energy, and replenish your body with lost nutrients. However, some are filled with artificial sweeteners, stimulates, and preservatives. They give you a false sense of satisfaction and leave you sluggish shortly afterward.
Naturopath Dr, James Rouse, Greg Stroh, and Wes Brasher, came together to create a delicious, quick, healthy, and convenient way for individuals on the go to satisfy their hunger and nourish their bodies.  The three men recognized the struggle of managing a busy lifestyle with finding the time to still eat a healthy well balanced meal.   In 2006 they solved the modern-day challenge by creating mix1, a beverage company that produces all-natural, protein and  antioxidant drinks.
You might be asking yourself,  how is mix1 any different from the other meal replacement beverages on the market?  The proof is in the right combination of high quality ingredients.  mix1 uses a balance of a 2:1 ratio of carbs to protein,  fiber, 23 vitamins and minerals, and polyphenols, to provide you a sustained energy.  It is absolutely free from any artificial preservatives,  gluten free, no soy, or caffeine, and uses a lactose-free whey protein isolate.  The drink contains fibersol,  a premium fiber for helping to lower bad cholesterol, and natural olive oil.  Also, mix1 uses just the right amount of organic sugar and cane syrup to sweeten,  giving your body exactly what it craves after a workout.
mix1 currently offers two products.  The original product is an enhanced protein and antioxidant drink.  It has 15 grams of whey protein isolate, 23 vitamins and minerals, and 3 servings of fruits/veggies from antioxidants equivalent to four cups of green tea!  It comes in five tangy fruit flavors- blueberry-vanilla, lime, mango, tangerine, and mixberry.  The drink is great for a healthy meal alternative, snack, or post-workout recovery drink.
The newest product is a hi-antioxidant fiber drink.  It has 9 grams of whey protein isolate, 9 servings of fruit/veggies from antioxidants, and 8 grams of soluble fiber.  The drink comes in two flavors- dark-berry, and orange-carrot.  It claims to have multiple benefits, such as aiding in digestion, helping to lower cholesterol, supporting immune system, controlling blood sugar levels, decreasing hunger, and more.
I know what you must be thinking.  All these nutritious ingredients packed in a  11 fl oz bottle,  it must taste nasty.   I know I was thinking I was going to have to choke it down, but on the contrary,  it was rather good.  I tried the tangerine protein and antioxidant shake plus the dark-berry hi-antioxidant fiber drink.  The tangerine shake was excellent and reminded me of a yogurt smoothie.  It  has a creamy consistency and a very tangy flavor.  The dark-berry drink was a little lighter in texture and refreshing.  Everyone has a different preference in taste,  but I actually enjoyed mix1.
I believe the important thing to remember is mix1 was designed to be a part of an overall healthy balanced diet.  It is not meant to be used as a single source of food consumption.  The company encourages individuals to eat fresh, healthy, and whole foods when ever possible and use mix1 when you are looking for a simple,  nutritious,  and convenient means to replace a meal or snack.
I almost forgot to add for anyone concerned about the plastic packaging  that mix1's bottles are absolutely recyclable and do not contain Bisphenol-A (BPA).  They have a shelf life of over nine months and can be stored at room temperature.
mix1  is sold nationally at Kroger and Whole Foods Market; regionally at King Soopers, Albertsons, Fred Meyer, Costco, Jewel-Osco, Ralphs, HEB, City Market and QFC; as well as at independent grocery retailers across the United States.
mix1 protein & antioxidant drink
Ingredients:
Purified Water, Whey Protein Isolate, Organic Cane Sugar, Organic Evaporated Cane Juice, Juice Concentrate (Tangerine, Apple, Lemon), Extra Light Olive Oil, Citric Acid, Pectin, Tangerine Natural Flavor, Beta-carotene (Color), Lactic Acid.
Vitamins & Minerals:
Potassium (Dipotassium Phosphate, Potassium Chloride), Calcium (Calcium Citrate, Dicalcium Phosphate), Magnesium (Magnesium Sulfate), Green Tea Extract (90% Polyphenols), Vitamin C (Ascorbic Aicd), Zinc (Zinc Gluconate), Vitamin E (Tocopheryl Acetate), Vitamin A (Vitamin A Palmitate), Vitamin B6 (Pryidoxine Hydrochloride), Vitamin B3 (Niacin), Iron (Ferric Orthophosphate), Manganese (Manganese Gluconate), Vitamin B5 (Calcium Pantothenate), Chromium (Chromium Chloride), Vitamin B12 (Cyanocobalomin), Molybdenum (Sodium Molybdenum), Vitamin B7 (Biotin), Selenium (Sodium Selenite), Iodine (Potassium Iodide), Folic Acid, Vitamin D3 (Cholecalciferol), Vitamin B2 (Riboflavin), Vitamin B1 (Thiamine Mononitrate).
mix1 hi-antioxidant fiber drink
Ingredients:
Purified Water, Whey Protein Isolate, Organic Cane Sugar, Juice Concentrate (Apple, Acai and Pomegranate), Extra Light Olive Oil, Pectin, Grape Juice Concentrate (color), Black Carrot Juice Concentrate (color), Natural Acai Flavor, Citric Acid, Malic Acid, Luo Han Guo (Momordica grasvenori) Extract
Vitamins & Minerals:
Green Tea Extract (90% polyphenols), Vitamin C (Ascorbic Acid), Vitamin E (d-alpha tocopheryl acetate)
More info about the mix1 founders

Dr. James Rouse, N.D. — co-founder
Dr. James is mix1's formulator and health expert. His credentials include a doctorate in naturopathic medicine, post-doctorate work in acupuncture and Chinese medicine, a BA in transpersonal psychology and certification as a yoga teacher. Dr. James hosts Optimum Wellness TV news segments, "Wellness Wednesday" and "The Fit Kitchen," which air weekly on Denver's NBC affiliate, and "Living Well," which airs weekly on the CBS affiliate in Los Angeles. The author of several books: NutriSystem Nourish: The Revolutionary Weight-Loss Program; Grow Your Life from Average to Amazing; Health Solutions for Stress. Additionally, he is the creator of the Health Solutions Series with Gaiam, featuring DVDs, books and support tools.  Dr. James knew he'd mastered the mix1 recipe when his daughters, Dakota and Elli told him they would drink it. Today, he emphasizes the importance of life balance and believes that mix1's recipe can benefit many people's busy lives. Dr. James currently resides in Evergreen, Colo., with his wife, two daughters and a basset hound.
Greg Stroh — co-founder
Greg Stroh is a seasoned beverage industry veteran with more than 15 years of customer relationship management, direct sales, channel marketing, and new product experience. Prior to co-founding mix1, Greg began his career at his family's brewery, the Stroh Brewery Co. Later, he co-founded the IZZE Beverage Co., which grew into a successful enterprise. He believes in the uniqueness of the mix1 product and feels mix1 has significantly helped his moves on the dance floor. Greg lives in Boulder, Colo., with his wife, daughter and two black Labs.
Wes Brasher — co-founder
Wes Brasher brings leadership experience in food and beverage product development to mix1. He began his career at Ben & Jerry's ice cream, followed by 7-Eleven Inc., where he managed the nonalcoholic beverage business and saw thousands of new products come and go. He later started his own consulting business in brand and product development.  In addition, Wes is very excited about the addition of mix1 to his golf bag. His first round of golf with mix1 resulted in his best score this year! Wes currently resides in Loveland, Colo., with his wife, daughter and son. His passions are his family, golf and his work.
WIN WIN WIN
mix1 would like to donate a case to one lucky reader.  If you would like to win leave me a comment letting me know you would like to try mix1.
Extra Entries
1.Mention the giveaway on your own blog linking back to the giveaway and mix1.  Leave an additional comment with a link to your post. This is worth 3 extra entries. Make sure you leave three separate comments. (example blogged extra entry #1, blogged extra entry #2, blogged extra entry #3)
2.Place my button on your blog and then leave an additional comment with a link to the page where you put the button. If you already have my button leave a comment letting me know you already have it.
3. Follow my blog and leave me an additional comment. ( There is a little widget on my sidebar that shows my followers. Just click follow). If you already follow leave me a comment letting me know you already do.
4. Follow me on Twitter and tweet about the giveaway. Please make sure you leave the link where you tweeted in your comment. YOU CAN TWEET ONCE PER DAY TO INCREASE YOUR CHANCES OF WINNING.
5. Subscribe to my feed and leave a comment. If you already subscribe leave a comment telling me you are already a subscriber.
6. Stumble, Digg, or Technorati this post and leave me TWO extra comments. ( At the bottom of this post you should see a bookmark button to make this an easy option.)
A winner will be chosen at random via Random.org. Upon notification the winner has 72 hours to send me their contact information.  Info will be forwarded to sponsor.

The contest ends July 7th, 11:59 PM eastern.
Open to U.S. residents 18+