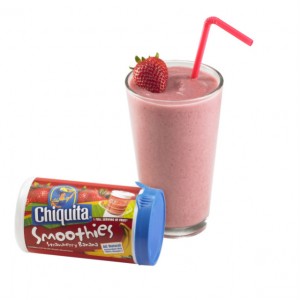 I know when I hear someone mention Chiquita I automatically  think of bananas!  Chiquita has marketed bananas, its most recognized product,  for more than 100 years.  They are operating in more than  80 countries world wide and employ approximately  25,000 people.   In 2006 the company sold 144 million boxes of bananas and since the mid 1990's made a dedication to be environmentally responsible  with their commitment to achieve certification to the high standards of the Rainforest Alliance in all their company owned banana farms.   The Rainforest Alliance is an international organization whose mission is to protect the ecosystems and the people plus wildlife who live in them.  The organization works to conserve biodiversity and ensure sustainability by implementing better production practices for working the land.
Chiquita offers a huge variety of  other fruits, vegetables, and healthy snacks.  Besides bananas, you can find their label on apples, avocados, grapes, kiwi, cherries, melons, pineapples, pears, peaches, plums and nectarines, ready to eat spinach, salads, fruit beverages, and  bite sized nutritious  snacks.
The new addition to their line of wholesome products is the delicious Chiquita Fruit Smoothies!  The all natural fruit smoothies do not have any artificial sweeteners, coloring, preservatives, dairy, or gluten, and are packed   with antioxidants.   Each serving of the yummy treat  contains at least 1/2 cup of fruit per eight-ounces and 100 percent of the  recommended daily value of vitamin C.  The four flavors currently available  are Strawberry Banana, Banana Colada, Peach Mango and Mixed Berry.  They are a great value costing less than $1 per serving and a wonderful alternative to consumers who want a great tasting smoothie that can be easily prepared at home for an affordable price.
My daughter and I whipped up a batch of the Chiquita Mixed Berry Smoothie and we loved the frozen refreshing taste.  Even my son who is severely picky enjoyed the cold lip smacking treat!
Preparing the smoothie was easy.  All I did was mix the contents of the smoothie canister with six ounces of water and two cans of ice in my Oster Fusion blender.   I maxed blended on high for a little over a minute and voilà-a perfect tasty smoothie!
You can even use the Chiquita Smoothies in recipes.  There are several recipes located at www.chiquitasmoothie.com along with some fun games ,
$1 off coupon

, the chance to

win a Tropical Trip for four

, and to

enter

the drawing

for an  Oster Fusion Reversing Motor Blender, Blend-N-Go Cup, and one year supply of Chiquita Smoothies!

Chiquita Smoothies are available nation-wide in your grocer's freezer aisle, with a suggested retail price of $2.69.



If you would like to learn more about Chiquita Brands International, please  click here.
To find information about Old Orchard, visit 

www.oldorchardjuice.com

.
Follow Chiquita Smoothies on Twitter
Become a fan of Chiquita Smoothies on Facebook
STRAWBERRY BANANA MUFFINS

1 can Strawberry Banana Chiquita™ Smoothie, slightly thawed
1/2 cup unsalted butter, melted
3/4 cup light brown sugar
2 large eggs
1 tsp. vanilla extract
2 cups whole wheat flour
1 1/2 tsp. baking powder
1/4 teaspoon baking soda
1 tsp. ground cinnamon
1/2 tsp. salt
Preheat oven to 350 degrees F. In a large bowl, combine smoothie contents, brown sugar, eggs, vanilla, and butter. In another bowl, combine dry ingredients. Slowly add dry ingredients to the bowl with the smoothie mixture. Stir until well combined. Spoon batter into lined or greased muffin cups, filling each cup about two thirds full. Bake muffins for 20-25 minutes.