Tanya from The Grab Bag gave me the Over The Top Award! This is a very cool award and I am very flattered to receive it. The Grab Bag is LOADED with delicious recipes! Tanya's recent addition is for a Strawberry Kiwi Smoothie. Check out The Grab Bag here.
Thank you Tanya! (10/11/2009)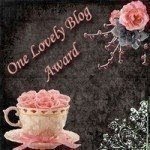 I am so bad about passing these awards on!  PLEAAAAAAASE forgive me!  If I could I would pass them on to each and every one of you.  I know how much work goes into maintaining a website/blog and you all deserve an award for the fantastic information and fun you uniquely bring to the blogosphere.
Jessica from Riding With Jessica has honored me with the One Lovely Blog Award.  Thank you Jessica for being so kind!  When you get a chance stop by her blog and check it out!  She has 4 beautiful kiddos and some terrific info to share.
Thank you again and if I missed posting about an award please feel free to drop me a line or two letting me know! (10/1/2009)
I'm a schmuck and forgot to post this wonderful award given to me by Vicki from Frugal Mom Knows Best.  She has a wonderful blog with tons of information on money saving tips!  Check her out here…
Thank you Vicki!
I received two bloggy awards this week!  The first award was "The Lovely Blog Award"  passed to me from A Lil Dash of Diva. Thank you Chrissy!
The second award was the "Love Ya/Friends" award given to me by Dawn from Two Pretty Little Skirts.
Thanks Dawn for your thoughtfulness!
This award is bestowed on to blogs that are exceedingly charming. These kind bloggers aim to find and be friends. They are not interested in self-aggrandizement. Our hope is that when the ribbons of these prizes are cut, even more friendships are propagated. Please give more attention to these writers. Deliver this award to eight bloggers who must choose eight more and include this cleverly-written text into the body of their award.
Both ladies have wonderful blogs with terrific information!
Chrissy is a wife and mama who loves scapbooking and photography.  In her spare time she enjoys reading.  Some of her favorite books are Twilight, New Moon, Eclipse, and Breaking Down.
Dawn is a mom,  seamstress,  and business owner of an online Boutique.  She is passionate about her family, and addicted to fabrics.  You will soon realize this yourself when you read her blog!  Tons of wonderful information about sewing!
The awards are all about making new friends so I thought I would pass them on to 15 of my new followers!  I'm looking forward to getting to know you and reading your blogs.
SnuggleBunny

Homemaking Cottage

New York City Single Mom

TwinHappy

Ollie McKay's Chic Boutique Blog

Got Kids, Need Valium

Life Is Wonderful

Pak Adventures

Matthew's Puzzle

raging grannies

yonca is cooking

HolisticallyHeather

When We Listen

Miracles on Mama Street

More Fun Than Allowed…with Kids