I'm giving away a $15 Whole Foods GC and a New Crunch Candlelight Yoga DVD to celebrate my move from blogspot to my own domain!  To enter become a follower and leave me a family friendly comment.  If you are already following me leave me a comment telling me you follow.
EXTRA ENTRIES;

1.Mention the giveaway on your own blog linking back and leave an additional comment with a link to your post. This is worth 3 extra entries. Make sure you leave three separate comments. (example blogged extra entry #1, blogged extra entry #2, blogged extra entry #3)
2.Place my button on your blog and then leave an additional comment with a link to the page where you put the button. If you already have my button leave a comment letting me know you already have it (if you have my old button please replace it with my new one).
3. Follow me on Twitter and tweet about the giveaway. Please make sure you leave the link where you tweeted in your comment.  YOU MAY TWEET AS OFTEN AS YOU LIKE FOR UNLIMITED ENTRIES! LEAVE ME AN ADDITIONAL COMMENT FOR EACH TWEET WITH THE LINK TO YOUR TWEET.
4. Subscribe to my feed and leave a comment. If you already subscribe leave a comment telling me you are already a subscriber.
5. Stumble, Digg, or Technorati this post and leave me TWO extra comments.
ONE winner will be chosen at random via Random.org.
Open to residents of the U.S. 18+
Giveaway ends June 3rd, 2009 at 11:59pm eastern.
Product description of Crunch Candlelight Yoga DVD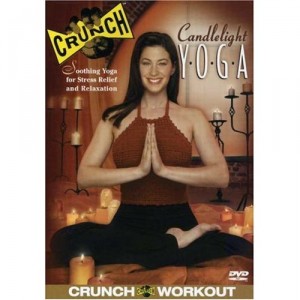 Soothing Yoga for Stress Relief and Relaxation Welcome to Crunch Fitness. You`ll unwind and drain your tension away with this soothing, restorative yoga program.
In just thirty minutes, melt anxiety into tranquility with yoga postures specifically chosen to release tension, increase strength, improve balance, and enhance flexi-bility. Don`t let the candles fool you; you can do this workout any time as a personal "pick me up." The emphasis on breathing and meditation will help you feel recharged and renewed; it may even help you sleep better.
There is more to health than being thin or fit. A little yoga every day is the best R & R you can wish for. All fitness levels. A yoga mat or a non-slippery surface and bare feet are highly recommended.
The CRUNCH Philosophy:CRUNCH fitness program welcomes people from all walks of life regardless of shape, size or ability. We created a workout environment that is not competi-tive or judgmental. Enjoy these favorite classes with imaginative instructors in an atmosphere that makes working out fun.
Meet the instructor: Sara Ivanhoe, Los Angeles. Certified yoga instructor. Fitness philosophy: Yoga is like a marathon, not a sprint; slow and safe persistence gives you the best results. The main thing is to have fun and keep your sense of humor. Enjoy and you`re more likely to stick to it. Favorite binge food: pasta
[signature]