I love memes. They take the pressure off my foggy brain so I don't go cross-eyed thinking about a blog topic. Wait, you too? WE'RE TWINS!
Well then, why not take a break and play Top Ten Tuesday? Grab my button, choose your Top Ten topic (or use mine!), post it on your blog, and link up below!
Happy Tuesday relaxing!
Stop on over to It's a Beauty Filled Life, grab her Top Ten Tuesday button and play along!
I am going to stay with Jennifer's topic this week and list the top ten places I would like to visit.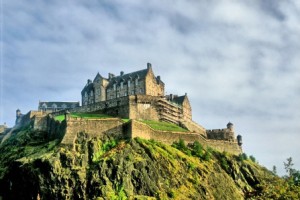 1.   Edinburgh, Scotland (picture above is Edinburgh's castle)
2.  Queenstown, New Zealand
3.  Delphi, Greece
4.  Dublin, Ireland
5.  Venice, Italy
6.  Florence, Italy
7.  The Swiss Alps, Switzerland
8.  Honolulu, Hawaii
9.  Haarlem, The Netherlands
10.  Maui
All these places would be a DREAM to visit! I would settle to get the cookie critic off the couch and go to the museum or zoo! Anything away from the TV!
[signature]