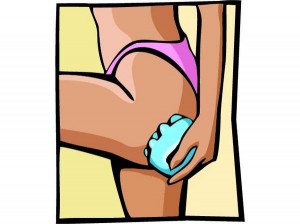 Most woman develop cellulite at some time during their life.  The thighs, abdomen, and buttocks get attacked with unattractive pockets of fat which cause the skin to dimple.
There are huge varieties of costly products on the market that claim to rid your body of cellulite but don't perform as they claim.   The most effective way of treating cellulite is to eat a healthy diet along with regular exercise.  Massaging the area with oil also helps in decreasing the appearance by  moisturizing the skin and increasing circulation to aid in breaking down the fatty deposits.
Here is a recipe for a natural massage oil which may help increase blood flow and lessen the look of cellulite.
Cellulite Massage Oil Recipe
2 tablespoons almond oil
1/2 teaspoon jojoba oil
1/2 teaspoon carrot oil
14 drops geranium essential oil
6 drops lemongrass essential oil
4 drops cypress essential oil
Directions:
Combine all ingredients in a 1 1/2 to 2 ounce sterilized glass jar with a secure fitting lid.  Shake to well mixed.
After showering, dry skin and massage a small amount of the oil on the cellulite areas, using  circular movements.  Apply only once a day.