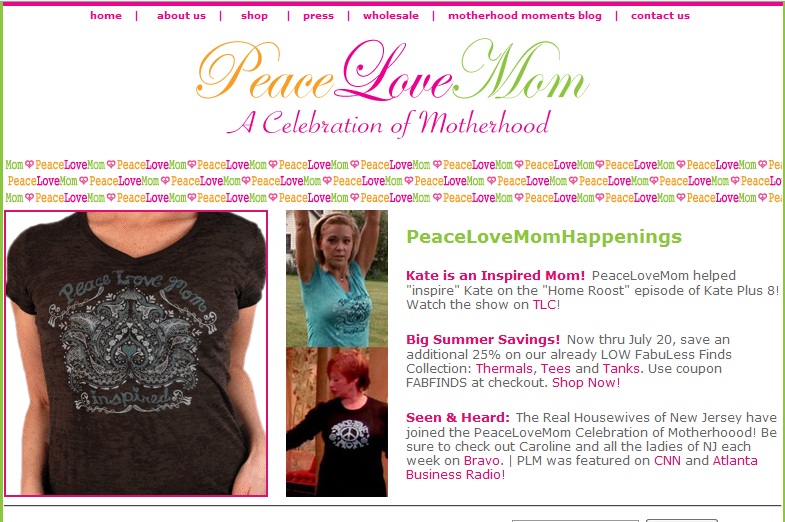 Three different moms set out with the same common goal in mind "to celebrate motherhood." Lori, Suzanne and Karen, partnered in 2005 and masterminded the now very trendy company PeaceLoveMom. Their unique sense of style and passion for motherhood radiates from each creative design. The three ladies empower and inspire mothers from all walks of life to embrace the joys of being a mom and to wear it as a badge through their hip attire.
I love being a mom. It is rewarding yet tiring, can be extremely gratifying, some days mundane, and other days just plain messy. This is why I am a t-shirt and jeans gal. I want to be comfortable no matter what the day might bring. But do I have to sacrifice my sense of style? Most my t-shirts are not flattering and hang on me like a bag. They certainly do not make a positive fashion statement. Except my two gorgeous chic PeaceLoveMom tees!
My PeaceLoveMom Pink Burn Out Tee is super buttery soft with a sexy fit! The washed burnout fabric with the custom cut gives a true vintage look and feel. The vibrant pink color is eye catching and expresses my inner feelings by displaying the wonderful peace sign and the words Peace Love Mom.
 Body Style: Sheer classic: Women's burnout crew. Garment dyed and washed burnout fabric has been put through an extensive process to reveal years of weathering. Each bit of pilling and striation in this sheer garment captures a true vintage worn-in feel, so no two shirts are exactly the same. Rib collar. Extra Length. Made in America exclusively for PeaceLoveMom.
I am a grateful mom enjoying all the special moments being a mother brings. My black posh 100% cotton jersey tee says it all. I don't have to say a word and I let the t-shirt speak with its groovy heart graphic as it shouts out GRATEFUL MOM.
Body Style: Capped sleeve T-shirt, 100% soft cotton jersey, vintage in feel, modern in style, tapered waist and longer length, expect 5% shrinkage.
 The PeaceLoveMom lifestyle brand company still remains to be booming with customers even during the hard recession. All their products are cut, sewn, and dyed exclusively by PeaceLoveMom and made in America. CNN's Reynolds Wolf interviews the 3 owners who have the philosophy, "Motherhood does not define us. We define it," to find out their successful secret.
Tees, kids t-shirts, baby items, purse pads, lists pads, desk pads, hats, tote bags, belts, and charming mom jewelry!
 PeaceLoveMom Giveaway
Win an AWESOME soft PeaceLove Grateful Mom Black Burn Out Tee! To enter visit PeaceLoveMom and then comment here telling me what your favorite item is from the shop. This must be done before any extra entries can be earned.
Extra Entries
1.Mention the giveaway on your own blog linking back and leave an additional comment with a link to your post. This is worth 3 extra entries. Make sure you leave three separate comments. (example blogged extra entry #1, blogged extra entry #2, blogged extra entry #3)
2.Place my button on your blog and then leave an additional comment with a link to the page where you put the button. If you already have my button leave a comment letting me know you already have it.
3. Follow my blog and leave me an additional comment. ( There is a little widget on my sidebar that shows my followers. Just click follow). If you already follow leave me a comment letting me know you already do.
4. Follow me on Twitter and tweet about the giveaway. Please make sure you leave the link where you tweeted in your comment. YOU CAN TWEET ONCE PER DAY TO INCREASE YOUR CHANCES OF WINNING.
5. Subscribe to my feed and leave a comment. If you already subscribe leave a comment telling me you are already a subscriber.
6. Stumble, Digg, or Technorati this post and leave me TWO extra comments. ( At the bottom of this post you should see a bookmark button to make this an easy option.)
A winner will be chosen at random via Random.org. The winner has 72 hours to send me their contact information which will be forwarded to PeaceLoveMom.
The contest ends April 22, 11:59 PM eastern
A BIG THANKS to PeaceLoveMom!
Good Luck!