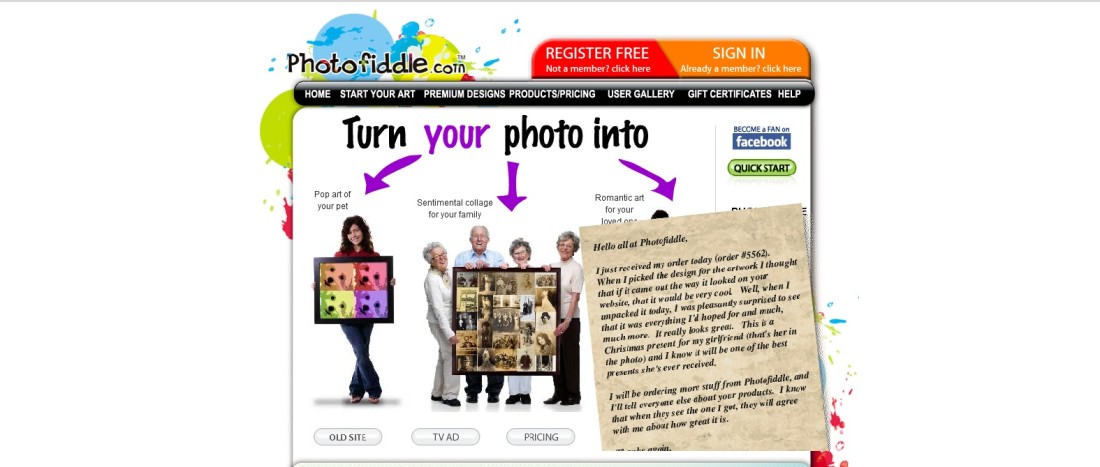 Mothers Day is fast approaching and the hustle of finding the perfect gift begins. There is always the good old standby of the fresh bouquet of flowers. Sure they smell sweet and the beauty of each delicate petal displays nicely in a vase but they don't last. They are a passing memory which will fade in a moment of time. Wouldn't you rather give Mom a Mothers Day gift that she would be able to cherish for many years to come? How about a gift more personalized that she can display and boast about for a lifetime? Photofiddle.com can help you create that heartfelt custom one of a kind gift by turning an ordinary photo into a work of art.
Photofiddle.com
Photofiddle was established online in 2004 and shortly after their launch they started receiving rave reviews. The Washington Post noted they were "buzz worthy," USA Today reviewed a photo that was" fiddled" to canvas and called them the best, and PC Magazine gave them a 4 out of 5 stars. In 2006 Oprah placed Photofiddle on the coveted O list which helped push them up to be one of the top sites on the Internet. She called their ability to turn a photo into artwork "a fantastic gift idea. " A great Oprah gift idea!"
Photofiddle takes an ordinary photo and allows the user to turn that photo into artwork with their special effects software in minutes. There is over 50 different art styles to choose from to surely satisfy even the most discriminating palate. If the user is not happy with the available designs the art department is fast available to even help you create a custom design with no additional fees! The possibilities are endless!
The company can transform a photo onto stretched canvas, rolled canvas, framed art print or even art posters. The sizes range from 8″x8″ to 6 feet by 20ft and prices vary depending on size and style chosen. They are the only website that gives the user an instant preview of their design before ordering.
My Experience.
Photofiddle.com contacted me offering to place one of my favorite personal photos on stretched canvas. I happen to LOVE art and the thought of having my son's or daughter's picture displayed on canvas as a masterpiece…I jumped at the opportunity. I confess it took me a while to decide which picture to use since I wanted something that would reflect the personality of my son or daughter. I finally chose a picture of my son and sent it to be "fiddled."
Photofiddle Giveaway
Photofiddle and leave me a comment as to what Mother's Day Gift you would like to give mom or you would like as a Mother's Day gift.
Extra Entries
1.Mention the giveaway on your own blog linking back and leave an additional comment with a link to your post. This is worth 3 extra entries. Make sure you leave three separate comments. (example blogged extra entry #1, blogged extra entry #2, blogged extra entry #3)
2.Place my button on your blog and then leave an additional comment with a link to the page where you put the button. If you already have my button leave a comment letting me know you already have it.
3. Follow my blog and leave me an additional comment. ( There is a little widget on my sidebar that shows my followers. Just click follow). If you already follow leave me a comment letting me know you already do.
4. Follow me on Twitter and tweet about the giveaway. Please make sure you leave the link where you tweeted in your comment. YOU CAN TWEET ONCE PER DAY TO INCREASE YOUR CHANCES OF WINNING.
5. Subscribe to my feed and leave a comment. If you already subscribe leave a comment telling me you are already a subscriber.
6. Stumble, Digg, or Technorati this post and leave me TWO extra comments. ( At the bottom of this post you should see a bookmark button to make this an easy option.)
A winner will be chosen at random via Random.org. The winner has 72 hours to send me their contact information which will be forwarded to Photofiddle.
The contest ends April 21st 11:59 PM eastern. Contest is open to US & Canada
Please follow the simple rules. Thank you again to Photofiddle for being so generous! Good luck everyone!
CAN'T WAIT TO WIN IT?
Photofiddle has exclusively given the Ahappyhippy Mom readers a
15% discount code!
The code
hippy15
just needs to be entered on the shopping cart page in the promotion code box and click apply.
FOLLOW PHOTOFIDDLE ON TWITTER

BECOME A PHOTOFIDDLE FAN ON FACEBOOK
CLOSED! Thank you to everyone who entered! The winner will be announced shortly.