Are you up late night watching Infomercials? I have to come out of the closet and admit I am an Infomercial junkie. I get a gleam in my eye every time I see a new product that promises to do miracles and make a task that is boring look exciting. By the time these advertisements are on the tube I am usually half in the bag from sleep deprivation and my emotions are running high. Before I know it I am calling the number that is flashed on the screen, ripping my credit card out of my purse, and ordering the new amazing gadget. Then I fall comfortably asleep knowing I just made the best purchasing decision of the century. Until I try it and I wonder…What was I thinking! I have learned that my best decisions are not made in the wee hours of the morning!
The Good
The KitchenAid Mixer
Product Description
KitchenAid's Artisan stand mixer is a substantial piece of equipment: 325 watts of mixing power make child's play of creaming butter, kneading dough, and whipping cream. The kid in you will appreciate how quick and easy it is to mix up a batch of cookie dough. This model comes with three attachments: a flat beater for making batter, meat loaf, and all textures in-between; a wire whip for egg whites, mayonnaise, and more air-infused creations; and a hook for mixing and kneading yeast doughs. All three are solidly constructed and easily secured to the beater shaft with a simple twist. This model also includes a pouring shield for guiding ingredients to their proper destination, and the bowl itself locks tight to the base. Standing about 15 inches high, jutting out a foot, and weighing more than a grown woman's bowling ball, this stand mixer isn't the sort of appliance you'll wipe down and put away. Better to find a square foot of free counter space for easy access; besides, this machine is as pretty as it is rugged–you'll want to show it off. –Betsy Danheim
This was NOT an Infomercial purchase and was the BEST appliance purchase I have made. It delivers everything it promises and more. Making cookies, breads, whipping egg whites all have become a breeze since I have owned this wonderful machine. It also looks nice on the kitchen counter so there is no need to try and find a space in your cabinets to store it. I would recommend it to anyone who enjoys baking and wants to optimize their time.
Infomercials Products
The Not So Good
The Magic Bullet
Product Description
Chop onions, mince garlic, make spaghetti sauce or salsa, grate cheese, make smoothies and protein shakes, make frozen cocktails and margaritas, grind coffee. Make your life in kitchen easier, faster and as much effortless as possible with the magic bullet. Magic Bullet will replace your all kitchen utilities. It works as a food processor, blender, juicer, chopper, coffee grinder and it only occupies the space of a coffee mug. Put all the ingredients into the cup or one of the mugs. Twist on the flat or cross blade, place the bullet on the high torque power base and press down that's it. Just seconds that's all you need. You can also heat or chill by using the magic bullet cup or mug. Simply place the cup or mug in freezer, refrigerator or even to your microwave. Each container is microwave safe and dishwasher safe. That means you can prepare all your meals, then cook them and store the leftovers in the same cup. The Magic Bullet comes with two blades: a Cross Blade for chopping, grating and blending foods such as onions, cheeses, meats and frozen drinks, and a Flat Blade for whipping cream and grinding hard foods like coffee beans and spices. Both blades are are made of stainless steel, so they are dishwasher safe and never need sharpening.
I have mixed feelings about the Magic Bullet. It works great for whipping, smoothies, pureeing vegetables and making organic homemade baby food so if your buying it with that in mind your going to like it. Just don't expect it to perform as they claim in the Infomercial. It does not chop well and purees anything close to the blades leaving a mush mess. Also it tends to leak around the seel. It delivers half of what it promises.
What was I thinking!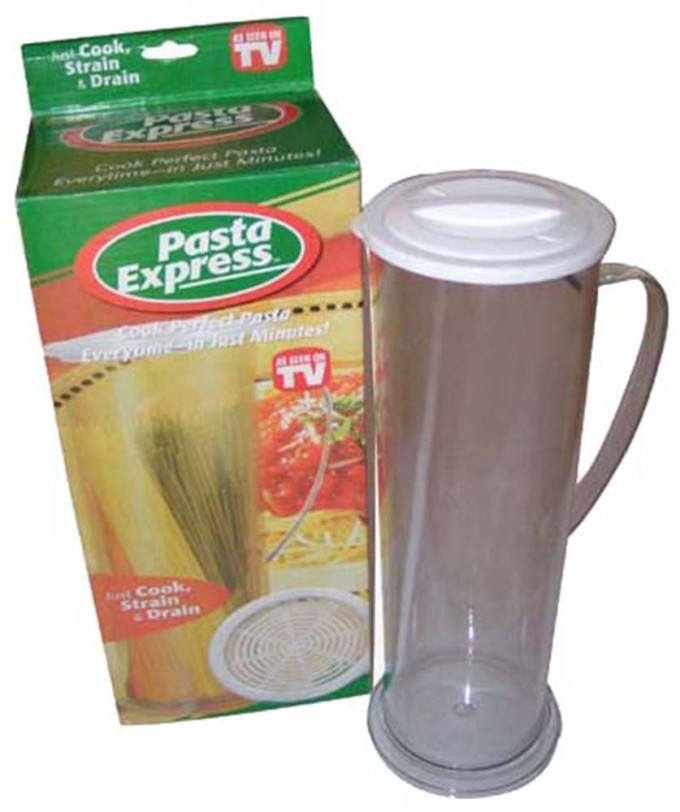 The Pasta Express
Product Description
The easiest way to make pasta! Making pasta is a snap with the Pasta Express! In three easy steps, you'll have delicious pasta that the whole family will enjoy! 1. Pour! Place the pasta inside the Pasta Express, and then add some boiling water. 2. Cook! Place the strainer on the Pasta Express and watch it cook! 3. Drain! When the pasta is ready, drain out the water and you've got great pasta that's ready to serve! The Pasta Express features thermal conductivity, which allows the pasta to get thoroughly cooked while inside. It's easy to use and because you won't need to use any extra pots or pans, it's easier to clean up afterwards! The Pasta Express features a non-stick coating and is dishwasher safe. Not just for pasta, you can use the Pasta Express for vegetables, shrimp – almost anything that requires boiling water! And when you purchase the Pasta Express, you'll also get a bonus color recipe guide as well as a personal sized Pasta Express – which is perfect for hot dogs and smaller pasta servings.
I have no idea why I even bought this. I was tired, it was late, and it happened. I went exactly by the directions and the pasta was not even close to being al dente. It was a pile of under cooked, gummy, starchy mess. The directions clearly state that it does not work with microwaved water and you must boil the water in a pan on your conventional stove. Why bother? Your not saving any steps and it is just as easy to throw the pasta in the pan, sprinkle some salt in the water, and dribble a few drops of olive oil in the water so the pasta doesn't stick. I also tried vegetables….the results were not good. Not to mention heating up plastic probably is not such a healthy idea.
I have found other uses for it such as…a pencil holder and vase!
Now I am open to any other opinions and experiences that might differ in favor of this product. If you have used the Pasta Express and would like to rave about its performance please email me or leave a comment and I will surely post it.