I just love baby toys! I don't particular always like the cost of some of them. Not to mention there are so many to choose from that you can become dazed and confused as to what you should buy. Several questions race through my mind. Is it safe? Is it easy to clean? Does it collapse to store well? Is it really worth the cost? And the BIG question for my husband…How much assembly is required?
I wanted to purchase an activity gym for my son to help strengthen his legs and to help him burn off some of that stored up energy. I also wanted it to keep his attention and spark curiosity in exploring sounds and colors. The Fisher-Price Rainforest Jumperoo did all this and more. He loved it!
How much assembly is required?
This question is the first thing my husband asks when I decide to buy something new. He honestly thinks the instructions are there for packing material and feels insulted if I dare ask him to PLEASE read them before touching anything. It only took him 15 minutes to put together so I would have to say that the assembly was definitely easy.
Is the Fisher-Price Rainforest Jumperoo safe?
Aiden was six months old when I first placed him in the jumper. He was fully able to hold his head upright without my assistance and under the 25 pounds, 32 inches weight and height limits required to use the Jumperoo. I went by the instructions and checked the distance between his feet and the floor making sure his toes touched completely and that the base was on a flat surface to avoid tip over.
The toy itself is extremely sturdy. I had no worries of it collapsing on him or the seat breaking away from the frame.
I did worry a little about the intensity of the bouncing. I thought he was going to launch himself or cause himself some harm from all the jumping but he just kept laughing and smiling loving every minute he was in it.
Is it easy to clean?
This is really important since all the jumping could cause him to rift up and out his formula. I wanted to make sure that I would not end up with a stinky disgusting bacteria mess that would result in a ruined pricey toy. With some effort the seat pad can be removed and machine washed in cold water on the gentle cycle. Then it can be tossed in the dryer to tumble dry on low heat. The frame and toys can easily be wiped down using a mild detergent thus cleaning is really a cinch!
Storage?
I found it to be a breeze to move and store. The frame has a release button which allows the base tubes to be moved inward so it easily folds up. It was very simple to move from room to room and I could quickly tuck it away when he was done playing.
Is it really worth the cost?
The Fisher-Price Rainforest Jumperoo really does promote sensory development. There is a full array of toys that surround the spinning seat. Toys include a hanging parrot, a bobbling elephant, a monkey swinging from a vine, a spinning lizard, a clear spinning bead ball, a tiger that plays hide and seek, a chew toy, colorful sliding chips, a spinning drum that activates lights plus sounds, and more! Hanging above are two soft toys that he liked to try to reach and bat around which encouraged eye-hand coordination. It also includes a motion sensor that activates Rainforest music & lights when he bounces. There is an option to turn it on for a few minutes of continuous play or to completely turn it off. That feature really came in handy!
I did notice after weeks of use his legs become stronger from the bouncing and he was able to stand for longer periods of time.
The Jumperoo cost me roughly $90.00 and was worth every penny I paid for it! I think the pictures below say it all!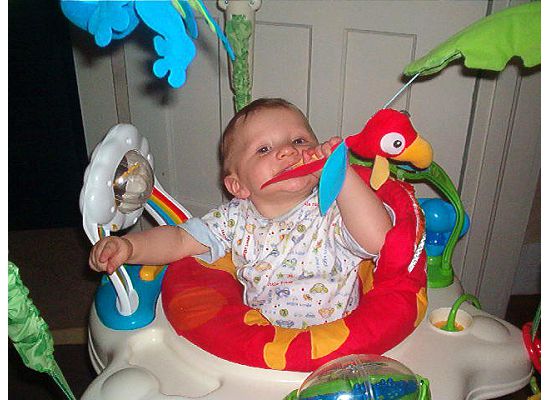 This is not a paid review and I do not have any affiliation with Fisher Price.