Obvious statement alert: Christmas can be a really expensive time. The bigger your family, the more expensive it gets, and some years it can just seem to get out of hand entirely. It can feel like a nightmare knowing that you're heading into the new year with a spending hangover from Christmas, but it doesn't have to be that way. Careful planning and execution for gift buying and food over the festive period can save you a whole lot of cash. Here's how you can make sure you're spending wisely on the lead up to Christmas.
Start saving early
The sooner you start saving for next Christmas, the better. You don't have to put half of your income aside every month, just whatever you can spare, but you'll soon see it start to add up. It's useful to have an idea how much you will need to spend, so use the previous year's expenditure to work out roughly what to expect for next year too. Then all you need is to divide it by 12, and try to put that away each month, maybe with a little bit extra to take account for inflation and worst case scenarios.
Plan
Start asking yourself these questions in summer at the latest – who will you buy for and how much are you willing to spend on them? Will you be providing the Christmas meal? How many will you be cooking for, and how much do you want to spend on the meal itself? Don't leave anything to chance if you want to make the most of your money going into Christmas.
Make a list
Work out who you're buying gifts for, and then write down what you will buy for them. Don't try to wing it by just walking into a store and hoping for the best. You'll end up spending more than you want on more presents than they'll need, and you still might not find the best gift for them. It's all about careful planning. Make sure you take into account your budget when you're writing your gift lists. Make the focus on affordability, not desirability.
Start buying early
The Black Friday sales are the perfect time to buy the bulk of your Christmas gifts, but even the end of summer sales are worth a look at. Prices go up towards Christmas, especially after Black Friday, so don't let yourself be caught out. If you can ensure that all of your gifts are bought by the end of the sales, you can guarantee yourself a far less stressful December, and a much healthier bank balance.
Give a few special gifts
It's easy to get carried away and buy people a significant number of little gifts, rather than one big gift. The mentality behind it being that they're more likely to appreciate at least one out of a small selection of things, but the risk of them not liking a larger gift is much higher. Spend some time trying (slyly) to gauge what someone would like, and then go for it. One large gift worth $50 is more likely to be loved than lots of little gifts that culminate in $80. Take a risk.
Don't buy unnecessary gifts
If you feel a sense of obligation to buy the world and his wife a gift, you're going to find that your list gets longer and longer. Put a limitation on close family and friends, and accept that while it'd be good to give to everyone, it's just not the best way to put yourself in a strong financial position. If everyone could agree that buying unnecessary gifts should be banned, the world would be a much more straightforward place. And there's only so many nice bottles of moisturizer or shower creme that one person can use in a year, so when you're buying presents out of a sense of obligation, you're only throwing money down the drain.
Buy in bulk
If you do feel obliged to buy for neighbors, teachers, extended family and further, buy them all the same thing in a bulk purchase, and reap the rewards of a bulk discount and cheaper postage. An order of 24 bottles of wine can leave you with a saving of almost 50% in some cases, so it's worth coming up with a list and ensuring you buy everyones at the same time.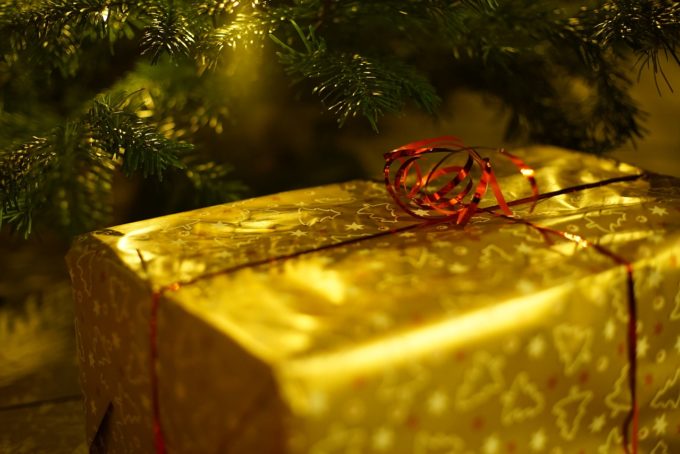 Shop around
Even with a very comprehensive list of Christmas gifts, it's still prudent to make sure you shop around. Different retailers run sales at different prices, so for larger gifts, there could be differences of hundreds of dollars. It's a particularly competitive marketplace this year, and retailers are fighting between themselves to persuade consumers to spend their money in their store. Use this as an opportunity to play them off against each other and get the best deals you can.
Children don't have high standards
Remember, most kids are happy to play with the box their toys come in. You don't have to spend hundreds of dollars per child. Get them one nice gift, a few stocking fillers, and they're good to go. The more presents you buy, the more presents there are for them to ignore. They can only play with so many toys at once.
Make your own
If you're particularly creative, making your own gifts can be a great way to save money. Beautiful knitted garments can seem much more expensive than they cost to make, as can homemade candles or decorations. If your kids are fond of arts and crafts, have them make handmade Christmas cards – family members will absolutely love them.
Opt into Secret Santa
If you're in a large friendship group, or you have quite a lot of colleagues, consider setting up a Secret Santa system, so you don't have to buy a gift for every single person. Even with a $20 limit per gift, you could end up saving hundreds of dollars.
Don't overspend on food
The amount of food that gets thrown in the trash after Christmas is over is quite considerable. Not only is this terrible for the environment, but it's terrible for your finances as well. Try to confirm numbers for Christmas dinner with enough time to spare, so that you can buy enough food for a specific number of people, and you don't overbuy. It's also considerably cheaper to make much of the food from scratch, and instructions can be found for anything and everything on the internet.
Keep a running total of expenditure
As you're buying gifts and food, keep a spreadsheet of what you've got to spend, and make sure you keep an idea of the costs of the gifts left to buy as well. This will help you to ensure you don't overspend on your budget, and you don't end up coming out of the holiday period with a massive credit card bill or maxed out overdraft.
Give IOU gifts
If you're planning a big family gift, such as a Playstation or a new television, consider giving the family an IOU and pick it up in the January sales. Not only does it mean that the Christmas excitement can last longer, but also it gives you an extra paycheck to use as a buffer, so you can be that little bit more generous than you might have otherwise been able. If you'd prefer to give something more comprehensive, a gift certificate is perfect for family members so that they can buy more with the money you have than you would necessarily be able to buy before Christmas. This allows you to stretch your money that little bit further, and get slightly more bang for your buck.
Make some money back after Christmas
While I'm not condoning putting yourself in debt to pay for Christmas gifts outside of your budget, it is possible to make a little bit of money back once Christmas is over. You may have gift cards for stores you're not really interested in, in which case you can exchange them for cash at websites like Cards2Cash. This is a great way to scrape together a few dollars to get you through January. You could also sell any unwanted gifts you may have received on eBay or Craigslist. Every year we get a few gifts and think "I wish I'd just been given the money," so make it so. Just be aware that many other people will also be trying to sell their unwanted gifts at the beginning of January, so the market can be quite saturated. Leaving it a few weeks is a good way to ensure that you're not competing with so many other vendors.
Christmas is a time for giving, but giving doesn't necessarily mean you have to spend hundreds and hundreds of dollars. Personal or handmade gifts can be worth more to the receiver than anything money can buy. Plan ahead, stick to your budget and spend some time properly considering the gift you will purchase, and you'll find yourself in a much stronger financial position in January than you would otherwise. I hope you have a very merry Christmas.