Disclosure: "This post was sponsored by Nature Made® as a part of an Ambassador Program for Influence Central.
The holidays are a wonderful time of year.  But they are also the most hectic, busiest, and craziest weeks leading up to the New Year!   The extra demands of juggling social events, holiday shopping, and meal preparation can lead to excess stress and cause anxiety.  Combined with the risk of the flu season and being in crowded shopping centers, it is especially important to keep your immune system strong to prevent getting sick.  Nobody wants the flu or a cold for the holidays.  That's an unwanted gift we can all do without!   It's time to prepare yourself for feeling the best and getting the most out of the holiday season with a good Nature Made® vitamin and supplement plan.
Holiday Supplement Plan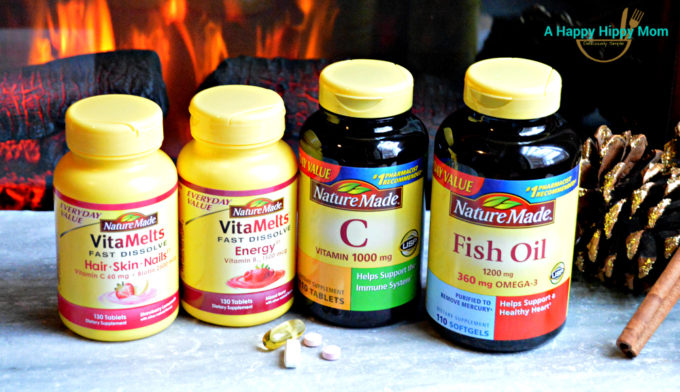 Striving to reach a mind-body balance, I take probiotics, a multi vitamin and vitamin D as part of my daily routine throughout the year.  However, during the holidays I customize my supplement regimen to include Nature Made® Fish Oil, Nature Made® VitaMelts Energy, and Nature Made® Vitamin C.  Additionally, I add Nature Made® VitaMelts Hair-Skin-Nails containing Biotin (B7) to my supplement plan to help to support healthy hair, skin, and nails.
* Product information sourced from Nature Made®
Nature Made® Fish Oil
The #1 Pharmacist Recommended Omega-3/Fish Oil brand,* Nature Made fish oil supply comes from deep ocean waters, not farm-raised fish. State-of-the-art purification processes remove mercury and ensure high levels of fish oil purity and concentration, guaranteed to pass the stringent standards of the Global Organization for EPA and DHA Omega-3 Voluntary Monograph.‡
Fish Oil provides omega-3 fatty acids EPA and DHA, which help support a healthy heart.† Supportive but not conclusive research shows that consumption of EPA and DHA omega-3 fatty acids may reduce the risk of coronary heart disease.
Nature Made Fish Oil is a convenient and safe way to get your omega-3 fatty acids EPA and DHA.
Nature Made® VitaMelts Energy
Nature Made VitaMelts® Energy‡ provides 1500 mcg of Vitamin B12 in a great tasting, fast melting tablet.
Supports cellular energy production in the body.†
No water needed
Nature Made® Vitamin C
Vitamin C helps support the immune system and helps neutralize free radicals in the body.†
Aids with the absorption of iron†
Supports collagen synthesis†
Nature Made® VitaMelts Hair-Skin-Nails
Nature Made VitaMelts® Hair, Skin, and Nails‡ is formulated with 2500 mcg of biotin.
May help support healthy hair, skin and nails in those deficient in biotin†
60 mg of vitamin C per serving, to support collagen synthesis†
Keeping up with the demands of the holidays is grueling!  Even though I always try my best to eat healthy, during the holidays there are days I don't meet my nutrition goals.  My intent is to be filling up on nutrient dense foods like fresh fruits, vegetables, and whole grains.  With that being the case, those nutritious foods all too often fall by the wayside to unhealthy holiday temptations in the months of November and December.   Not proud of it, but it happens!  Having a Holiday supplement plan is essential to staying on track.  Nature Made® gives me the extra boost I need to help support my immune system and energy on a cellular level.†
Nature Made® vitamins and supplements: An easy, convenient way to help your body get the nutritional support it needs every day, whether it be to support bone health, immune health or energy metabolism (helping convert food into energy).†
Save at Walmart!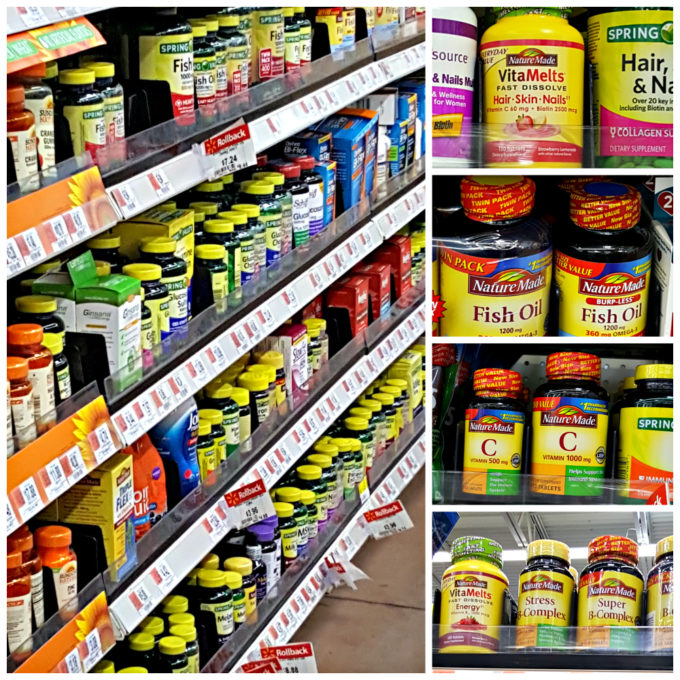 Before the holiday season officially kicks-off, I head to my local Walmart to grab my favorite Nature Made® products.  Nature Made® has a variety of vitamins, minerals and supplements (VMS) to help support nutritional gaps with your health goals in mind ranging from Digestive Support, Heart Health & Function, Energy Metabolism, Women's Health and much more!†  I prefer shopping at Walmart, because the retail giant has  everyday low prices on Nature Made® items, so I don't have to wait to for a sale to stock up on the vitamins, minerals and supplements I need.
#1 Pharmacist Recommended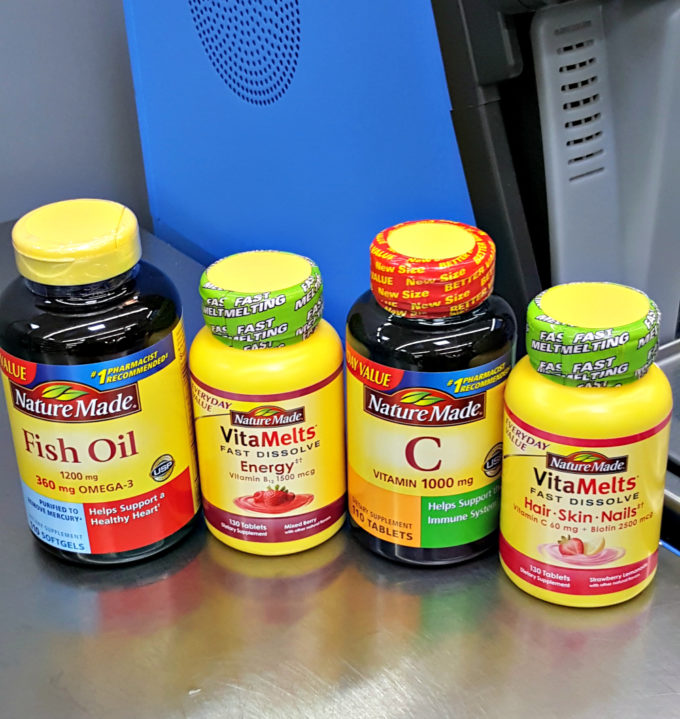 If you need a little support getting through the hustle and bustle of the upcoming holiday season, check out Walmart for Nature Made® products to create a Holiday supplement plan!  Why choose Nature Made®?  Nature Made® is the #1 Pharmacist Recommended brand for many key dietary supplement categories. *    Walmart has Nature Made® items including Vitamin D, Vitamin C, Fish Oil, Vitamin B12, fast dissolving VitaMelts, and much more at affordable prices.  Don't forget to visit Nature Made® Resource Center for helpful suggestions and tips on starting your supplement plan! Happy Holidays!
*Based on the 2016 U.S. News & World Report – Pharmacy Times Survey.
†These statements have not been evaluated by the Food and Drug Administration. These products are not intended to diagnose, cure, treat or prevent any disease.
WALMART GIFT CARD GIVEAWAY!
For more information on Nature Made® vitamins and supplements available at Walmart, visit the Nature Made® Retailer Hub!  While your there,  don't for get to enter for the chance to win one of sixty $50 Walmart gift cards! Winners will be selected on or about November 10, 2016! (No Purchase Necessary).
STAY CONNECTED!
Like Nature Made® on Facebook
Follow Nature Made® on Twitter
Visit the Nature Made® Healthy Habit Builder
Follow Walmart on Twitter
Like the Walmart Facebook page.