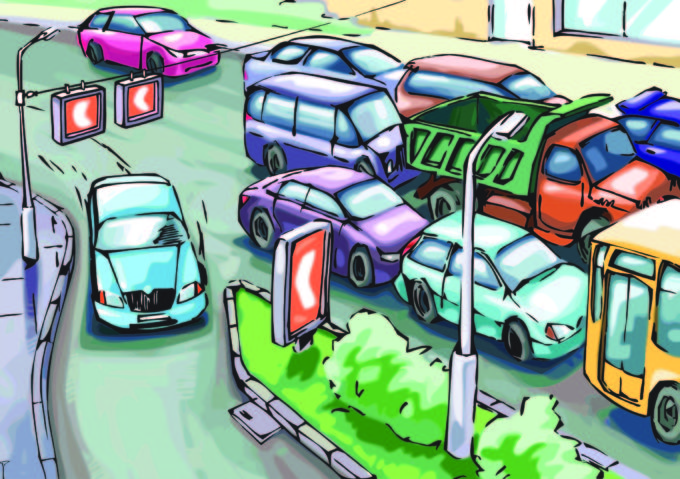 Disclosure: Ignition Design Labs provided me with a Portal router to facilitate this post. All opinions are of my own.
Does your home Wi-fi got you feeling bogged down even though you are paying extra for a high-speed internet service plan?  If you are not getting the speed promised from your internet service provider, it could be you are suffering from internet congestion.
Like on a highway during rush hour, congestion happens on the virtual Wi-Fi lanes when neighboring networks are all sharing the same spectrum.  Traffic can build up from demanding applications such as gaming, streaming video, and video chat.   The traffic jams result in frustrating slow, lagging and unreliable Wi-Fi.   And with the invisible traffic increasing greatly as the years progress, the problem is only likely to get worse!
[field name= iframe]
Portal Router -Solution to Internet Congestion
Ignition Design Labs, a veteran team of wireless networking engineers, developed Portal as a solution to the congested Wi-Fi dilemma.  The Wi-Fi router is meticulously designed to thrive in congested Wi-Fi environments to deliver superior speed coverage and reliability.  Unlike other consumer routers, Portal uses congestion management technologies to access additional airwaves.  The innovative router received special FCC certification to operate in the entire 5GHz spectrum, opening the internet with newly created fast lanes to relieve congestion.
3 Times More Spectrum
"Ninety-eight percent of WiFi routers on the market today use less than 35 percent of the available spectrum," said Terry Ngo, CEO and Co-founder of Ignition Design Labs. "Our engineers created Portal to fundamentally redefine the consumer WiFi experience. We give you three times more spectrum for faster video downloads, elimination of buffering issues and an improved overall Internet experience."
What! No External Antennas?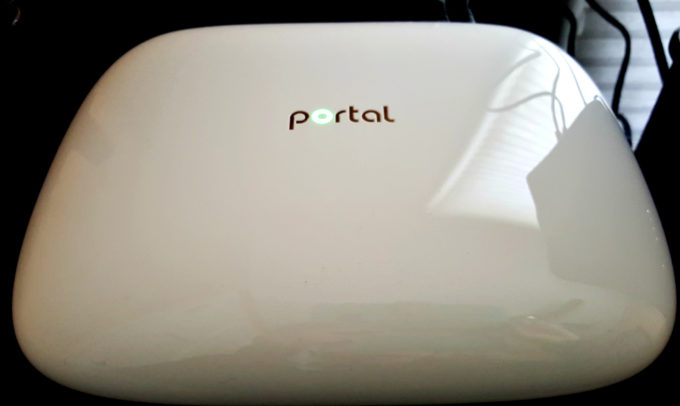 At first appearance, Portal looks nothing like the usual unsightly routers with protruding antennas you are accustomed to.  It's sleek, elegant shiny white design has you puzzled as to how it could possibly be powerful.  Not one external antenna to be found!  But inside the aesthetically pleasing router contains NINE internal antennas focused to provide the best possible signal path to and from the router.
[field name= iframe1]
Portal screams simplistic. There isn't a bunch of distracting or confusing lights to be found on the router.  The top contains one small round LED light the glows a steady green once connected (blue during setup and red when not connected).  Nothing to try and figure out!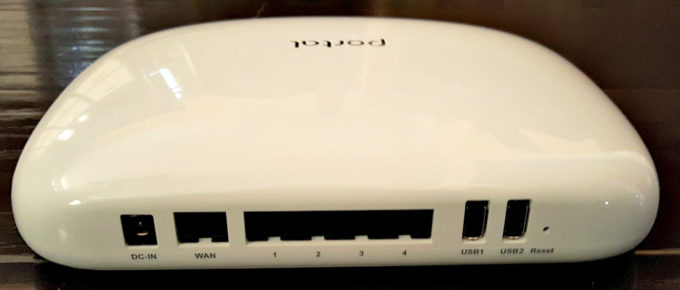 On the back of the router contains the DC -IN to plug in the power cord, WAN for connecting the modem, four additional Ethernet ports, two USB 2.0 ports for accessories, and a reset button.
Quick Setup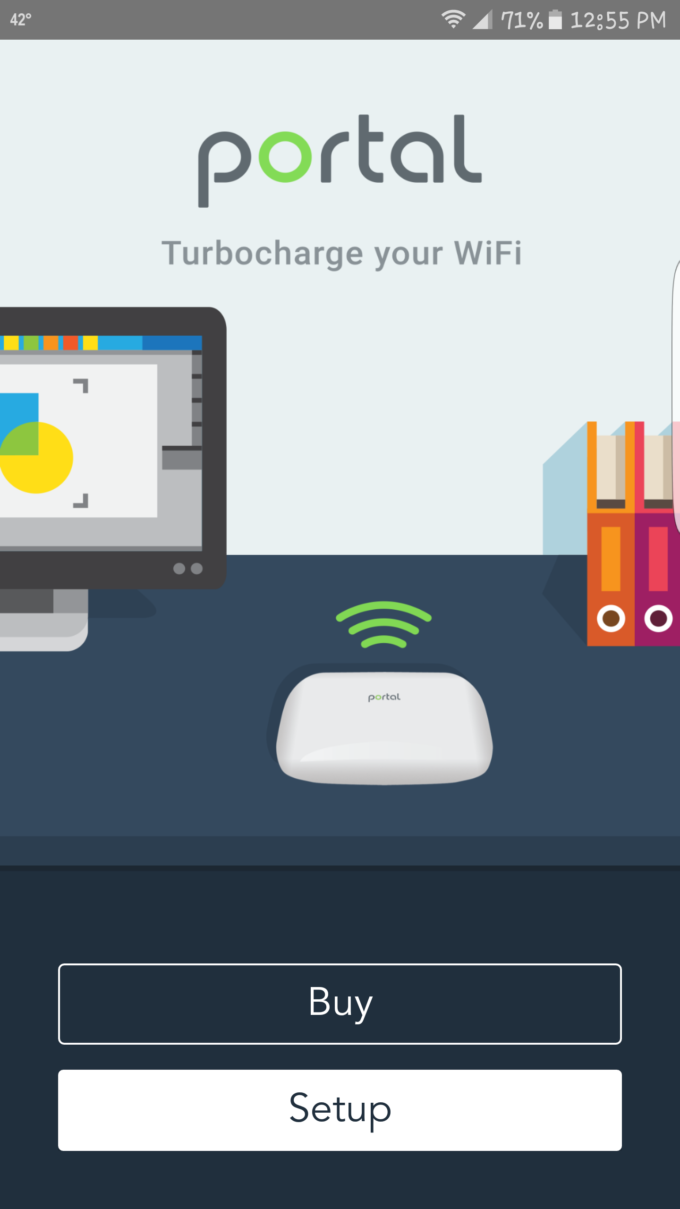 The Portal Router offers quick and easy setup via the free Portal app (iOS | Android).  I downloaded the app and followed the simple step-by-step directions within it.  The Portal utilizes the power of Bluetooth and your connected without any downloads or jump-through hoops configurations. Basically, there is nothing to do except follow the app's guide.  Pairing took less than 5 minutes to complete.  If you already have a modem with a pre-installed router, connecting Portal replaces your existing router.
Within the Portal app's dashboard, you can personalize your SSID and assign it a password.  There are also the options of enabling the wireless security mode, WebGUI, Bridge Mode, and change Compatibility mode. Additionally, you are allowed to setup a guest network for a duration of 12 hours on operating channels.  This gives you ultimate security of not having to share your main Wi-Fi access password.  The dashboard shows the number of guests connected along with how many devices.
You also can setup up the Portal Router without a smartphone.  Once you are connected to the Portal you can access the web-interface settings by logging into myportalwifi.com in your favorite web browser.  The default password is "password" and should be changed immediately to keep unwanted hackers out.
Issues with app
There are some issues with the app such as the number of devices is not correctly shown.  I know I had several devices connected to the portal and for testing setup a guest network adding 1 device.  The device count still showed 0.  This is an already known issue for IOS users.  However, I am using Andriod and the problem still occurs.
How it Works?
As with most technology things can become perplexing for those you are techie challenged.  The easiest way to explain how Portal works is to imagine the channels on your router being highway lanes.  When internet lanes are congested, the router auto switches the lane using newly created Fastlanes™ and Smartlanes  to speed things up.  Portal can achieve this by listening, learning and adapting with the changing Wi-Fi environment.
Portal's FCC-certified technology (FastLanes™) permits most existing WiFi devices to operate in a portion of the 5GHz frequency range that is designated primarily for use by weather radar systems.  This frees up internet traffic jams by allowing WiFi networks with Portal to use six channels (80MHz), four of which aren't available to networks with ordinary WiFi routers.  The results are a congested-free internet environment that promises consumers up to three times the radio spectrum, three times lower latency and up to 300 times the speed of conventional routers.
*Ignition Design Labs, Portal, SmartLanes, FastLanes and ClearLanes are pending registered trademarks of Ignition Design Labs, Inc. All other registered or unregistered trademarks are sole property of their respective owners.
What's in the Box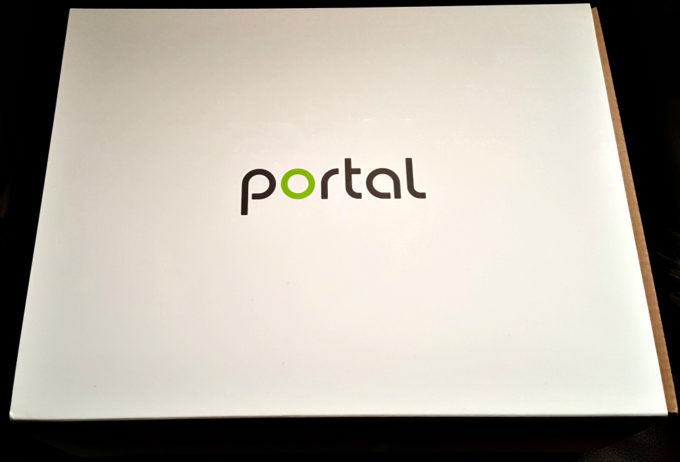 In the box you will find your new Portal Router, an Ethernet cable, a power cord, and the quick start guide.
Portal Router Features
FastLanes – Wideband DFS Spectrum access for maximum performance in real life, congested environments

SmartLanes – Dynamic channel steering, always stay in the fastest lanes

ClearLanes – Active traffic and interference monitoring

7 Operating Bands – Including full-band UNII-2 DFS

Portal Mobile App – Smart device-based management and security

Rolling Code Secure Guest Network – Supports multiple simultaneous guests with simple mobile app-based access requests

Flexibility – Control Portal using simple standard mode (app-based) or advanced mode (web GUI-based) to satisfy both normal and expert users

Adaptive Smart Mesh – An advanced mesh technology developed for enterprise and military networks. Layer 2 adaptation avoids interference and latency issues inherent in less sophisticated consumer mesh solutions. For extra-large homes you can set up two or more Portals together for extended range and coverage

Parental Control – App-based parental control that can be managed from anywhere in the world

Active Intrusion Detection and Smart Lock-Out – Prevents unauthorized access to your network and router settings

Wave-2 802.11ac with Multi-User MIMO (Multi-Input Multi-Output)

AC2400 Concurrent Dual-Band – Quad-stream 5GHz and Triple-stream 2.4GHz

Bluetooth Smart – Easy one touch app set up with advanced security
Speed Test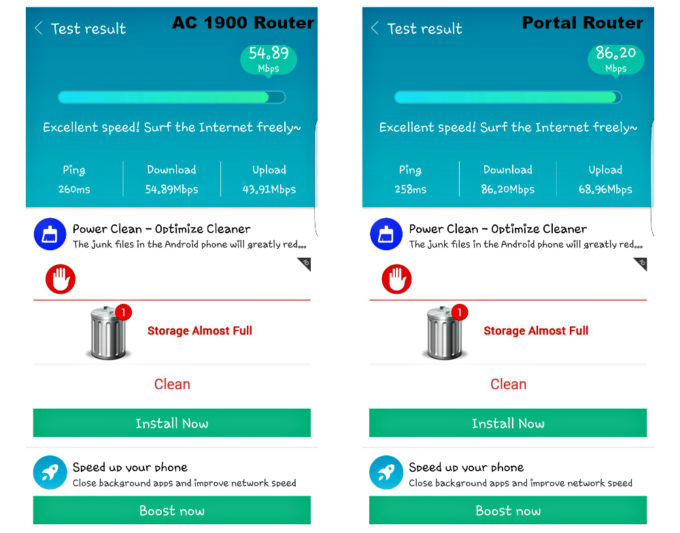 I conducted my own speed test upstairs away from the Portal Router using Speed Test.Wi-fi free app.  The Portal greatly out performed my existing Motorola MG7750 16×9 Cable Modem with built-in AC1900 Wi-Fi Router on 5GHz.
Conclusion
If your internet sucks and you are paying for a high-speed internet plan, it's time to cut through the Wi-Fi congestion and get on the fast lanes with a Portal Router!  The router is simple to setup using Bluetooth technology.  No downloads or software to be installed or confusing configuration.  The Portal app's step-by-step guide will have you connected in minutes.
Once connected, the smart-learning router will adjust to free up congestion using its patent-pending technologies that utilizes the entire 5GHz spectrum.  The results are faster video downloads, better gaming, and an overall improved internet experience!
Buy it!
Portal Router makes an excellent gift for the techie on your holiday shopping list!  The router has a suggested retail price of $199.99, but is currently available for purchase at Amazon for only $169.99!
Stay Connected
Like Portal on Facebook
Follow Portal on Twitter
Ignition Design Labs Portal Router Giveaway!
Courtesy of our friends at Ignition Design Labs, a lucky reader is going to receive a Portal Router! A $199.99 Value!
To enter the giveaway, please follow the instructions provided on the Rafflecopter form.  Please leave a relevant comment to show your support!  Thank you!
Open To US Residents Only- age 18 + Ends December 20th , at 11:59 pm (eastern time)! Enter Daily!
[field name= iframe2]
FEATURED ON 2016 HOLIDAY GIFT GUIDE!
The product above is featured on A Happy Hippy Mom's 2016 Holiday Gift Guide!   The gift guide includes recommended gift suggestions to make your holiday shopping a breeze!