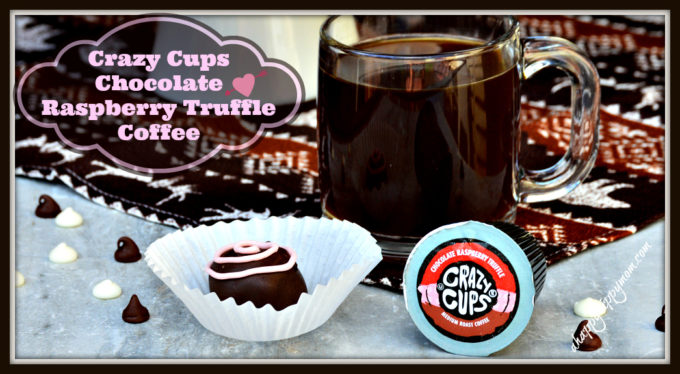 Disclosure:  Crazy Cups provided me with a product to facilitate this post.  The words and opinions expressed in this review are strictly of my own.
Christmas in July!  It seems to be this month's popular theme.  Thinking about the holidays brings lots of delightful memories of the warmth of friends and family gathered together to share delicious treats.  One of my favorite flavor combinations to enjoy during the Christmas season is the richness of chocolate mixed with the sweetness of raspberries!  From chocolate raspberry brownies to those addicting Milk Chocolate Raspberry Sticks, I can feel my waste expanding just thinking about them!
Crazy Cups Chocolate Raspberry Truffle Coffee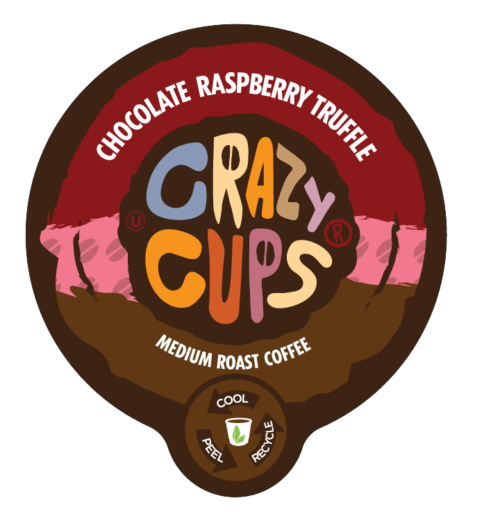 Crazy Cups sent a box of CHOCOLATE RASPBERRY TRUFFLE FLAVORED COFFEE SINGLE SERVE CUPS for review, which is perfect for Christmas in July.  I have been enjoying a cup each morning and thinking about the upcoming holiday season.  The medium roast coffee embarks the great taste of rich chocolate and tangy raspberries with a boost of much needed caffeine.  The best part is its calorie free, so I don't have any guilt feelings of enjoying it!
If you haven't tried Crazy Cups flavored coffee …you are missing out!  The coffee is amazingly good.  The company offers a wide selection of different and deliciously crazy flavors of coffee, such as BANANA FOSTER FLAMBE, FROSTED OATMEAL COOKIE, and CINNAMON CHURRO FLAVORED COFFEE.
Flavored coffee not your thing?  No worries!  Crazy Cups has you covered with cider, hot chocolate, and Decaf Delight.  Additionally, they offer a Crazy Caf Bold Roast coffee for the individual who is looking for an extra jolt of caffeine!
All the Crazy Cup Single Serve Cups are recyclable.  If you are like me and drink several cups a day, you won't be feeling the guiltiness of adding to the mountainous K-Cup's environmental impact if you recycle the cups using the cool-peel-recycle technology.
Oreo Raspberry Cookie Truffles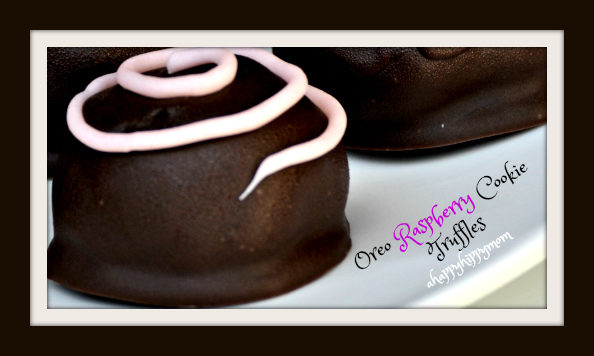 For the holidays I normally make these scrumptious Oreo Raspberry Cookie Truffles and give them out as gifts.  So, I decided to make them a few days ago as a way of keeping with the spirit of this month's Christmas in July.  They are actually very easy to prepare and don't have to bake in a hot oven.  Perfect for those days you want a little something homemade that is sweet without having to heat the whole house up to make.  Plus, they go incredibly good with the Crazy Cups Chocolate Raspberry Truffle Coffee!
The truffle recipe is actually very easy if you have a food processor.  All you need is 36 Oreo Cookies finely crushed, 1 package of 8oz Cream Cheese, ¼ cup raspberry jam, white chocolate chips melted (or Bakers white chocolate), red food coloring, and melted chocolate for dipping the balls into.  The recipe also calls for dried cranberries, but I leave them out because I do not like the texture they give the truffles.
 All you do is throw the Oreo Cookies, cream cheese, and raspberry jam in the food processor and process until a ball of dough is formed.   Then I freeze the mix until it can be worked with (about 2 hours) and roll it into one inch balls.  Dip the balls in the melted chocolate, refrigerate until they are set, and decorate with the white chocolate (or red if you add the food coloring).  Keep them refrigerated until ready to serve.  Pretty simple and delicious!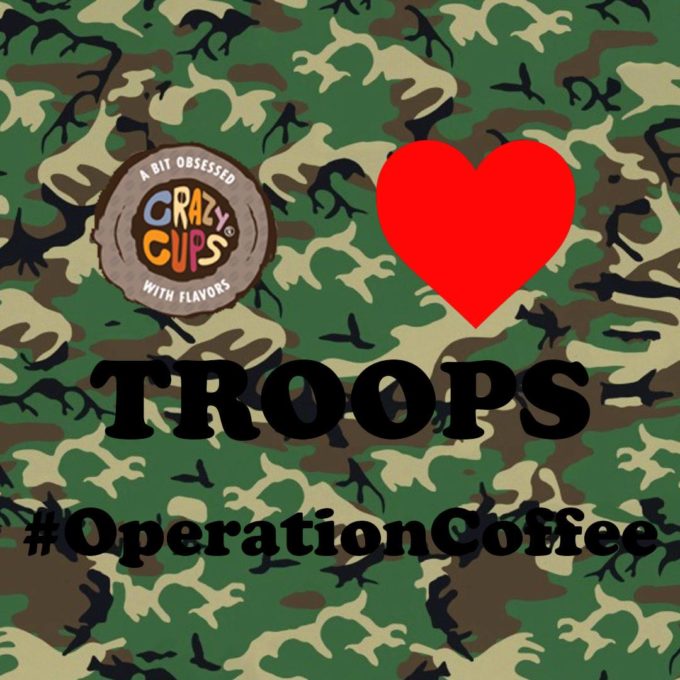 #OPERATIONCOFFEE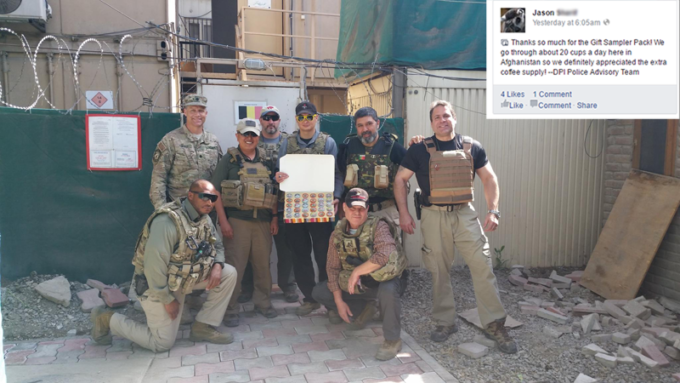 Image source credit to Crazy Cups
Help Crazy Cups reach the goal of sending 11,000 cups of coffee to our brave troops serving our country overseas!  The company wants to give back and show our soldiers some appreciation for all they do by keeping them focused and energized.  You can join in by liking a Crazy Cups page and sharing a post with the hashtag #OperationCoffee.  In return, Crazy Cups will donate coffee to the troops. If you already like their pages, then you just need to share.  Here are the Crazy Cup pages.
https://www.facebook.com/crazycupscoffee/
https://twitter.com/CrazyCupsCoffee
https://www.instagram.com/crazycups/
How it works:
First 1,000 shares – Crazy Cups donates 1 cup per share
Next 10,000 shares – Crazy Cups donates 1 cup per 10 shares
CRAZY CUPS CHOCOLATE
RASPBERRY

TRUFFLE FLAVORED COFFEE GIVEAWAY

Courtesy of our friends at Crazy Cups, a lucky reader is going to receive a delicious box (22 count) of  Crazy Cups CHOCOLATE RASPBERRY TRUFFLE FLAVORED COFFEE SINGLE SERVE CUPS. 

To enter the giveaway, please follow the instructions provided on the Rafflecopter form. Please also leave a relevant comment to show your support!  Thank you!

Open To US Residents Only- age 18 + Ends August 15th , at 11:59 pm (eastern time)! Enter Daily!

[field name= iframe]