Minecraft! It is a word most parents are very familiar with. For anyone who has a kid ages 6 and over, you probably have heard Minecraft mentioned at least 100 times this week. The game is extremely popular and kids (adult gamers too) just can't get enough of it. When I first saw the game I couldn't understand all the fuss. It basically looks like a bunch of 3D cubes (Legos) and the graphics are simplistic compared to most games today. With that being said, the game is fascinating and is one of the bestselling games of all time. Why do kids love it so much? Well, I thought it would be best to ask that question to a kid (my son)! Here is what he had to say…
[field name= iframe]
So there you have it. Straight from a good source! Kids like to build stuff!
Minecraft Story Mode
[field name= iframe1]
Recently (October 27th), Telltale Games and Mojang released Minecraft Story Mode. The new narrative-driven game is a five part episodic series with the first being the Season Pass Disc where players are introduced to new characters as they embark on a perilous adventure as Jesse to find The Order of the Stone. Gamers determine the outcomes and create their own story by what they choose to do in the moment. Minecarft Story Mode is meant to inspire generations just like the original Minecraft experience.
"Partnering with Mojang is a dream come true for us as game makers and as storytellers," said Kevin Bruner, President and Co-Founder of Telltale Games. "Minecraft is a world of infinite possibility and imagination. Working with the Mojang team on our own unique, story-driven interpretation of their fascinating universe is a tremendous honor. We simply cannot wait for fans across the world to take off with us on this new adventure."
"People really like the idea of stories about Minecraft, but forcing a narrative into our core game experience would restrict players' freedom to view the world in their own unique ways. Instead, letting them explore an alternate interpretation via Minecraft: Story Mode, driven by the proven might of Telltale, seems like a no-brainer," said Owen Hill, Chief Word Officer at Mojang. "We're big fans of Telltale Games at Mojang, and we can't wait to reveal more details on Story Mode soon."
The purchase of Minecraft Story Mode Season Pass Disc includes Episode 1 of Minecraft Story Mode on the disc plus the entitlement to download Episodes 2-5 as they become available. Episodes 2 and 3 (just released Nov 26) are already available for download at this time with the other two set to be released periodically.
Buy It
Minecraft Story Mode Season Pass Disc is NOW available for purchase from your favorite retailer for current PlayStation and Xbox formats, and on PC (in some territories).   Prices vary per platform.
[field name= iframe2]
Stay Connected
For more information on Telltale Games, visit the official website, Facebook, and follow @TelltaleGames on Twitter.
For more information on Mojang, visit the official website, follow @Mojang and @Minecraft on Twitter, and like Minecraft on Facebook.
Minecraft Story Mode Season Pass Disc Giveaway!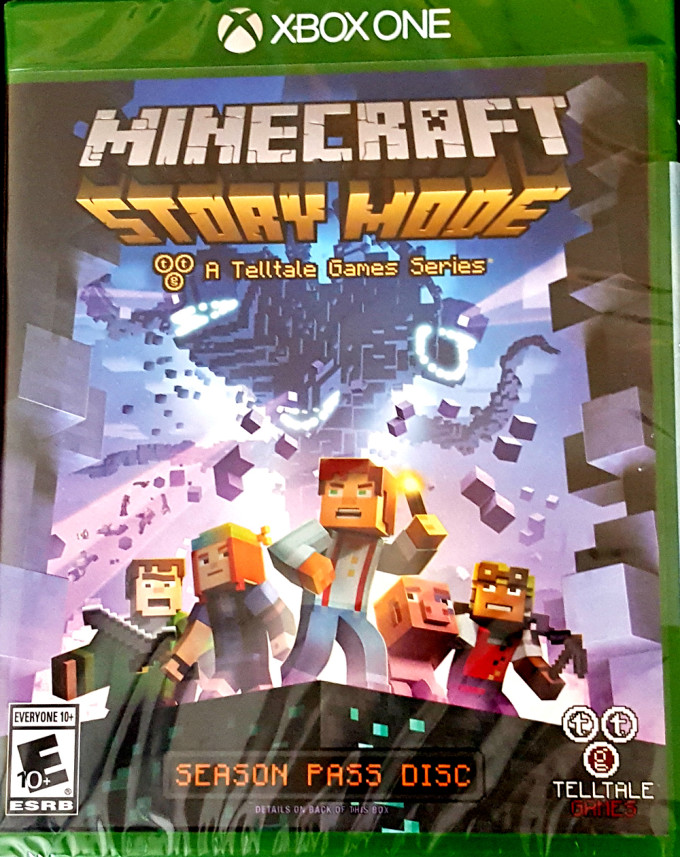 Courtesy of our friends at Telltale Games, a lucky reader is going to receive a Minecraft Story Mode Season Pass Disc for XBOX ONE!
To enter the giveaway, please follow the instructions provided on the Rafflecopter form.  Thank you!
Open To US Residents Only- age 18 + Ends December 14th , at 11:59 pm (eastern time)! Enter Daily!
[field name= iframe3]