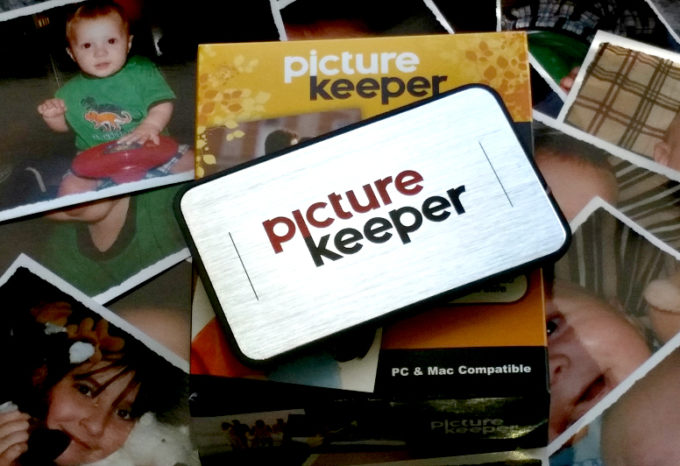 Disclosure:  Picture Keeper provided me with a product to facilitate this post.  The words and opinions expressed in this review are strictly of my own.
Are you a shutterbug? I love taking pictures! Naturally as a mom, enthusiasm for documenting every little aspect of my children's lives kicked in when they entered the world. First steps, birthdays, holidays, and every cute little move are captured in photos. As you can imagine, my snap happiness has increased even more since becoming a mom blogger over 7 years ago and launching ahappyhippymom.com. Now it's not just the kids in photos, but it's everything from pretty plated food, nature shots, and recommended products to tons of glorified selfies. Oh, and let's not forget the thousands of pictures of my fur babies! I have lost count of how many photos I have taken of the English Labs doing adorable poses!
There are thousands of digital images stored on my computer in various folders and on devices. Some are duplicates that have been transferred twice. As a busy mom, finding the time to sit and do a photo library backup and get rid of all the duplicates is impossible. Normally it would take several hours of sorting through them to organize, but thanks to a very nifty Picture Keeper USB device I am able to regularly backup my photos in minutes.
Picture Keeper- No Brainer For Backing Up Photos!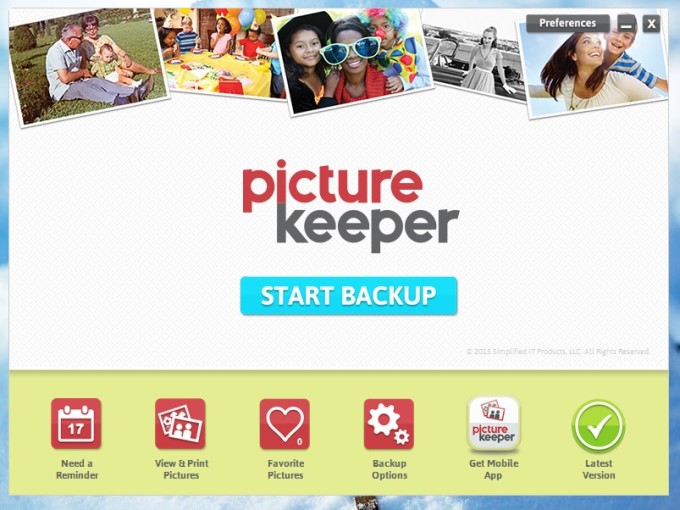 Picture Keeper makes it simpler than ever to backup your entire photo collection. How it works is the USB device has embedded software able to detect by default pictures located in the "Pictures", "Documents", "Desktop", and "Sample Pictures" folders on your PC or Mac. You can also backup other specific folders such as Picasa under the Picture Keeper Advanced Option Menu in a few simple steps! After the initial backup, Picture Keeper only copies the photos that were added or changed since the last backup and continues to skip any duplicates. The device does all the work for you and you are able to safeguard your pictures effortlessly. Even someone who is technologically challenged can easily use Picture Keeper to preserve their photos! If you know how to plug in the gadget you are ready to go!
Picture Keeper offers several different device sizes to meet your photo storing needs. I opted for the PK PRO which is able to keep up to 250,000 (based on 1MB jpg size) pictures safe. The first backup of my photos took over an hour. I just walked away and let it do the work and came back when it was done. The second backup was much quicker. Once the device is filled up I can purchase another, and the second will continue where the first left off. Additionally, the device is able to be configured to store videos as well, yet the Picture Keeper will fill up much quicker being that videos are larger in size.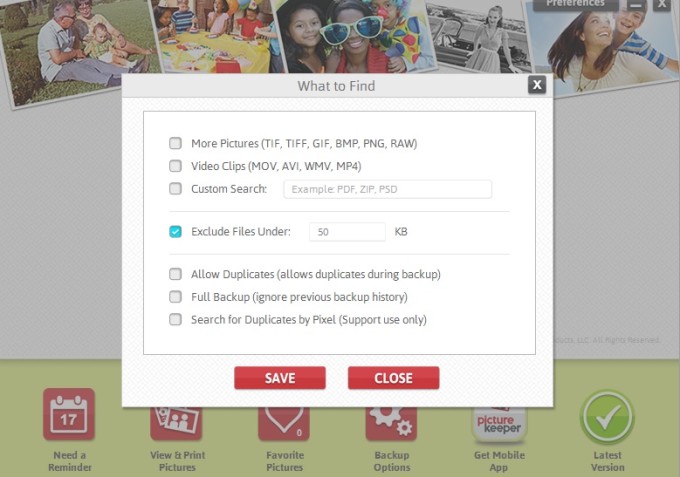 Picture Keeper Sizes Available:
• PK 4 Hold's up to 4,000* photos – $29.99
• PK 8 Hold's up to 8,000* photos – $59.99
• PK 16 Hold's up to 16,000* photos – $99.99
• PK 32 Hold's up to 32,000* photos – $129.99
• PK PRO Hold's up to 250,000* photos – $189.99
• PK PRO 320 Hold's up to 320,000* photos – $199.99
Other Features!
If you have a digital frame for displaying your precious moments, Picture Keeper can be used with it! I have not personally tried this because I do not have a digital frame, but the company claims the device can be plugged into the frame using the USB connections and will show the photos contained on it. This is an awesome feature for anyone who has tons of photos and wants to display them easily!
Also, Picture Keeper can be brought to your favorite kiosk center for photo printing!
Now Picture Keeper is able to backup photos on Facebook, in emails, and mobile devices with simple configuration!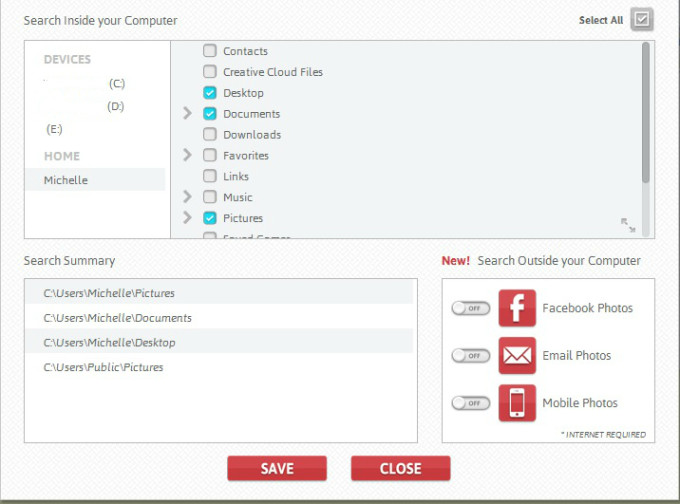 Conclusion
Picture Keeper is an easy solution of safeguarding precious photos without having to manually organize and search folders for them. For busy moms this product is a huge time-saver! The device contains embedded software to take the guesswork out of full library photo collection backup and makes sharing, printing, and storing photos a breeze. Sure you could use a regular USB that costs less, but do you have the hours and patience to backup your photos regularly and delete the duplicates? I know I don't! The best part is you don't need to be a tech genius to use it! Even Grandma who doesn't know what a smartphone is should be able to figure out how to use Picture Keeper. Just plug it into a USB port on a PC or Mac and you are ready to go! After the initial backup, the device will only save the newest photos on your PC each time you plug it in —saving you tons of time! You are also able to easily free up tons of space on your hard drive once your photos are securely saved on Picture Keeper!
Buy It!
Picture Keeper makes a fabulous gift! You can purchase any of Picture Keeper products right at PictureKeeper.com! Save 11% off the suggested retail price at Amazon on Picture Keeper PK PRO!
[field name= iframe]
Picture Keeper PK 16 Giveaway!
Courtesy of our friends at Picture Keeper, a lucky reader is going to receive a Picture Keeper PK 16! A $99.99 Value!
To enter the giveaway, please follow the instructions provided on the Rafflecopter form. Any comments are welcomed below, but won't count towards the giveaway. Only entries using the Rafflecopter form will be eligible for prize. Thank you!
Open To US Residents Only- age 18 + Ends May 20th , at 11:59 pm (eastern time)! Enter Daily!
[field name= iframe1]
Stay Connected
Like Picture Keeper on Facebook
Follow Picture Keeper on Twitter
Picture Keeper on Pinterest