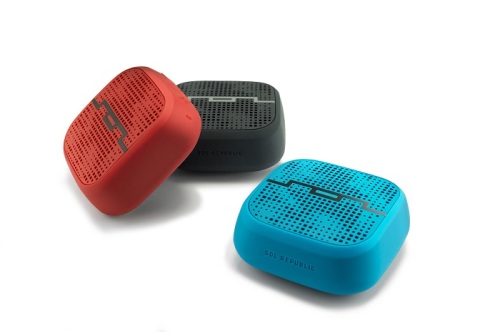 Disclosure:  SOL REPUBLIC provided me with PUNK to facilitate this post.  The words and opinions expressed in this article are strictly of my own.
The hunt is officially on for trendy gifts this holiday season! In the land of Black Friday sales and Cyber Monday electronic blitz, you might be feeling overwhelmed with what to get that teen or college student on your holiday shopping list. No fear, SOL REPUBLIC is here with their chunky PUNK ready to help relieve the Christmas gift giving funk! What? You never heard of the PUNK? It is the latest wireless Bluetooth speaker to join the SOL REPUBLIC product line! Priced merely at $70, it is truly a magical music find that won't leave your wallet in a bind!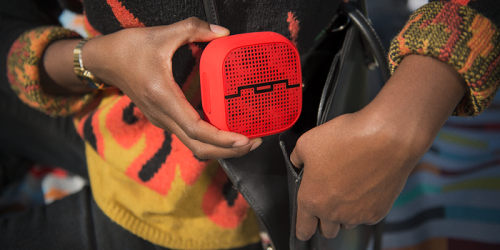 Of course when SOL REPUPLIC releases a brand new product I have to try it and the PUNK is no exception. Very surprised by its palm size, I tested the gutsy wireless speaker out on a few party songs on Spotify to see how it stood up. What I discovered, is even though it is no bigger than a square bar of beauty soap (3.5 X 3.5 inches by 1.6 high), it packs a powerful punch in sound compared to other speakers the same size. Offering an impressive wireless range of up to 60 feet (no obstructions), the PUNK produces decent bass for its tiny size and delivers distortion free sound on high volume. I like it! Once you hear PUNK pump out the riffs in Jimi Hendrix's All Along the Watchtower or the high-pitched screams and epic bass guitar in Welcome to the Jungle by Guns N' Roses—you will be SOLD too!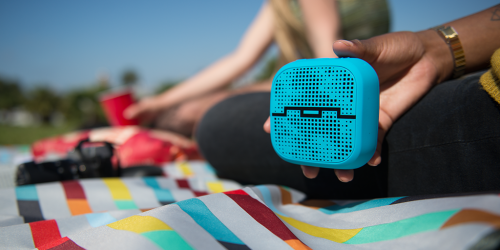 The PUNK's exterior, made from a cool feeling rubberized material, is extremely durable and is built tough to withstand a little water, dirt, and the occasional tumble or two. It is perfect for the student who is always on the go and wants a wireless speaker to toss in their backpack or pocket for listening to tunes, watching movies, or game play! There is even a quarter-inch threaded mount so you can attach the speaker to a bike and zip through the mountains while listening to your favorite music tracks or audio book. SOL REPUBLIC cleverly designed the "small-but-mighty" speaker to be used anywhere and everywhere.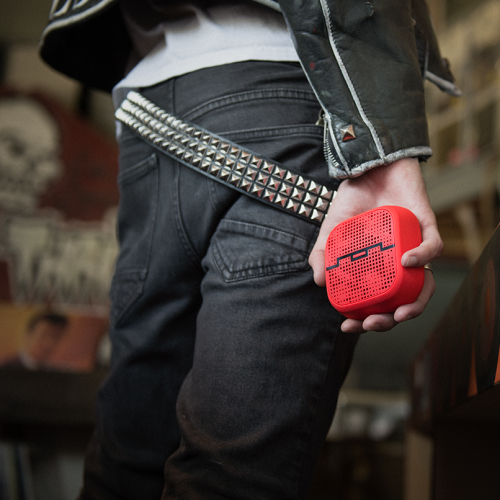 What is great about the new wireless Bluetooth speaker is it is easy to use. The subtle rubberized controls are located on the top panel and feature Power, Volume Up/Down, Play/Pause, and a Bluetooth pairing button. Underneath the controls is a very small LED light indicator (blinking blue for pairing and red for charging). Press the Volume Up and Down controls together and a voice prompt lets you know how much life you have on the battery. Pairing with my HTC One smartphone took seconds and was uncomplicated. The company claims the PUNK will last 8 hours before needing to be recharged, but it greatly depends upon how loud you listen to your music. I received approximately 5 hours on moderately loud without the need to recharge. Fully recharging the PUNK took under 3hours. It is also equipped with line-in and line-out ports, making it easy to connect it to non-Bluetooth devices sporting a 3.5mm jack, such as an older stereo.
One of my favorite products from SOL REPUBLIC is the DECK. The PUNK is designed somewhat similar with the awesome looking stylized grill top. However, the PUNK is half the size, a bit thicker, and just feels tougher. The only drawback is it does not have speakerphone capabilities nor comes with a case. On the plus side, it is less than half the price of the DECK and still puts out distortion free loud music for its tiny size. Makes a very affordable sidekick gift for the student you want to WOW this Christmas!
PUNK is offered in seven colors: Black, Horizon Blue, Fluoro Red, Cargo, Navy, Lemon Lime and Ion Green. PUNK is on sale at Best Buy now for $49.99! RUN Rudolph RUN!
Happy Holidays SOL REPUBLIC PUNK Giveaway!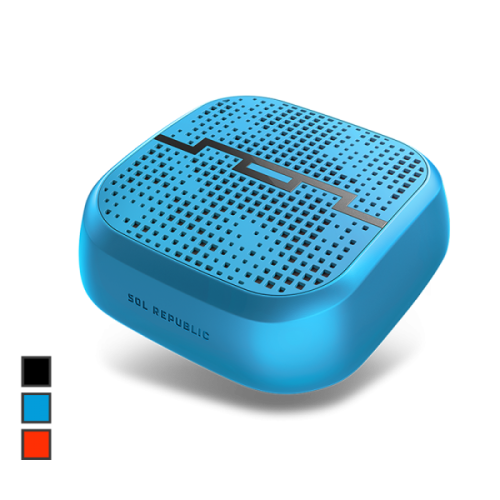 SOL REPUBLIC is offering one of my readers a PUNK for the holidays! The PUNK features:
Compatible with most Bluetooth-enabled devices
7W built-in amplifier power
Bluetooth interface with up to 60' listening
Rechargeable lithium-ion battery for up to 8 hours life per charge
Water-, dust- and shock-resistant design
Mount-ready design
5mm standard auxiliary input
To enter the giveaway, please follow the instructions provided on the Rafflecopter form.
Open To US and Canada Residents Only- age 18 + NO PO BOXES. Ends December 18th, at 11:59 pm (eastern time)! Enter Daily!
Important to note: If you have won a SOL REPUBLIC giveaway in the past 6 months you are not eligible to win this giveaway. Sorry, but to be fair to everyone it is a one-time win per 6 months per household.
Stay Connected
Visit the SOL REPUBLIC website
Like the SOL REPUBLIC Facebook page
Follow SOL REPUBLIC on Twitter
Visit SOL REPUBLIC on Instagram