The holidays are all about coming together, enjoying delicious bites, stimulating conversions, thankfulness, and creating lasting memories. So, it is only fitting that this month's Netflix Stream Team focus is on Friendsgiving. While Thanksgiving is normally reserved for families, Friendsgiving usually happens the day before or after the holiday when friends gather together around the table to celebrate good food and friendship.
The art of friendship does not always come instinctively. Making friends takes a mixture of learned social and communication skills. Thanksgiving and Friendsgiving is a perfect opportunity to teach our children the importance of friendship and why friends are worth being thankful for. If you need a platform to help open up the valuable topic, Netflix has great 'dynamic duo' titles to stream! In fact, starting November 26th, the all-new Netflix original, "VeggieTales in the House," is available for streaming and is a perfect way to spark a conversation around friendship with your kids. Join Bob and Larry, and the rest of the veggie gang, as they exemplify the lessons of friendship while exploring new areas of their wondrous house! Veggie Tales happens to be one of my favorite children shows, since it always has a good moral lesson to be learned. Not to mention, it satisfies my strange obsession of walking and talking food! Seriously, who doesn't love a talking tomato?
For other friendship thought starters, check out these helpful tips from Common Sense Media.
20 Dynamic Duos Available on Netflix
 For your little kids:
1. Bob and Larry: VeggieTales in the House
2. Bert and Ernie: Sesame Street: Elmo and Friends
3. Bo and Dezzy: Bo on the Go!
4. Justin and Olive: Justin Time
5. Tod and Copper: The Fox and the Hound 2
6. Clifford and Elizabeth: Clifford
And your big kids:
1. Phineas and Ferb
2. Shaggy and Scooby: Scooby-Doo! Mystery Incorporated
3. Vada and Thomas: My Girl
4. Martin and Chris: Wild Kratts
5. Finn and Jake: Adventure Time
6. Mario and Luigi: The Super Mario Bros. Super Show!
7. Charlotte and Wilbur: Charlotte's Web
Plus a few for mom and dad:
1. Rory and Lorelai: Gilmore Girls
2. Schmidt and Nick: New Girl
3. Ted and Barney: How I Met Your Mother
4. Liz and Jack: 30 Rock
5. Walter and Jesse: Breaking Bad
6. Mulder and Scully: The X-Files
7. Wayne and Garth: Wayne's World
HOUSE
Do any of you remember the series HOUSE? The medical drama originally ran on Fox from November 2004 through May 2012. HOUSE was among the top-ten rated shows in the United States from its second through its fourth season and won numerous awards. For some ungodly reason, I missed all 8 seasons. But, the great thing about Netflix is it always has the best T.V shows ready to be streamed commercial free, including all 8 seasons of HOUSE! So, I have been binge watching the show for the past month and have made it to season 6. Honestly, I can't stop watching it! Yes, it is that good!
Anyhow, the main character Gregory House (Hugh Laurie) is a medical genius who is best friends with James Wilson (Robert Sean Leonard), head of the Department of Oncology. Greg's Vicodin dependence, unconventional medical treatments, and the hatred of human species put James through the friendship wringer. However, the two seem to have an inseparable connection even through the most difficult of times. If something does get in between them they always seem to eventually work it out.
If you are looking for an adult show this month with the focus of unconditional friendship, don't overlook HOUSE. I do have to warn though that the show is not for the weak stomach viewer. Some of the medial procedures are actually on the gruesome side and can make you cringe! It isn't something you want to be watching while eating your turkey!
Friendship Craft and Snack!
Check out these two creative ideas from the Netflix Stream Team!
Vegetable Stamps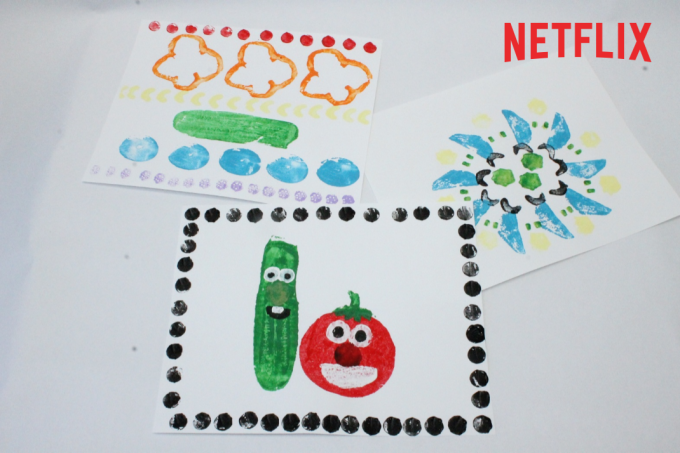 While you're prepping Friendsgiving dinner, give the kids a few extra veggies, paint and paper to see what fun designs they can make. Click here to learn how to make your own veggie stamps, including instructions for making our favorite veggie friends, Bob the Tomato and Larry the Cucumber.
Cucumber Rolls with Veggie(Tales) Cream Cheese
Celebrate the launch of VeggieTales (or just enjoy a pre-Friendsgiving snack) with cucumber roll-ups stuffed with veggie cream cheese. Anything can go into cucumber rolls, but for this version we're sticking to sun-dried tomatoes for Bob the Tomato, a celery stalk for Frankencelery and baby carrots for Laura Carrot. Click here to see how to make your own.
Are you planning on celebrating Friendsgiving?