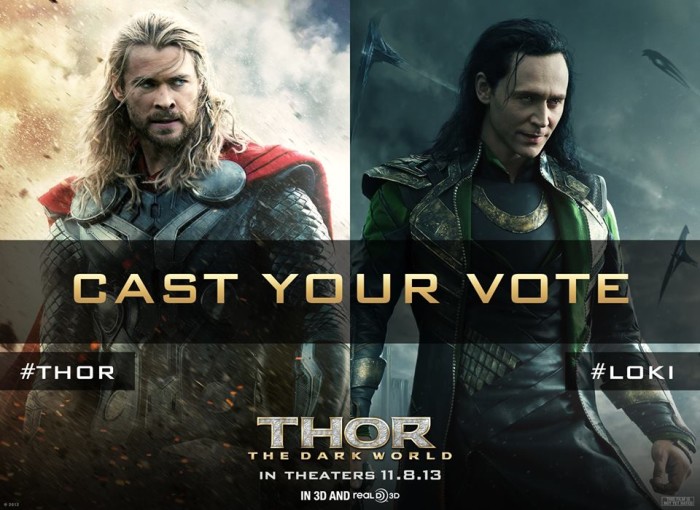 Calling all Marvel fans! For 24 hours ONLY, Disney launched a really exciting sweepstakes in anticipation of the release of Marvel's THOR THE DARK WORLD! Until 8:59am PST Friday morning, 10/11), residents of the US and Canada age 13 yrs + have the chance to win one of two family vacations for 4 to the Disneyland Resort in California for the October 26th opening of Thor: Treasures of Asgard, the brand new exciting experience coming to Disneyland!
To enter for the chance to win visit the THOR page on Facebook (https://www.facebook.com/Thor) and answer the following question in the comments of the sweeps post: Who would you travel with if you had the chance to go to Asgard: #Thor or #Loki?
Don't forget to read the official rules for Thor Getaway Sweepstakes http://on.fb.me/1815yyL ; for Loki Getaway Sweepstakes http://on.fb.me/1815Ci9 before entering!  Good luck!
Okay, I wouldn't mind traveling with either one of them!  I mean who wouldn't right?  BUT,  Thor definitely gets my vote due to his …well…cough…abilities.  LOL!  Who did you vote for?
About Thor The Dark World
Marvel's "Thor: The Dark World" continues the big-screen adventures of Thor, the Mighty Avenger, as he battles to save Earth and all the Nine Realms from a shadowy enemy that predates the universe itself. In the aftermath of Marvel's "Thor" and "Marvel's The Avengers," Thor fights to restore order across the cosmos…but an ancient race led by the vengeful Malekith returns to plunge the universe back into darkness. To defeat an enemy that even Odin and Asgard cannot withstand, Thor sets upon his most dangerous and personal journey yet, forced into an alliance with the treacherous Loki to save not only his people and those he loves…but our universe itself.