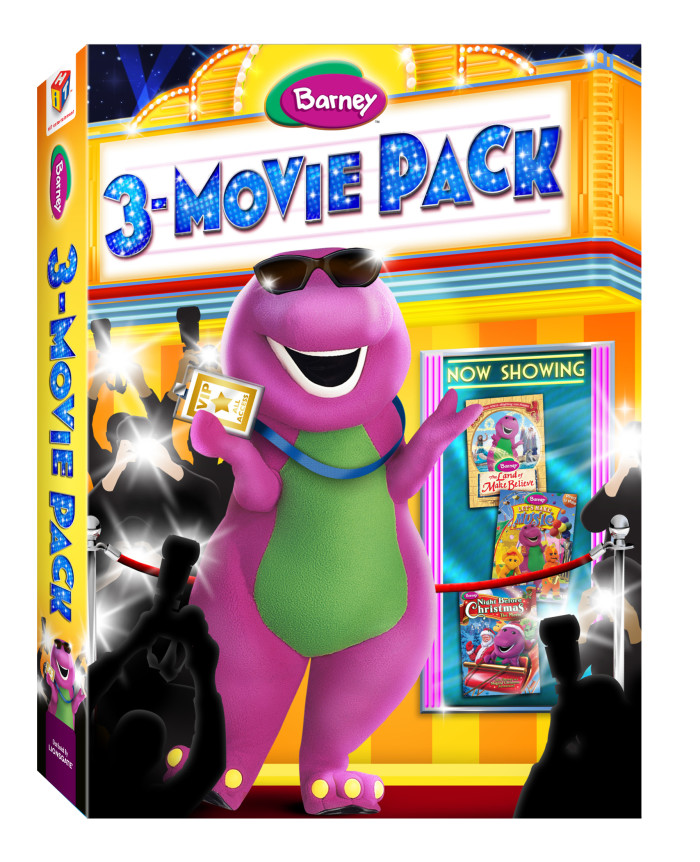 Yesterday (October 15th), Barney 3 Movie Pack roared onto DVD from Lionsgate and HIT Entertainment. The super-dee-duper collection of three feature length movies is packed full of imagination, caring, singing, dancing, learning and lots of Barney magic!  With total feature run time of 163 minutes, children will enter the land of make believe, make music, and celebrate the most wonderful time of the year—Christmas!  The box set includes:
Barney The Land of Make Believe
Join the adventure with Barney, BJ™ and Baby Bop™ as they discover anything can happen in The Land of Make Believe! When a lost, young princess from a storybook magically appears, Barney and his friends set out on a quest to help her find her way home. Along the way, they swim with dolphins, see a beautiful mermaid and even meet a magician! Come along for a story as big as your imagination!
 [field name= iframe]
DVD Bonus Features
·         Barney's Island Tour
·         Make Believe Music Video
·         Serena's Dolphin Friends Game
Barney Let's Make Music
It's time for a musical adventure at Barney's Fantasy Fair! When a little girl named Melanie dreams of playing her violin in a talent show, Barney, BJ and Baby Bop help her realize her dreams with the help of a new dino friend, Riff™, who knows how to find music everywhere! Riff shows the friends all about music and sounds as they sing favorite songs, play games and ride amazing rides! They also discover that some dreams are even bigger than they imagined. So head to the fair, join the fun and let's make music together!
 [field name= iframe1]
DVD Bonus Features
·         Barney's Big Balloon
·         BJ's Elephant Adventure
·         Welcome, Cousin Riff with Song
·         Barney's Juke Box
Barney Night Before Christmas – The Movie
It's a memorable Christmas Eve as Barney, BJ and Baby Bop take their friends on a musical journey to the North Pole and bring them face to face with Santa Claus!  The excitement builds as Santa gives his guests a once-in-a-lifetime tour of his brightly decorated home.  The children discover his antique music box, see amazing displays of his favorite toys and climb aboard his train for an incredible ride.  When Mrs. Claus notices that the elves need help finishing up last minute Christmas chores, she escorts the group to Santa's Toy Factory.  Join BJ, Baby Bop and the children as they wait patiently to hear the sound of sleigh bells and share in the most magical night of the year with Barney!
 [field name= iframe2]
DVD Bonus Features
·         2 Holiday read-a-longs: "Barney's Christmas Surprise" and "Barney's Wonderful Winter Day"
·         10 sing-a-long songs
·         5 Christmas songs
·         8 interactive games
Great For The Holidays!
This is a fantastic movie pack perfect for holiday fun!  My son enjoyed all three movies, but liked the Barney Night Before Christmas the most.  The movie got him real excited thinking about Christmas.  Barney and friends are helping Hannah decorate her house for Christmas when they discover a magic snow globe of Santa's house. With a bit of imagination and Barney's magic, the snow globe transports the gang to the North Pole to visit Santa's workshop where they take an enchanted train ride through Santa's Toy Factory. From gorgeous scenes of snow covered trees, tinsel, warm cookies, wrapped presents, to favorite Christmas songs like Jingle Bells and The Twelve Days of Christmas, this movie will get your kiddo in the holiday mood!  Plus, there is plenty of bonus fun included as well such as the sing-a-long songs.  However, I could not find the 8 interactive games on the DVD, so I am unable to tell you what they consist of.   They seem to have disappeared or are hiding!
Buy It
Barney 3 Movie Pack has a suggested price of $19.98, but is offered at Amazon for only $16.98!
Stay Connected
Program Website:www.barney.com
Facebook: http://www.facebook.com/barney
Twitter: @DinoMiteBarney
YouTube:www.youtube.com/HITBarney
Barney 3 Movie Pack Giveaway!
Let's get a jump on the upcoming holiday!  Courtesy of Lionsgate and HIT Entertainment, a reader will receive the new Barney 3 Movie Pack! To enter the giveaway, please follow the instructions provided on the Rafflecopter form. Any comments are welcomed below, but won't count towards the giveaway. Only entries using the Rafflecopter form will be eligible for prize. Thank you!
Open To US Residents Only- age 18 + Ends November 1st, at 11:59 pm (eastern time)! Enter Daily!
 [field name= iframe3]