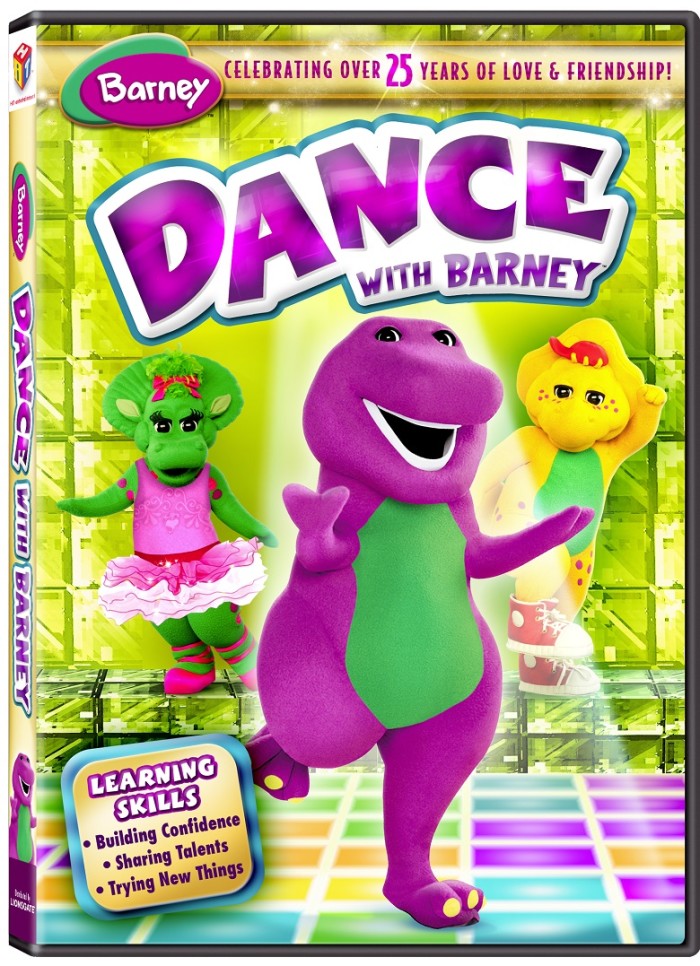 Get your preschooler up and grooving with dinos in the all-new Barney: Dance with Barney DVD now also available on Digital Download and Video on Demand from Lionsgate Home Entertainment and HIT Entertainment.   Little ones will love to dance to the beat with their favorite purple dinosaur and his dino terrific friends Baby Bop and BJ as they share their most loved dance moves!  Geared toward children ages 1-4, this adorable 76 minute DVD is filled with three dance themed episodes that will help build your child's confidence by learning new steps while they have fun dancing dino-style!
Episodes include:
"Dancing"
"Movin' Along"
"Dance With Me"
DVD Bonus Features
The Barney Boogie Music Video
Lookie, Lookie, It's A Cookie Karaoke Music Video
Happy Dancing Karaoke Music Video
Synopsis
Have a tee-riffic time when you move and groove with Barney and his friends! Join Barney and learn many different types of dance, from hip hop to ballet to folk dance and more, and watch as his friend Jamal builds the confidence to give them a try too! Then Barney and his friends explore movement and have a ball as they wiggle, waddle, hop and bop together! Don't miss a beat and come along for a dino-mite, dino-dancing good time!
My son is five years old, but he still is entertained by Barney!  I mean what little boy doesn't love dinos right?  He certainly enjoyed watching Jamal try out his "special new dancing shoes" as he danced to the song "Look at Me I'm Dancing!"  He also liked the song Looby Loo in the episode "Movin' Along" which is basically a remake of the Hokey Pokey done Barney style… shake, shake, shake and turn myself about.   All three episodes are a great way to introduce different dance steps to your youngster and get them grooving this summer.
Celebrating over 25 years of friendship with Barney and his pals, this DVD encourages children not to be scared to try new things and to appreciate the gift of music!
Buy It
Barney: Dance With Barney DVD has a suggested retail price of $14.98, but is available for purchase at Amazon for just $9.99!
Stay Connected
Program Website: www.barney.com
Facebook: http://www.facebook.com/barney
Twitter: http://twitter.com/DinoMiteBarney
YouTube: www.youtube.com/HITBarney
Barney: Dance with Barney Giveaway!
Courtesy of Lionsgate And HIT Entertainment, one reader will win the new Barney: Dance with Barney DVD! To enter the giveaway, please follow the instructions provided on the Rafflecopter form. Any comments are welcomed below, but won't count towards the giveaway. Only entries using the Rafflecopter form will be eligible for prize. Thank you!