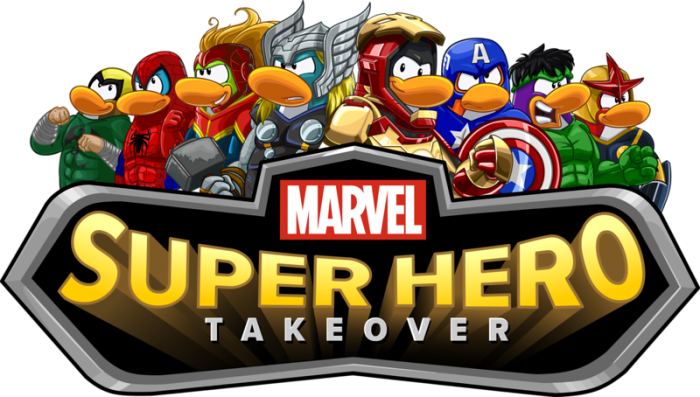 The fan reaction from last year's Marvel Super Hero Takeover was gigantic, so Disney is excited to once again give fans the opportunity to dress up as their favorite Marvel Super Heroes in Club Penguin in 2013!  However, this year they are expanding upon last year's offering by giving players twice the amount of Marvel Super Hero and Super Villain costume options along with more action-packed gameplay and storylines!  Club Penguin members now can suit up in over 25 Marvel costumes like Super Heroes Iron Man, She-Hulk, Captain America and Sif!  Fans now even have the choice of dressing up as one of the mischievous Marvel Super Villains like the Mandarin and Loki!
[field name= iframe]
Here is more about the Marvel Super Hero Takeover event:
Members can suit up in 27 different Marvel Super Hero and Super Villain costumes, while all players can dress as cops, robbers and civilians

Super Heroes can plan their defense strategy in the Hero Lab, while Super Villains can scheme in the Villain HQ, building eight different kinds of destructive robots
Members can buy new super igloos like the Secret Base, an impenetrable HQ perfect for Super Heroes, while Super Villains will feel right at home in the new Creepy Cavern
Marvel costumes feature characters from the new animated series "Marvel's Hulk and the Agents of S.M.A.S.H." including She-Hulk, A-Bomb, Red Hulk and Skaar. The series premieres August 11 inside Marvel Universe on Disney XD. Club Penguin fans of "Marvel's Ultimate Spider-Man" can also dress up just like Iron Spider. And don't forget Iron Man, Hulk, Captain America and Thor, who assemble in "Marvel's Avengers Assemble" with a one-hour preview May 26 and launching on July 7 inside Marvel Universe on Disney XD.

New Heroes.  New Villains.  A New Battle.  Play now at ClubPenguin.com.

About Club Penguin

Club Penguin (http://www.clubpenguin.com), is the #1 virtual world for children. Club Penguin works to maintain a fun and safe online entertainment experience by using filtering technology and live moderators. The award-winning virtual world of Club Penguin contains no third-party advertising and is free to use and enjoy, however a subscription membership provides access to additional features that enhance the play experience. Club Penguin, headquartered in Kelowna, British Columbia, Canada, is enjoyed by children around the world, and can be played in English, German, Portuguese, French and Spanish.

About Marvel Entertainment
Marvel Entertainment, LLC, a wholly-owned subsidiary of The Walt Disney Company, is one of the world's most prominent character-based entertainment companies, built on a proven library of over 8,000 characters featured in a variety of media over seventy years.  Marvel utilizes its character franchises in entertainment, licensing and publishing.  For more information, visit marvel.com.