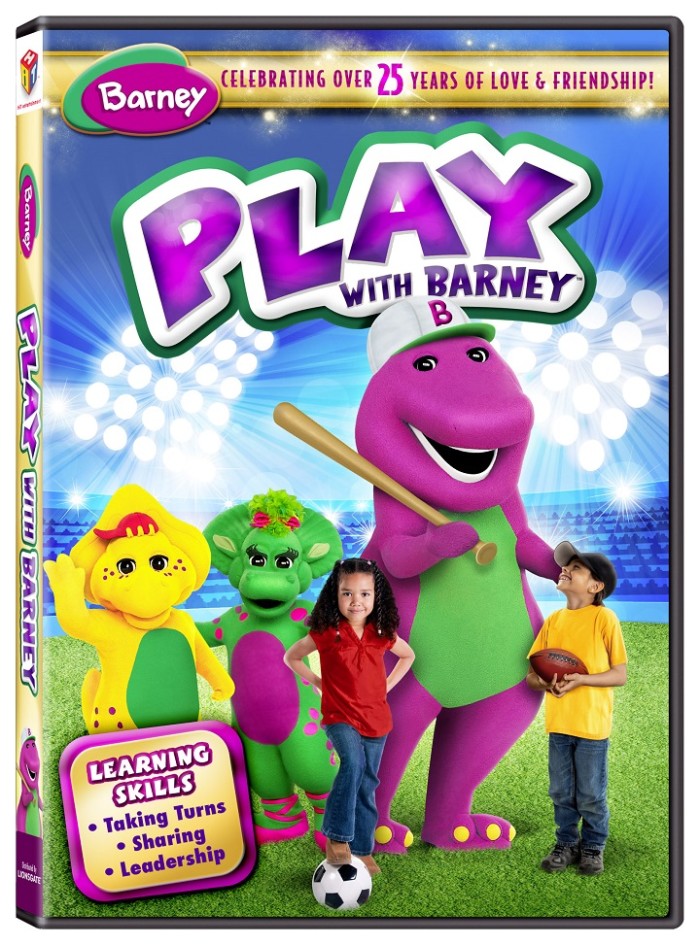 Yesterday (March 5, 2013),  Lionsgate and HIT Entertainment released a new Barney DVD called "Play With Barney."  Join the loveable purple dinosaur, Baby Bop, BJ and Riff as they demonstrate the importance of being a team player, sharing and trying your best while playing games.  The DVD contains four learning through play episodes and four bonus features for a total running time of 76 minutes. Barney: Play with Barney is now available on DVD, Digital Download and Video On Demand with a suggested retail price of $14.98.
Here are the episodes and bonus features included on the DVD.
Play with Barney Episodes include:
 "Let's Play Games"
"Playing Games"
"Riff to the Rescue!"
"For the Fun of It"
DVD BONUS FEATURES
Let's Play with Opposites Games
Let's Play with Barney Videos
Hickory Dickory Dock Karaoke Music Video
Mary Had a Little Lamb Karaoke Music Video
Synopsis
It's game time! Barney and his friends demonstrate all the benefits of play with their signature style of imagination, music and laughs! Baby BopR, BJR and RiffR get practice being leaders and trying new sports, like baseball and basketball, and everyone learns that taking turns, following the rules, practicing and cleaning up makes every game more fun.especially when you do it with friends! So join the team and have a ball with Barney and friends!
With spring season right around the corner and outside sports soon to begin, the Play With Barney DVD would be an awesome way to help teach your child the importance of taking turns and being a team player.  The DVD also encourages young children to clean up after themselves, which I greatly appreciate!  Barney builds character and makes learning fun through  imaginative song and play.  The new DVD  would  be an excellent Easter basket stuffer!
Buy It
Barney: Play with Barney DVD has a suggested retail price of $14.98, but is available for purchase at Amazon.com for just $9.96!
Stay Connected
Program Website: www.barney.com
Facebook: http://www.facebook.com/barney
Twitter: http://twitter.com/DinoMiteBarney
YouTube: www.youtube.com/HITBarney
Barney: Play with Barney Giveaway!
Courtesy of Lionsgate And HIT Entertainment, one reader will win the new Barney: Play with Barney DVD! To enter the giveaway please follow the instructions provided on the Rafflecopter form. Any comments are welcomed below, but won't count towards the giveaway. Only entries using the Rafflecopter form will be eligible for prize. Thank you!
[field name= iframe]