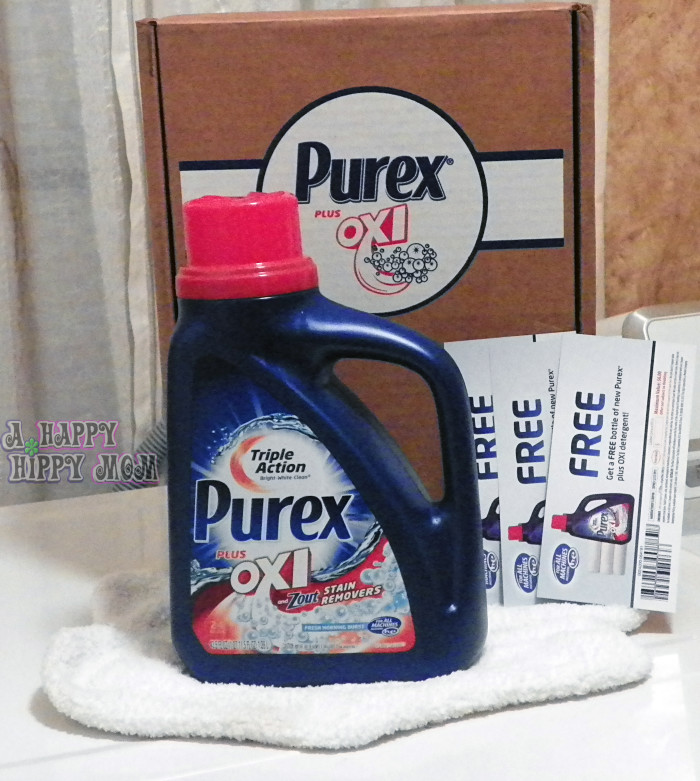 POW! BAM! BOOM! Knockout tough laundry stains with Purex plus Oxi!  The new powerful stain-fighting liquid laundry detergent employs three stain-fighting enzymes to work hard against different types of stains.  In fact, it acts to remove over 101 different stains!
Furthermore, the superior cleaning formula can also be used as a pretreater.  Simply pour a little Purex plus Oxi directly onto the stain, rub stained fabric together to ensure optimum coverage, and let sit five minutes before placing in the wash.  Then just add the laundry detergent to your wash as you normally would and watch the detergent do its mighty action!
With a hardworking man, a messy preschooler utilizing his shirt as a napkin, and a teenage daughter who is always on the go— all living under the same roof—laundry day is a definite challenge!  This is why I enjoy using Purex plus Oxi laundry detergent!  The hypoallergenic formula is gentle enough not to irritate my 4 year old son's skin, but strong enough to dissolve stubborn stains. It even lifted out spaghetti sauce on his favorite dinosaur shirt!  Just check out how it took the disgusting dirt out of my white socks!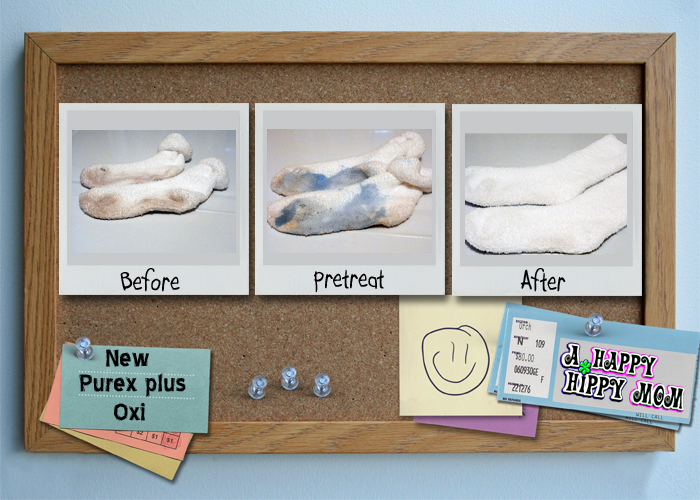 Plus, it has a pleasant light, fresh scent that leaves our clothes smelling sweet and is perfect for everyday laundry or heavily soil loads.  Not to mention, it costs half the price of the leading brand and still remains to brighten my whites and get my laundry clean.  Additionally, it has specifically formulated to work in both high efficiency washers and traditional, so if you have a HE washing machine you don't need to pay extra for a low foam detergent.
To learn more about Purex plus Oxi visit purex.com for additional product information.
Scare Away Stains with Purex plus Oxi Sweepstakes
In celebration of the release of new Purex plus Oxi, Purex is hosting the "Purex plus Oxi Sweepstakes" where you can win some great prizes!  One Grand Prize winner will receive $1,000 and 250 lucky 2nd place winners will score $25.  Enter now through 3 p.m. PST on November 30th, 2012.  The sweepstakes is open to legal residents of the forty eight (48) contiguous United States, who are at least eighteen (18) years old as of October 17, 2012.  Enter now for your chance to win!
Stay Connected With Purex
Stay connected with Purex using these social media sites.
Visit the Purex Website
Like the Purex Facebook page
Follow Purex on Twitter
Watch Purex on Youtube
NEW Purex plus Oxi Giveaway!
Acting as a Purex Insider, I have the opportunity to give one lucky reader 3 coupons good for 3 free bottles of new Purex plus Oxi laundry detergent ($18 value).  To enter the giveaway, please follow the instructions provided on the Rafflecopter form. Any comments are welcomed below, but won't count towards the giveaway. Only entries using the Rafflecopter form will be eligible for prize. Thank you!
[field name= iframe]
"Disclosure: Purex provided me with a sample of Purex plus Oxi so I could review them. However, all of the opinion expressed here are of my own."