How many of you are anxious about the upcoming cold and flu season given that school is back in session?  For me it is always a concern,  due to the fact my oldest daughter is around hundreds of other teens for 8 hours daily.  She has a tendency of getting sick a couple of months after school begins and passing it on to my son who is only 4.  This year I am hoping to be able to stop some of the viruses by preventing cross -contamination of their toothbrushes using OraLine's Toothbrush Sanitizer Bundle.  The system is a new way of fighting germs and features 6 "Names & Faces" toothbrushes, 12 tubes of sugar-free Bubble Gum flavored toothgel, and a toothbrush sanitizer.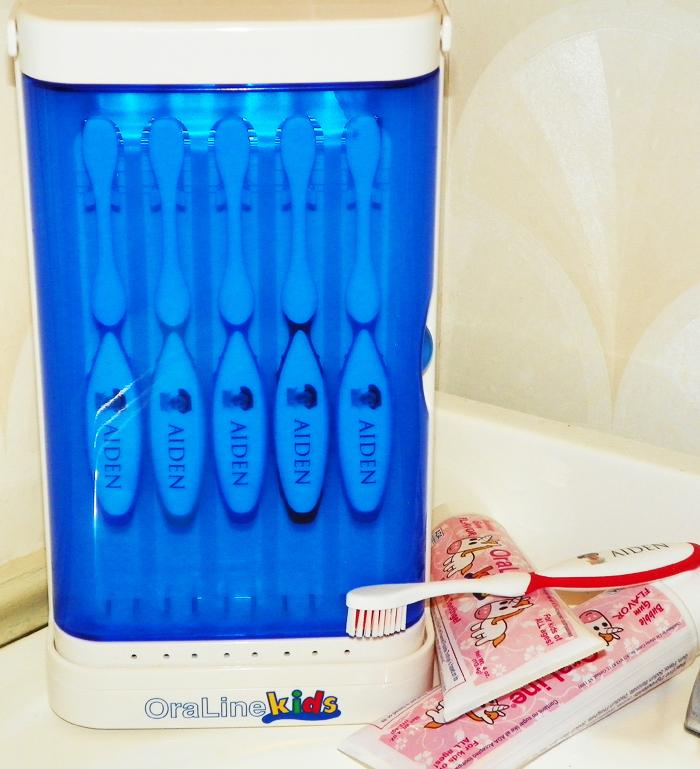 With the OraLine 60092 Toothbrush Sanitizer, cross contaminated toothbrushes are a thing of the past. It is very quick and easy to use!  It stores up to 5 toothbrushes and uses UV light  along with a drying fan to eliminate 99% of all germs. Plus, it comes apart for no hassle cleaning.
Furthermore, the majority of people overlook that sharing the same tube of toothpaste may also distribute bacteria.  Oral microorganisms are capable of collecting  in the nozzle, and then may be passed to someone else's toothbrush. The more family members utilizing the same tube of toothpaste, the greater mouth bacteria gathering there, the higher probability of spreading germs. The OraLine bundle kit  includes enough toothgel for your child to have their very own tube for a year and will help prevent viruses from transferring via the toothpaste.
My son and I love the innovative system and I'm excited to see if it reduces the amount of colds my son gets this year.  The entire bundle only costs $59.95 and is an extreme value for all the products you receive! I highly recommend it to anyone who is worried about cross-contamination and would like to get their child to brush more!
Buy It
The OraLine TB Sanitizer Bundle including UV Sanitizer, 12 Tubes of BBGUM Toothgel, and 1 set of 6 Customized Toothbrushes can be purchased for just $59.95!
Gift with Purchase
The first 100 people who order the Oraline kit will receive 1 of these fantastic gift bags!!! Just for ordering – No additional charge! – Free! The Maggies Clubs Gift Bags contain sample products from a variety of top brands that moms use everyday.