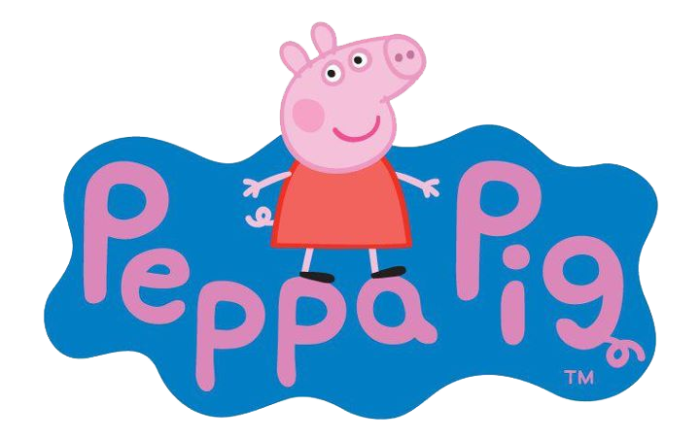 Have you met Peppa yet, the loveable, energetic little piggy from the U.K who speaks with a delightful British accent? The most charming pig on the block has leaped her way into the hearts of preschoolers with the hit animated series, Peppa Pig, broadcasting on Nick Jr.
The program follows the daily adventures of 4 year old Peppa, her brother George, Mommy Pig and Daddy Pig as they take family trips, play games, dress up, go to school, and best of all—jump in muddy puddles.  The episodes are absolutely adorable and end happily with loud snorts of laughter!
Last month Entertainment One Family launched an all-new line of Peppa Pig toys based on the beloved television show allowing children to take magic of Peppa home and create their very own playtime adventures with the sweet pink pig. Manufactured by the very popular leading brand of infant and preschool toys Fisher-Price, the new Peppa Pig playsets, play figures and plush dolls are available exclusively in Toys "R" Us stores nationwide.
Peppa Pig Fisher-Price Products
Peek 'n Surprise Playhouse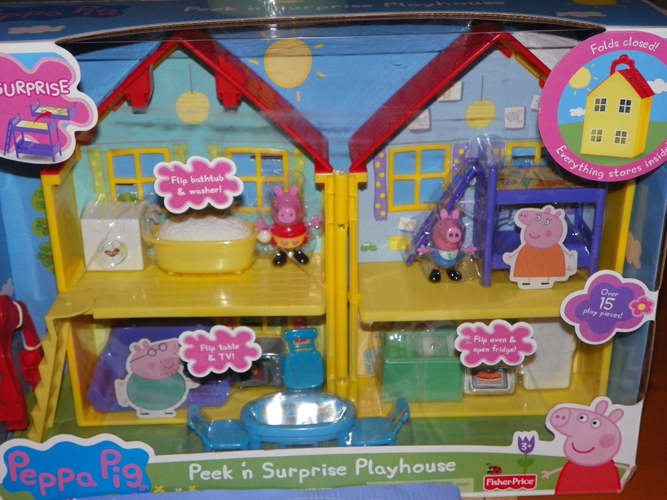 This portable, four-room playhouse opens to reveal a home filled with fun transforming furniture – switch the sink from messy to clean, fill the tub for a bubble bath, set the family table for dinner time and much more! The playhouse includes over 15 play pieces and folds closed for easy clean up. Peppa and George figures are included for playtime fun. ($34.99)
Hug 'n Oink Peppa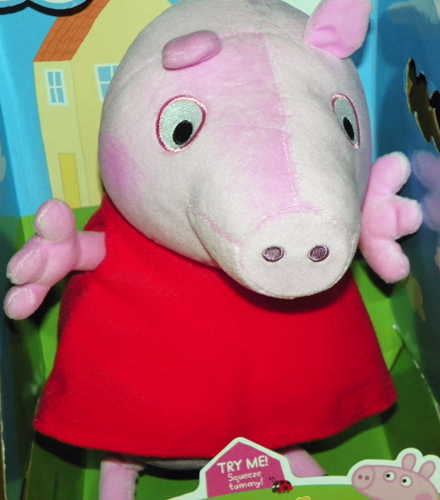 Peppa just loves to be hugged! Give this plush Peppa Pig doll a big squeeze and she'll giggle, talk and snort. Keep hugging her to hear more laughter, snorting and a charming melody. Includes 3 AA batteries. ($21.99)
Peppa & Friends Assorted Plush Dolls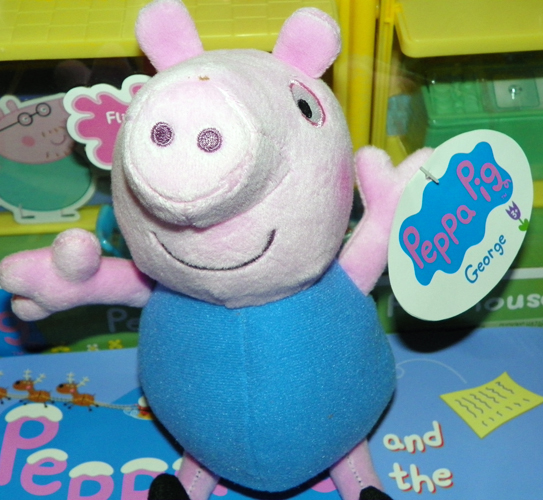 These loveable little friends are so cute and cuddly, kids will want to collect them all! Plush dolls are available in Peppa, George, Muddy Puddles Peppa in her signature raincoat and Ballerina Peppa in a prima ballerina outfit and crown. Each sold separately. ($9.99)
Other Peppa Products available at Toys "R" Us
Peppa Pig and the Lost Christmas List Book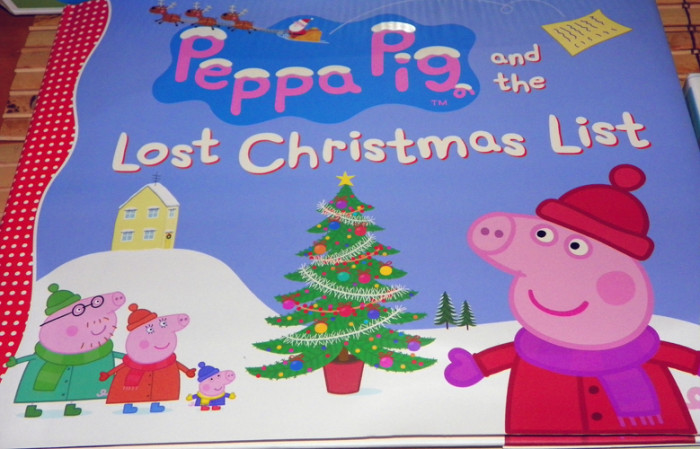 Bring Peppa home for the holidays in this new hardcover picture book that includes a coloring poster inside the jacket! It is nearly Christmas and Peppa Pig, her family, and friends have mailed their letters to Santa asking for all sorts of toys and things. Late on Christmas Eve Peppa and George hear a thump on the roof! Could it be…? Peppa and Santa are both in for a big surprise as Peppa Pig helps save Christmas day!

Peppa Pig Muddy Puddles and Other Stories DVD
The 50- minute compilation features 10 peppasodes from the award-winning series, as aired on Nick Jr., including fan favorites such as "Muddy Puddles" and "Camping."
1. Muddy Puddles
2. Mr. Dinosaur is Lost
3. Polly Parrot
4. Best Friend
5. Hide and Seek
6. The Playgroup
7. Mummy Pig at Work
8. Camping
Two Bonus Episodes
9. Gardening
10. Bicycles
Available at Toys "R" Us and as digital downloads on iTunes.  $14.98 for each DVD; $9.99 for each digital download.
My Thoughts About Peppa Pig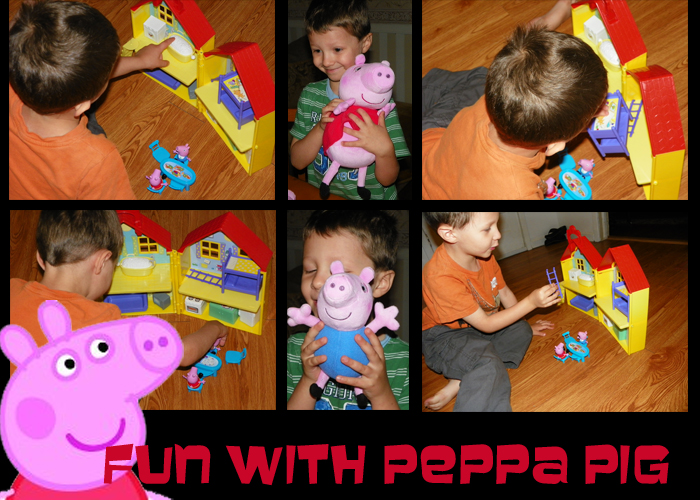 Peppa Pig was created in the U.K. in 2004, by Neville Astley, Mark Baker, and Phil Davies. The animated series has become a worldwide sensation and airs in dozens of countries including the U.S. where fans can watch the Peppa Pig episodes on Nick Jr.
The episodes are only 5 minutes long, but are packed with lots of charisma that captivates youngsters. There are some good messages contained within the shows teaching family values, such as Peppa Pig looking after her younger brother George.
My son loves Peppa Pig, enjoyed playing with the new toys for hours and watching the Peppa Pig DVD. He snuggles with the Hug 'n Oink Peppa and the plush cute George toys almost every day since we received them. But his ultimate favorite is the Fisher-Price Peek 'n Surprise Playhouse! The four-room playhouse keeps him busy as he imagines different Peppa Pig adventures and acts them out with the figures. He has fun flipping the fun pieces pretending he is making George and Peppa turn on the T.V., wash dishes, bake a pie, take a bath, and more. Just watching him quietly playing on the floor with the playset brings a smile to my face!
All the Peppa Pig products would make excellent gifts this holiday season! They can be purchased at Toys "R" Us in plenty of time for Christmas.
Stay Connected With Peppa Pig
Visit the Peppa Pig Website
Like the Peppa Pig Facebook Page