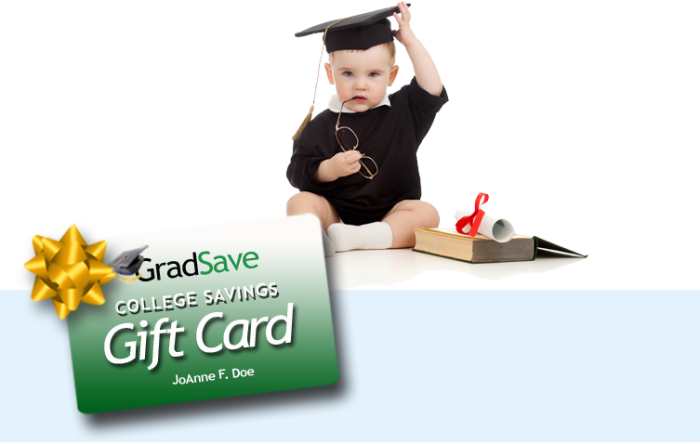 The most meaningful gift you'll ever give a child is the gift of education!  It is the one gift you can give that will help them build a better future!  Saving towards a good college doesn't have to be difficult and is a lot easier than you may believe.  Instead of giving trinkets at birthdays, holidays, and other special occasions, you and other family members can contribute directly to a child's college savings plan using GradSave's online college savings registry.
GradSave makes college savings easy with their no nonsense gift cards. All it takes is just two minutes and three simple steps to make a difference!  College savings gift cards are investments that will grow with your child and help ensure a financially secure college education.
Why GradSave
GradSave makes it simple. All you need is a credit card and two minutes!
Gift Cards are redeemable online for any 529 college savings plan!
The perfect gift for any occasion… and recipients of all ages!
A meaningful and lasting gift.
$10 Off Purchase Offer
Right now when you signup for a GradSave savings plan you will receive $10 off your total purchase!  What are you waiting for?  Give the gift of education today!
*Photo and information credited to GradSave.