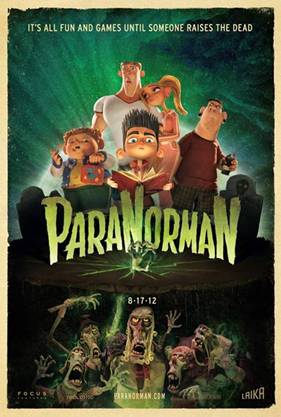 In less than three short weeks, on August 17th, ParaNorman will be in 2D and 3D theaters everywhere!  "ParaNorman"  is about a local misunderstood boy named Norman who is able to talk to the dead.  He is required to save his small town from a centuries-old curse, which has caused it to be taken over by zombies.  Along with the zombies, Norman has to take on ghosts, witches, and,  worst of all, GROWN-UPS, in order to save his town.  The movie is rated PG for for scary action and images, thematic elements, some rude humor and language.  ParaNorman looks like it would be a blast to see in 3D!  How many of you plan on going the day it debuts?
To add even more excitement to the anticipation of ParaNorman's release I have some fun facts regarding the production of the film, behind-the-scenes photos and a new video titled "Hand Making the World of ParaNorman."  Check it out!
ParaNorman Freaky Fun Facts!
ParaNorman is the first stop-motion movie to utilize a 3D Color Printer to create replacement faces for its puppets. Over 31,000 individual face parts were printed for the production.

It takes at least 3-4 months to craft a new puppet from start to finish, not including design or testing time. Once a character has been created in its finished form for the first time, the multiples of that puppet can be fashioned faster. It took 60 puppet makers to create 178 individual puppets for ParaNorman…including, for Norman himself, 28 individual full body puppets. Thanks to the face replacements created by the 3D Color Printer, Norman has about 8,800 faces with a range of individual pieces of brows and mouths. Being a "man of 8,800 faces" meant that he could have approximately 1.5 million possible facial expressions.

There are 275 spikes in Norman's signature hair style. His hair was primarily made out of goat hair held together with hot glue, hair gel, fabric, and super glue – as well as medical adhesive, Pros-Aide make-up adhesive, thread, and wire. Once built, it was hand-finished with paint and human hair dye.

The bathroom sequence, when Norman is contacted by the ghost of Mr. Prenderghast, took 1 year to shoot.

For the outdoor sets, 300 feet of country road were created out of recycled plywood and coated with three kinds of paint. Additionally, 2,000 individual trees were made out of shredded cardboard to create the forests seen in the movie. Laid out end to end, those trees would stretch out to be about 2 miles long.

It took 18 carpenters, 18 model builders, 6 riggers, 12 scenic painters, 11 greens artists, and 10 set dressers to craft the movie's nearly three dozen unique locations.

The bottom edge of Norman's T-shirt has 102 stitches – all handmade and measured in length and spacing – with 48 stitches around his neckline.

120 different costumes were designed and made by hand for ParaNorman.

The smallest animatable prop made for the movie was Norman's mom's perfume sprayer, which gets used in the station wagon to ward off the (zombie) Judge. Made out of brass and then chromed for a brushed stainless look, it measures 5/8" in length and 1/8" in diameter, with the pump nozzle 1/16" in diameter – and, it actually works!
"HAND MAKING THE WORLD OF PARANORMAN" VIDEO:
[field name= iframe]
STILLS FROM PARANORMAN
BEHIND THE SCENES PHOTOS FROM PARANORMAN
[slideshow id=1]