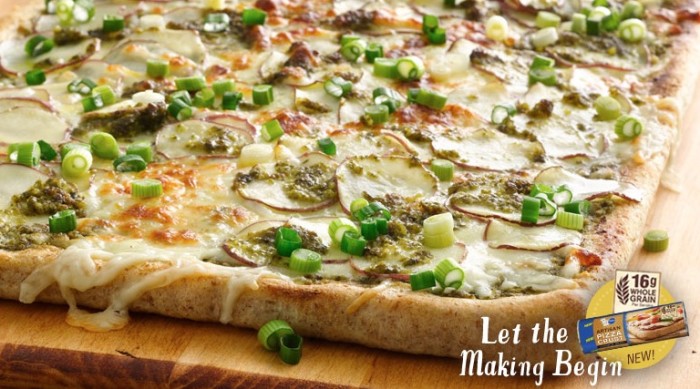 What's for dinner?  Not sure what to serve?  If you are looking for something quick and tasty to make,  treat your family to all-new Pillsbury Artisan Pizza Crust with Whole Grain.  Each serving contains 16 grams of whole grain and they will appreciate the great taste of fresh baked pizza straight out of the oven!   Ready in just minutes,  Pillsbury's Artisan Pizza Crust is a good way to use up those garden fresh vegetables you picked!  The possibilities are endless!  All you need to do is unroll the dough and let your creative cooking skills go wild!
Brought to you by Pillsbury!
[field name= iframe]
[field name= iframe1]
[field name= iframe2]
The Pear and Gorgonzola Pizza looks especially yummy and different!  The recipe calls for ripe pear, crumbled Gorgonzola cheese, and baby spinach!  It  sounds extremely delicious, plus you get a healthy balance of whole grain, fruit, and vegetables as well!
"Disclosure: This post was sponsored by Pillsbury but written by me. See my Disclosure Policy for more "
*Photo credited to Pillsbury