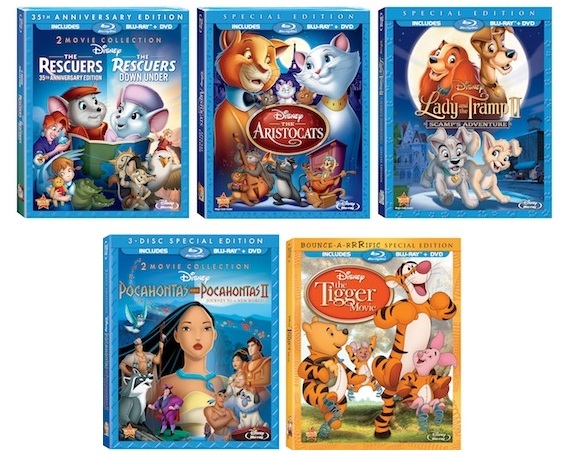 On August 21st, Disney will be releasing  not one but FIVE enchanting titles on Blu-ray:
THE RESCUERS: 35th Anniversary Ed & THE RESCUERS DOWN UNDER – 2 Movie Collection
THE ARISTOCATS: Special Edition
LADY AND THE TRAMP II: Scamp's Adventure – Special Edition
POCAHONTAS & POCAHONTAS II: Journey to a New World – 2 Movie Collection
THE TIGGER MOVIE: Bounce-a-RRRific Special Edition
I'm incredibly thrilled to see these titles coming to Blu-ray, since they are amongst some of my family's most beloved Disney films.  Also, I really like the way they bundled all-time family favorites "The Rescuers" and "The Rescuers Down Under collectively, in addition to "Pocahontas" and "Pocahontas II: Journey To A New World" in a special 2-movie collection,  as opposed to having to purchase them independently.  This helps fans build their Disney movie library quicker for less money!
Many of you may already have the five movie titles being released on Tuesday sitting home on your shelves in standard DVD format and question why you ought to upgrade them by getting the videos on Blu-ray.  I am no digital expert, but what I can convey to you is there is undoubtedly a tremendous difference in picture quality. DVDs are not able to display images in high definition.  The maximum resolution a DVD can put out is 720-by-480 pixels, compared to  1920-by-1080  with Blu-ray.  What does all that mean?  Basically, the higher resolution results in a crisper picture, less motion blur and much more brilliant colors.  For Disney enthusiasts there is nothing like viewing their favorite childhood film in stunning detail!
Movies on Blu-ray not only look superior, but they also sound far better too.  Additionally, they contain special bonus features which are not always available on standard DVDs.
More About the Disney Movies

"The Rescuers" and "The Rescuers Down Under"
Join two of the world's bravest mice – Bernard and Bianca – as they set out on two thrilling rescue missions full of comic adventure while soaring through the Devil's Bayou and flying sky high in the Australian outback. Buckle up for the ride of your life as these tiny heroes with great big hearts outrun and outwit their rivals to save the day. Brimming with lovable characters and unforgettable music, the 2-movie collection is high-flying fun for the entire family! Share the laughs and excitement for the first time on Disney Blu-ray.
[field name= iframe]
[field name= iframe1]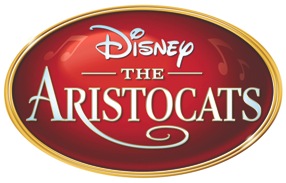 The exciting tale takes place in the heart of Paris where a kind and eccentric millionairess, wills her entire estate to 'Duchess,' a high society cat, and her three kittens. When the bumbling butler Edgar tries to pull off the ultimate catnap caper in order to secure the fortune for himself, it's up to alley cat Thomas O'Malley and his band of swingin' jazz cats to save the day. "The Aristocats" features the voice talents of Eva Gabor, Phil Harris, Sterling Halloway and legendary French singer Maurice Chevalier, who performs the film's titular opening song. The legendary Disney songwriting team of brothers, Richard and Robert Sherman, get the joint jumping with the jazz-inspired musical numbers "Ev'rybody Wants To Be A Cat," "Scales and Arpeggios," and "Thomas O'Malley Cat."

"The Aristocats" Special Edition is a purr-fect treat for the whole family.  It includes a brand new bonus featurette "The Lost Open" with Richard Sherman taking viewers through the storyboards of a never-before-seen alternate beginning which introduces a deleted character and a deleted song "How Much You Mean To Me" and "Court Me Slowly" written and performed by the Sherman brothers. This song demo was one of the few times Richard and Robert ever sang together.

Additional classic bonus features on "The Aristocats" Special Edition include the delightful deleted song, "She Never Felt Alone" and "The Great Cat Family (Excerpt)," which explores the history of cats.

[field name= iframe2]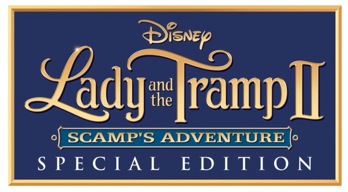 "Lady and the Tramp II: Scamp's Adventure"
Lady and Tramp's mischievous pup Scamp is always in the doghouse. Now, an itch for a collar-free life and freedom is sending him on the ultimate adventure! With nonstop laughs, paw-tapping songs and exciting bonus features, Lady and the Tramp II: Scamp's Adventure is a new breed of Disney fun that the whole family will love!
[field name= iframe3]

"Pocahontas" and "Pocahontas II: Journey To A New World"
"Pocahontas" tells the story of a free-spirited girl (voiced by Irene Bedard) who wonders what adventures wait "Just Around the River Bend." Pocahontas – along with her playful pals Meeko the raccoon and Flit the hummingbird – relies on the guidance of her loving and wise Grandmother Willow (voice by Linda Hunt) when English settlers arrive on the shores of her village. Her meeting with the courageous Captain John Smith (voiced by Mel Gibson) leads to a friendship that bridges the gap between two cultures and changes history.

The Two-MovieCollection, Blu-ray debut features exciting all-new bonus material including "Drawing Inspiration: The Lost Story of Hiawatha," a fascinating behind-the-scenes featurette showcasing how Walt Disney and his team were once developing a full-length animated feature called "Hiawatha," that ultimately directly influenced the development of "Pocahontas."
[field name= iframe4]
[field name= iframe5]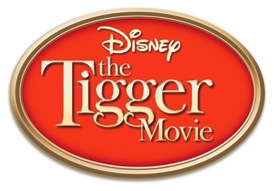 "The Tigger Movie" Bounce-A-Riffic Special Edition
In this charming musical tale of friendship and adventure, "The Tigger Movie" Bounce-A-Riffic Special Edition follows Tigger as he sets off on an epic journey to find other Tiggers in his family tree. Through a series of exciting adventures he discovers that families come in all shapes and sizes. This fun and playful animated tale delights a whole new generation of fans with its timeless characters and storytelling, rich animation and delightful songs by legendary Disney songwriting team of brothers, Richard and Robert Sherman. The film features the Hundred Acre Wood's most lovable characters, Pooh, Eeyore, Tigger, Piglet and the rest of the gang.
[field name= iframe6]
Stay connected with the latest news and information on "The Tigger Movie" Bounce-A-Riffic Special Edition
• "Like" us on Facebook at www.facebook.com/WinnieThePoohTigger
• Follow us on Twitter at www.twitter.com/disneypictures
• View exciting trailers, video clips and more at www.Disney.com/WinnieThePooh
 Suggested Retail Prices
3-Disc Blu-ray Combo Pack = $39.99 U.S./$24.50 Canada
3-Disc DVD Combo Pack = $39.99 /$24.50 Canada
2-Disc DVD = $29.99 U.S./$17.99 Canada