There's No Outgrowing This Friend!
TIMMY TIME: HAPPY BIRTHDAY TIMMY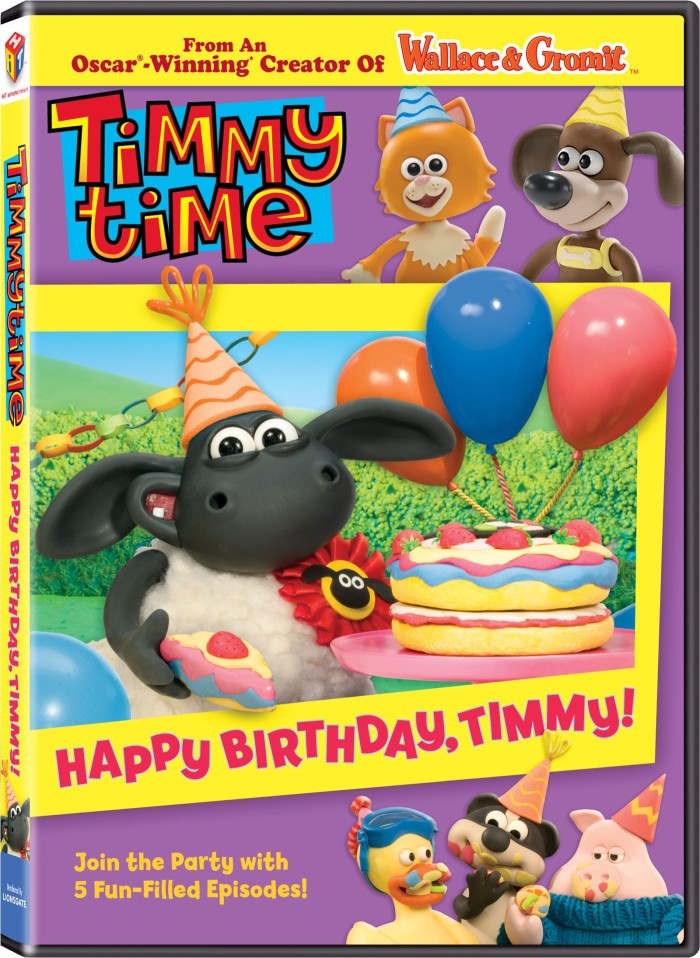 Available On DVD July 17, 2012
From Lionsgate And HIT Entertainment
PROGRAM DESCRIPTION
Make a wish!  Preschool favorite Timmy, the lamb with a penchant for mischief and merriment, is celebrating a birthday and you're invited to the party in Timmy Time: Happy Birthday, Timmy, available on DVD July 17, 2012 from Lionsgate and HIT Entertainment.  Full of slapstick humor and not a single line of dialogue, Timmy Time follows a day in the life of barnyard preschoolers. With diverse animal characters, along with a rich and colorful nursery school backdrop, Timmy and his friends learn life lessons that every preschooler needs to know.  Put on your party hat, grab a slice of cake and join the festivities in this whimsical new release!
Timmy Time is part of Disney Channel's Disney Junior programming for kids ages 2-7 and their families, which airs in more than 99 million U.S. homes. Timmy Time regularly airs weekdays on the Disney Junior Channel at 7am. The show is created by Aardman Studios, the Academy Award-winning creators of Wallace & Gromit and Shaun the Sheep.
DVD SYNOPSIS:
It's a Happy Birthday BAAA-sh with Timmy and his friends! Timmy cooks up a sweet solution after he almost spoils his party by eating the entire cake; Timmy and Finlay find out they can always count on each other to share toys! Yabba shows Timmy he's a model pal; Timmy's new pet seems to be the life of the party and Otus helps Timmy reach new heights. Don't be sheepish – join in the fun and celebrate with Timmy and his friends!
Episodes:
"Timmy's Birthday"
"Count on Timmy"
"Timmy's  New Friend"
"Timmy's Pet Problem"
"Timmy Learns to Fly"
DVD BONUS FEATURES
Timmy Time Sing-Along
Shaun the Sheep "Timmy in a Tizzy" Episode
Timmy Time: Happy Birthday, Timmy DVD Review
My son and I received the Timmy Time: Happy Birthday, Timmy DVD for review.  Should your child already happen to love the Shaun the Sheep series they will probably adore Timmy Time as well.  The show  is an animated pre-school children's comedy series produced by WGBH-TV and Aardman Animations and is a  spin off from Shaun the Sheep. Timmy Time episodes are just about 10 minutes long, which do not feature any dialogue,  similar to Shaun the Sheep.  The main character Timmy is a Lamb who is three years old in sheep years and later turns four in the episode Timmy's Birthday.   Timmy is usually getting into some sort of trouble in each show, but learns from his mistakes.  It's a very cute series and my son enjoys it.  In fact, it is one of my favorite cartoons, since it is relaxing to watch and it doesn't contain any dialogue.
The Timmy Time: Happy Birthday, Timmy DVD features five fun festive episodes with an approximate running time of 46 minutes.  The shows include:
"Timmy's Birthday"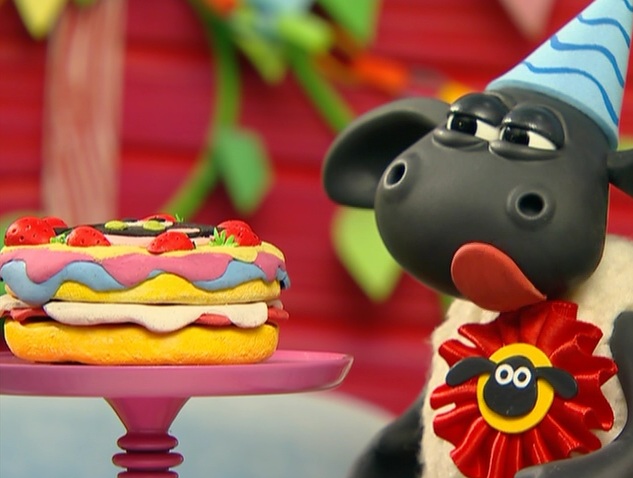 It's Timmy's Birthday and his friends make him a yummy cake.  During the party games Timmy decides to sneak away to take a bite of the cake and finds himself eating the whole thing leaving none for his party guests.
"Count on Timmy"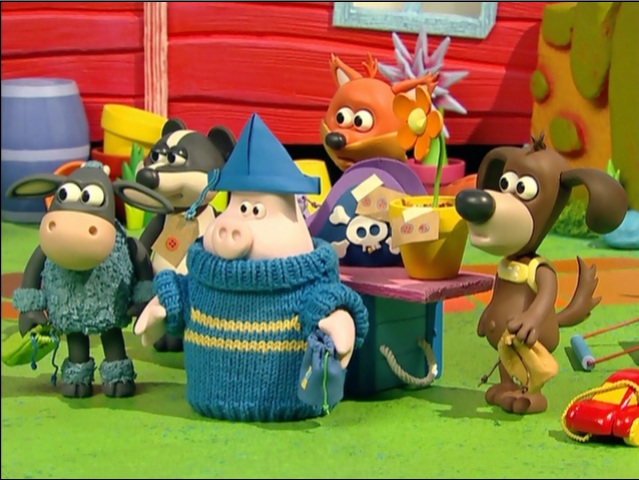 When Timmy and Finlay realize they don't have enough money (buttons) to buy a toy they set up rival shops.  Finlay sells more than Timmy and his money pouch is bursting!  However, on his way to the shop he loses all but one of his buttons through a whole in his bag, and Timmy follows behind him collecting what he has dropped.  They both learn a valuable lesson that it is sometimes better to work together to get what you want.
"Timmy's  New Friend"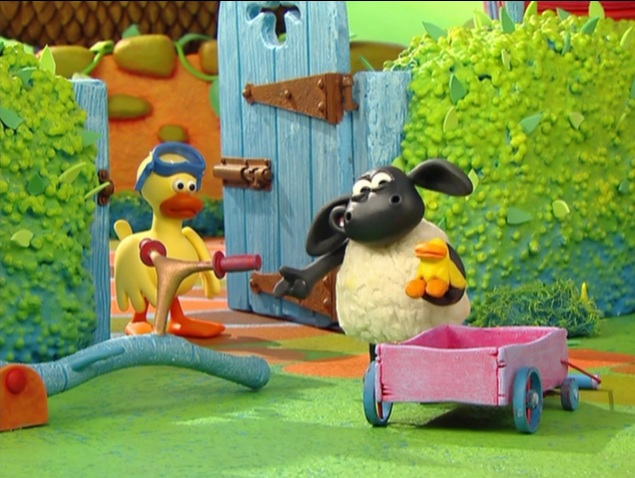 Timmy wants Yabba to play with him , but the duckling is too busy playing with everyone else.  Timmy decides to build himself a new friend out of play-doh.  He learns a valuable lesson "real"  friends can't be easily replaced.
"Timmy's Pet Problem"
Timmy adapts an old mop head as  his pet. However, the mop head begins moving on its own and Timmy needs figure out the problem.
"Timmy Learns to Fly"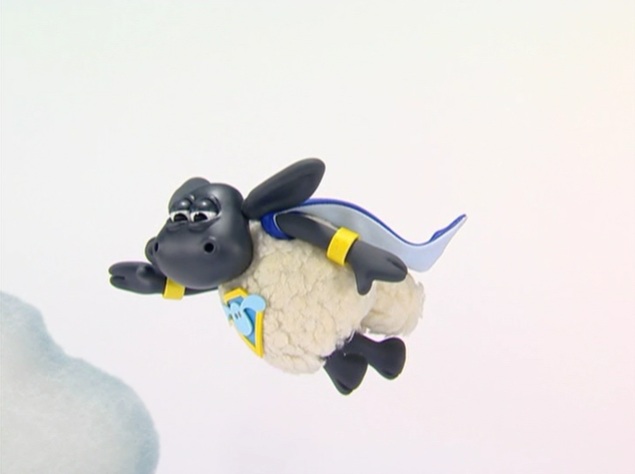 Paxton's kite winds up in a tree and Otus flutters up to get it out.  Timmy, impressed at Otus being able to fly, begins having visions of flying himself.  He gets Otus to show him how it's done, but soon realizes it isn't as easy as it looks.
Buy It
Timmy Time: Happy Birthday, Timmy DVD is available for purchase at Amazon.com for $11.92!
Timmy Time: Happy Birthday, Timmy DVD Giveaway
Courtesy of Lionsgate And HIT Entertainment, one reader will win the new Timmy Time: Happy Birthday, Timmy DVD! To enter the giveaway please follow the instructions provided on the Rafflecopter form. Any comments are welcomed below, but won't count towards the giveaway. Only entries using the Rafflecopter form will be eligible for prize. Thank you!
[field name= iframe]