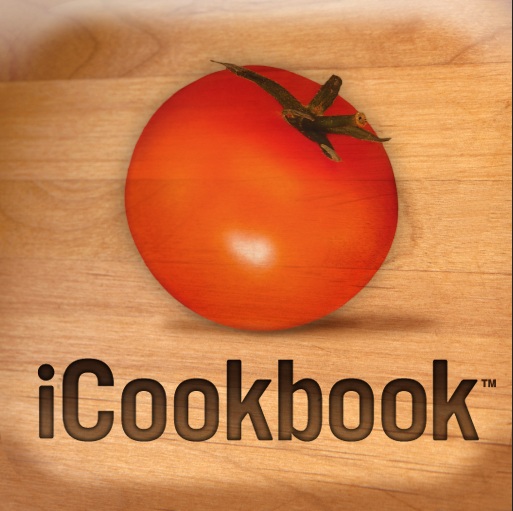 With regards to food preparation my inventive brain juices are invariably down.  I get sick and tired with making and chewing precisely the same unexciting thing week after week.  After all,  how frequently can you bake chicken without having the gag reflex kicking in?  Don't misunderstand me, I'm continuously thumbing through magazines and recipe books to acquire some motivation, but by the point I place the book down and go to the kitchen I've lost that good old loving cooking feeling.  The worst part is my better half is out working all day long and when he comes strolling through the door as hungry as a bear there isn't anything ready for him to eat.  Then I get the question "What's for dinner?" Poor hubby will see the confused empty look in my eyes for the response as always.  I feel like a total June Cleaver loser!  On extraordinary occasions,  I get a spark to make something yummy such as my balsamic green bean salad, yet that doesn't transpire all too often.
However, I think I might have found a new way to boost my cooking enthusiasm and simplify my life in the kitchen.  I was recently introduced to this very cool app developed by Publications International, Ltd called iCookbook.  I know there are tons of cooking third-party software programs created for the iPad, but this one is extremely different and useful.  I think you are going to be impressed!
iCookbook  Premiere Cooking Application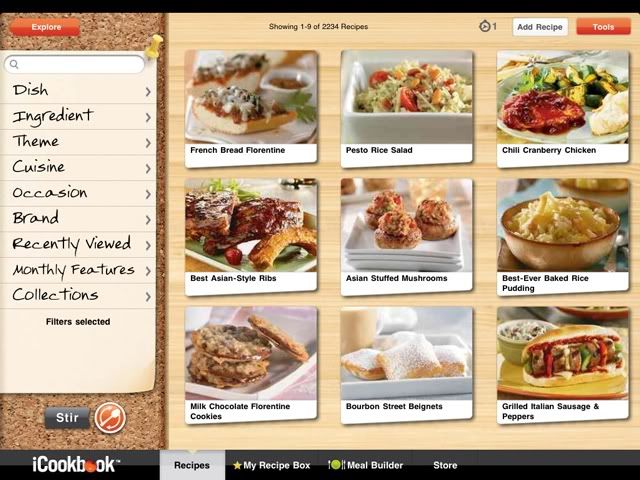 The iCookbook is a must-have premiere cooking application for everyday cooks featuring over two thousand recipes searchable by top rated, dish, ingredient, theme, cuisine, occasion, and brand name.  The filters make it easy to find the perfect recipe and you can select as many filters as you want to narrow down your search.  For example, under the theme category there is a choice to choose just kid-friendly recipes like A-B-C Minestrone, Peanut Butter & Jelly Cookies, and tons of other kid pleasing dishes. However, when you add the filter Halloween too it will display just the spooky recipes children will love like Cheddar Broccoli Martians and Goblin's Toes!  What I love is many of these recipes are from brand-name favorites like Campbell's, Crock-Pot slow cooker, Ragu and Hershey's.  It also has easy access to cooking tools like conversions, substitutions,  timers, and how-to-videos.
Collection Of Recipes Always Building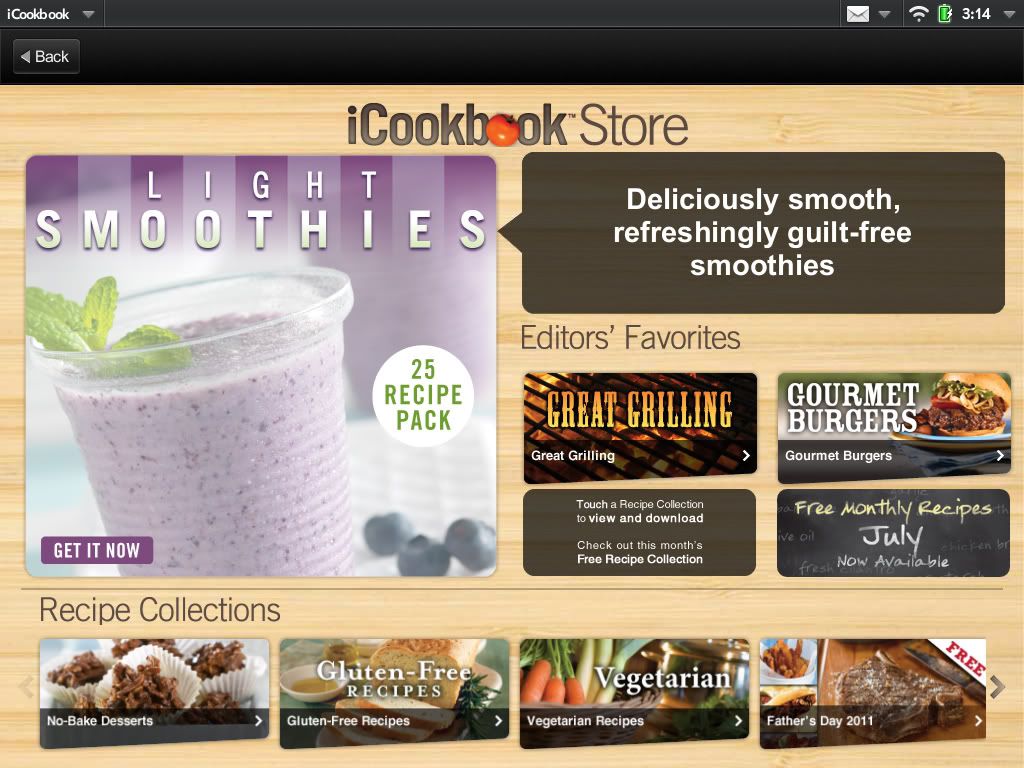 Additionally, each month, users can download more free recipes, as well as premium content that can be purchased in an in-app store so your collection of recipes is always building month to month.  For instance, July's update is packed with 15 great picnic-ready recipes such as Salsa-Buttered Corn on the Cop, Picnic Chicken Salad Sandwiches and the Best-Ever Apple pie.  These are free to download!  The store also includes editorial favorites and featured collections like Food For Dudes which looks awesome for $2.99.
Exclusive Voice Command
iCookbook sounds wonderful, but you might be wondering what truly makes this app unique?  There are two ways you can use the Prepare feature in iCookbook;  The classic touch and swipe or the exclusive Voice Command.  The cookbook application is the first in its class to implement Voice Command, allowing its users to speak simple instructions to move hands free though the preparation steps.  This to me is the best feature of the app, because there is no way I would be willing to touch my precious and expensive iPad screen when I have cake batter, BBQ sauce,  or some other messy ingredient on my hands.  When you activate the "Voice Command" button it turns green, it's listening and you can control the Prepare feature by giving clear audio commands like: Next, Back, Up, Down, and more.  The feature works best when there isn't much background noise so if your kids are in the kitchen you might want to ask them to be especially quiet or leave until your done preparing the recipe.
My Notes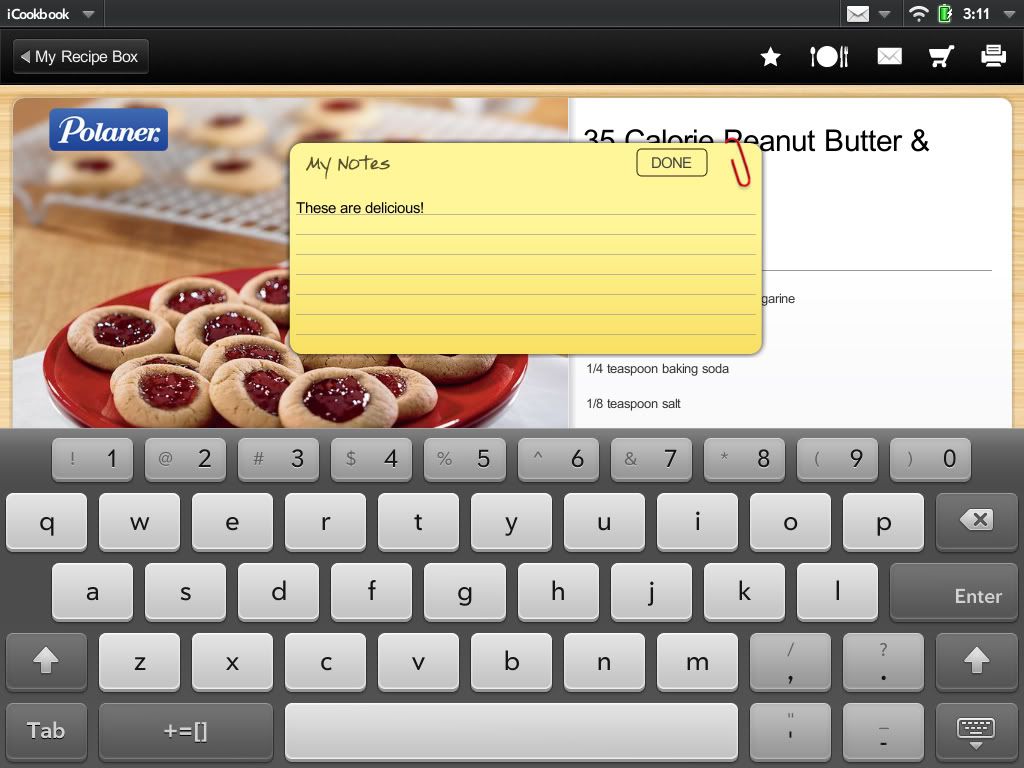 I adore this app and enjoy looking through the beautiful recipe pictures!  I think I spent an hour just browsing through the yummy recipes!  What I love is each recipe gives exactly how much time it should take to prepare, the difficulty level, and rating by other users.  You can also edit the recipe and save the changes in "My Notes"  in case you want to add extra ingredients or make substitutions.
Share Recipes on Facebook or Email
iCookbook makes it easy to share a favorite recipe on Facebook or send it by email.  The whole recipe is sent in its entirety,  including the beautiful photo.  This is very important to me, since I'm a very visual person and pictures can be a huge motivator in deciding if I make a dish or not.  The application would be highly handy in planning a potluck where everyone has to bring their own food bowl, since you can send recipes back and forth just with a simple touch.
Stir Function
If you happen to be like me and you are always unsure what to make or looking for inspiration– try the app's Stir function. It shuffles all the recipes and you can save the ones that look interesting in the "My Recipe Box" or "Meal Builder" to view them at your own leisure.  By applying some of the filters it can make finding the perfect recipe a breeze.
Add Your Own Recipe
The nifty app even allows you to add your own favorite personal recipes in the "My Recipe Box."  Now you can store your top secret recipes in a place for safe keeping or declutter the overstuffed recipe folder!  This feature additionally makes it easy to organize recipes for fast finding.
Shopping List
Ever go to the store and completely forget what you need for a recipe?  I've done this several times while being rushed or pressured.  iCookbook allows you to place the needed ingredients in a recipe or multiple recipes to the "Shopping List"  by just touching the shopping cart icon. You can even create a detailed list by adding your personal items like toothpaste or shampoo (which are not related to the recipe)  and print the list off to take to the store!
iCookbook Video
Watch the video which explains iCookbook in more detail.
[field name= iframe]
What I Would Change
There isn't much I would like to see change in the iCookbook app!  The only thing I noticed was some of the recipes did not include the calories and nutritional information.  For the person who is on a special diet this could make finding recipes difficult.
My Conclusion
iCookbook is user friendly and the best cooking app I have seen thus far! You can't beat the content of recipes already included, the option of adding additional recipes each month, the voice command feature, and special tools for just $4.99!  It's a steal at that price and is a must-have app for the partygoer, Betty Crocker wannabe , or anyone who has to cook on a daily basis!
Buy It
iCookbook is available for the iPhone, iPad, Android and Windows 8.  The  application can be purchased at iTunes for $4.99!