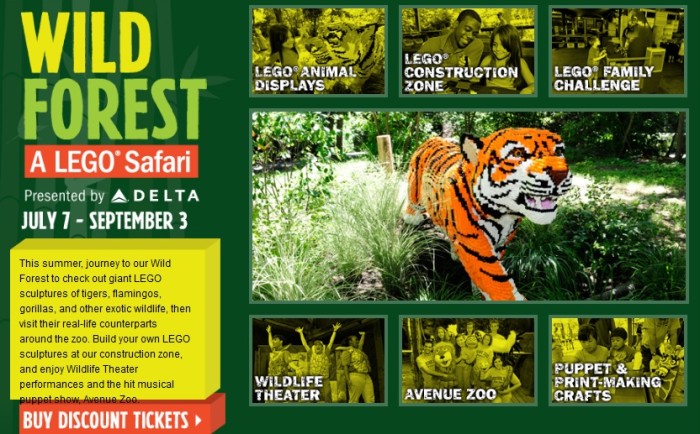 In the event your summer time travels take you to New York City this season be sure to stop by the Bronx Zoo for the 2012 Wild Forest LEGO Safari!  Beginning this Saturday (July 7th-Sept 3rd), you'll be able to journey through the spectacular Wild Forest to experience the thrills of an astonishing new breed of animal life!  The zoo has been invaded with vibrant  colorful tigers, flamingos, penguins, along with other exotic wildlife strictly constructed using the popular childhood building blocks –LEGOS!  And to make events even more exciting, each magnificent creature sits alongside their real-life counterparts!  Every individual LEGO work of art  will be enhanced with design elements that reinforce the animal's specific environment.   Additionally at each location, guests will not only have the ability to observe the wild animal sculptures, but also learn about WCS's global work.  The Wildlife Conservation Society, founded in 1895, safeguards many of the earth's important animals and helps the city to educate millions of schoolchildren in the importance of conservation and science.  The program is a large part and attraction of the Bronx Zoo.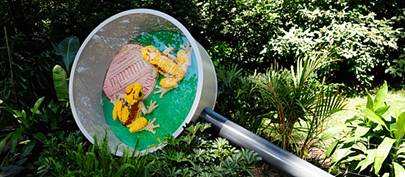 Animal LEGO Sculptures include:
·         Tiger
·         Kihansi Spray Toads
·         Chilean Flamingos
·         Gorilla – mother and child
·         Grizzly Bear Mural
·         Penguins
·         Coral Reef and schools of fish
·         Baby Giraffe
·         Four Red-ruffed Lemurs  – Madagascar
·         Two white rhinoceros
·         Zebra
LEGO Construction Zone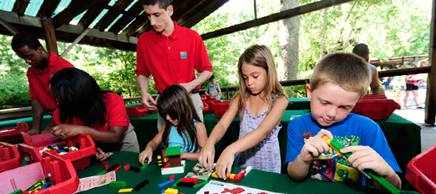 For the duration of the 2012 Wild Forest Summer LEGO Safari guests can participate in fun packed activities such as building their very own sculptures of animals at the LEGO Construction Zone! With thousands of colorful LEGO bricks to choose from, kids can let their creativeness go wild and have a blast attempting to replicate some of the wildlife seen at the zoo.  Another highlight is the opportunity to help complete a brilliant Mystery Mural exhibit at Dancing Crane Plaza!  On top of that, the Bronx Zoo will display visitors' own LEGO creations on bookshelves for all to see.
LEGO Family Challenge
If you happen to be visiting the Bronx Zoo on July 21st (11:00 a.m.–4:00 p.m) or August 11 (11:00 a.m.–4:00 p.m), stop by the World of Reptiles lawn to take the LEGO Family Challenge!  Join LEGO Master Builder Dan Steininger as you compete with other families to find out who can build their favorite animal out of LEGO bricks the fastest!   Dan  will offer tips and challenge participants to build wild animals including poison dart frogs, giraffes, and more!
Puppet & Print-Making Crafts
What kid wouldn't want to find out how to make their very own African animal puppets and design fabric prints?  I know my son would love to!  African Art teaching artist Landry Randriamandroso from Madagascar will teach children the steps to creating their own materpieces!  He has worked in arts education for the past 12 years and has exhibited his multimedia art all along the East Coast.  The activities will be offered throughout the days below on a first come first served basis.
African Animal Puppets: Saturday & Sunday, July 14–15; 11:00 a.m.–3:00 p.m.
African Animal Prints: Saturday & Sunday, August 11–12, 11:00 a.m.–3:00 p.m.
Asia Theater
Throughout the summer season, attendees are able to enjoy Wildlife Theater performances and the hit musical puppet show, Avenue Zoo.  The musical adventure originally debuted in the spring and tells the story of Kate Monster, from Avenue Q, who misses her stop home and ends up in a new habitat, Avenue Zoo.  Kate meets up with various animals and discovers that although they may seem strange and different, they are important inhabitants of the planet with their own special contributions. And, they are not so scary after all.  Shows take place at Asia Plaza, Thursday–Sunday.
Master Builder Events
The Bronx Zoo will also be hosting a Special Master Builder show that will engage visitors in the LEGO building experience and also provide informational focus on the animal that is highlighted.  The event happens once a month.  Unfortunately I don't have the exact dates to share, but I'm sure if you call the zoo at (718) 220-5100 you can find out more information.
Would LOVE To Go!
I haven't experienced the pleasure of visiting the Bronx Zoo,  given that I live more than 6 hours away from it.  Having said that, I  heard nothing but rave reviews about the zoo and feel it would be a magnificent way to educate kids about the importance of wildlife while enabling them to engage in entertaining imaginative activities.  The LEGO exhibit sounds remarkable!  What can't they build with LEGOS these days?
Save 10% on tickets
You know I'm all about saving money, so if you plan on going to the Bronx Zoo Summer
2012 LEGO®WILDLIFE FOREST Exhibit and Building Zone make sure to click here to save 10% off ticket prices!

Learn how to build a LEGO Fish & Frog!
Learn how to build LEGO animals with these easy-to-follow instructions:
Download fish-building guide
Download frog-building guide
Stay Connected
Stay connected with the Bronx Zoo using these social media sites:
Bronx Zoo on Facebook
Bronx Zoo website
Bronx Zoo 2012 Wild Forest LEGO Safari Trivia Contest!
2 Winners!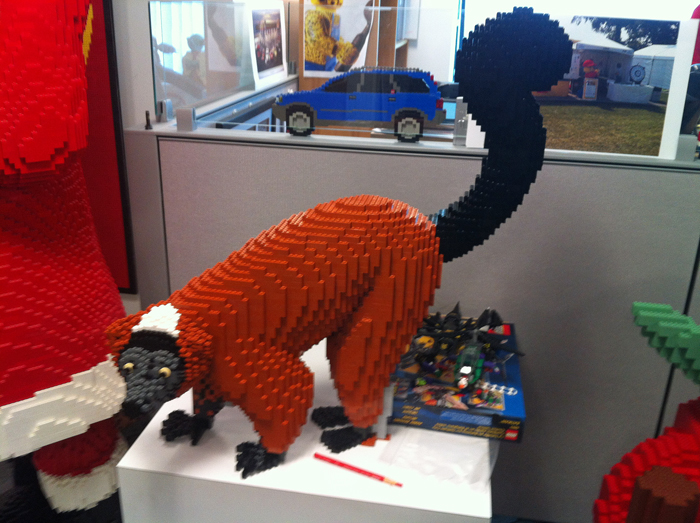 UPDATE:  The correct answers to the trivia contest are:
2500 LEGO blocks to create the Ring Tail Lemur
40 hours to make the display
WINNERS: Linda G won on entry #29 with the correct number of blocks.
Diana M guessed 40 hours correctly on entry #394
A big thanks to the peace,  animal loving,  readers who took time to enter the giveaway and the sponsor for providing the fantastic prizes!  Peace out!
Enter for the chance to win your choice of:
LEGO playset
Bronx Zoo picture frame and GUND Gundimal stuffed toy
Nightshirt and socks (zebra or lion (S/M Womens ONLY)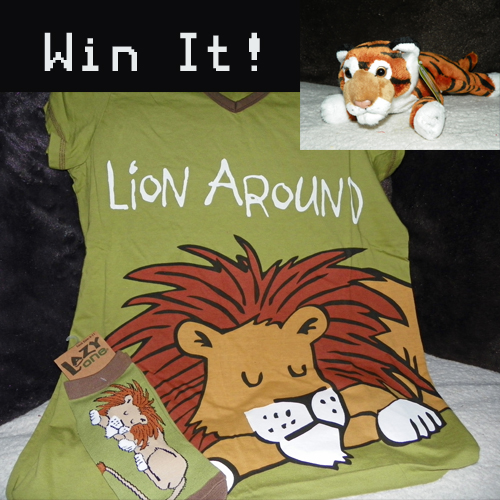 Prizes may vary from picture above
To enter the giveaway for the chance to win, guess how many many LEGOs are in the sculpture above or how many hours it took to make it!  Two winners will be chosen – one closest to being correct for number of LEGO bricks and one for number of hours.  You can guess as many times as you want up to 20 times per day! Please follow the instructions provided on the Rafflecopter form.  Any comments are welcomed below, but won't count towards the giveaway. Only entries using the Rafflecopter form will be eligible for prize. Thank you!
[field name= iframe]