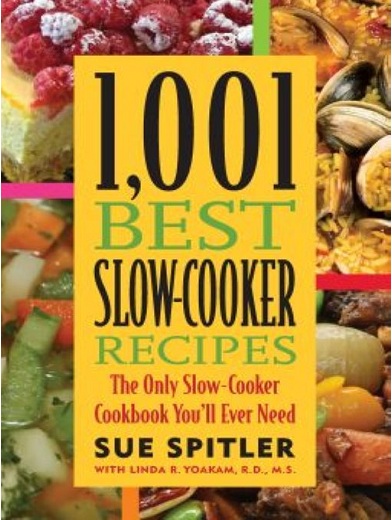 Do you own a slow-cooker?  If you do go grab this free download of "1,001 Best Slow-Cooker Recipes: The Only Slow-Cooker Cookbook You'll Ever Need"  at Amazon.com!  The eBook is written by Linda R. Yoakam plus Sue Spitle and contains information on various kinds and sizes of cookers, from 1-1/2 quarts to seven quarts, along with great suggestions on what recipes work best in each type.  There is more than 1,000 delicious recipes featured in this delightful free book!  Everything from appetizers like Garlic Rosemary Cashews to delicious Eggplant Soup with Roasted Red Pepper Sauce, as well as 999 other mouth watering recipes which are neatly contained within this digital gem!
Owning a crock pot  is like having your own personal chef!  You just throw in all the ingredients, walk away, and come back to a delicious meal in a few hours.  It also uses 75% less energy than an electric oven and doesn't heat up your kitchen like cooking on the stove does,  which is absolutely wonderful when it is blistering hot outside!  Most people think about slow-cookers and cold winter comfort foods, but it is great to use all year long!
1,001 Best Slow-Cooker Recipes is normally priced at $19.95, so you are getting a great deal!