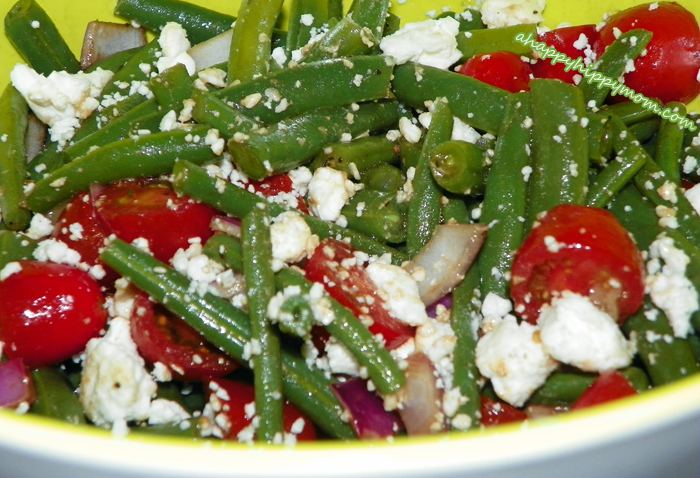 Everyone loves fresh green beans!  Almost nothing tastes better than eating them immediately out from the garden!  Even so, your 4th of July family and friend guests might not exactly appreciate your enthusiasm for such clean undressed fresh veggies and wish for something a tad bit more tantalizing.  Try out  this green bean dish from the "Taste Of Home Best of Summer Recipes" cookbook when you are searching for a quick and simple delicious side to serve.  The Balsamic Green Bean Salad Recipe is truly a nutritious bowl making use of fresh lemon juice, balsamic vinegar, and olive oil contrary to drowning your crisp beans in unhealthy preprocessed salad dressings that contain excessive amounts of sugar and preservatives.  The tangy flavors together with the crispy beans plus rich taste of feta cheese in this healthy salad will accentuate any meal and surely be a crowd pleaser!
The recipe stands good on its own, but I would use a small red onion instead of a large to reduce the overpowering onion taste.  Also, fresh chopped basil would be an excellent addition to toss into this salad!
Balsamic Green Bean Salad Recipe
    Prep: 30 min. + chilling
Yield: 16 Servings

Ingredients

2 pounds fresh green beans, trimmed and cut into 1-1/2-inch pieces
1/4 cup olive oil
3 tablespoons lemon juice
3 tablespoons balsamic vinegar
1/4 teaspoon salt
1/4 teaspoon garlic powder
1/4 teaspoon ground mustard
1/8 teaspoon pepper
1 large red onion, chopped
4 cups cherry tomatoes, halved
1 cup (4 ounces) crumbled feta cheese

Directions

Place beans in a Dutch oven and cover with water. Bring to a boil. Cover and cook for 8-10 minutes or until crisp-tender. Drain and immediately place beans in ice water. Drain and pat dry.
In a small bowl, whisk the oil, lemon juice, vinegar, salt, garlic powder, mustard and pepper. Drizzle over beans. Add the onion; toss to coat. Cover and refrigerate for at least 1 hour. Just before serving, stir in tomatoes and cheese. Yield: 16 servings.
*Recipe credit to Taste of Home.